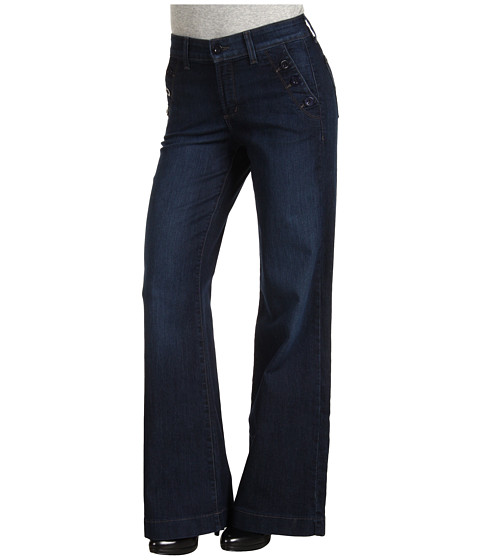 The popularity of skinny jeans is still going strong, but the wide leg look is also increasing in popularity. Wide leg jeans are not as recent of an innovation as skinny jeans, but have been around for over half a century. They are also called baggy jeans, and modern favour of the garments began in the mid-1990s.
These jeans can be purchased from department stores, offline clothes boutiques, and online retailers, like eBay, which means that any buyer is assured of an excellent selection from which to choose. Wide leg jeans are, more often than not, casual clothing, though some wide leg fashions may be worn to dressier parties. Wide leg jeans are not for everyone, and styling them can be difficult, but understanding how to pick and choose wide leg jeans, how to choose accompanying garments, choosing the most appropriate accessories or footwear, and how to make the jeans work for various occasions is helpful to any woman who wants to emanate the height of jeans fashion.
Options for Wide Leg Jeans
Choosing good wide leg jeans is the first step to styling them. There are many options for wide leg jeans, from trousers that flare gently from the leg, or those that sag or bunch around the lower extremities. Here are some considerations to take into account when choosing wide leg jeans.
Jean Shape
The many designs of wide leg jeans can be overwhelming, and there are some styles that may not look as good on a certain body shape as they would on another woman of a different body shape. For example, a tall woman would appear attractive in baggy, flowing trousers, but the same clothing makes petite women seem even more petite. Petite women look better in somewhat slimmer attire that does not appear to drown them.
Hems
Choose hems that are high enough off of the floor that every step does not sweep the ground clean. There are hems available that are longer though, which are excellent on tall wearers but can make the trousers look like a marshmallow that is too puffed. Wide leg jeans are defined as having hems that are at least 51 cm in circumference.
Colours
Wide leg trousers of numerous colours may be purchased in any clothing shop and can be paired with many colours. One thing to remember is that wide leg jeans can be dramatic enough that there is no need to pair them with additional embellishments. Keeping some of the ensemble simple does wonders when emphasising the jeans, rather than taking interest away by wearing shirts that are too bold or accessories.
Dark-coloured jeans are better for the more formal events, and darker colours go with many different shades. Dark colours make the wearer look slimmer, not to mention they are extremely versatile and can be worn to any number of formal or casual events.
Quality
Trousers made of denim fabric contain different qualities. Generally, the more expensive the pair of jeans, the higher the quality of the fabric and the better the craftsmanship. This is not always the case, however, as there are now quite a few places to buy quality jeans cheaply.
Fit
Fit is one of the most important decisions to make when purchasing clothing. An ill-fitting pair of jeans do not look their best on a woman, despite perhaps containing other positive features, like top quality denim. Different body types require different types of jeans to complement the wearer's form, and some pointers for choosing the right fit are mentioned below.
Body Type

Description

Jeans Suggestions

Pear-Shaped

Wide hips and thighs

Narrow shoulders

Smaller bust

Jeans with wide legs to balance wide hips

Contoured cut

Avoid jeans that are too tight around the hips or thighs

Avoid back pockets that are spaced too far apart

Apple-Shaped

Large bust

Broad shoulders

Narrow hips

Wider legs on jeans balance out full upper body with small hips

Avoid anything too skinny

Angular

Small bust

Narrow hips

Undefined waist

Jeans with strategic stitching or high pockets can increase curviness of rump and upper thighs

Avoid a high waist and baggy jeans

Hourglass-Shaped

Full bust

Full hips

Clearly defined waist

Jeans with a slight flare enhance the body proportions

Dark-coloured jeans can minimise larger thighs

Avoid back pockets that are spaced too far apart
It is easier to find jeans that fit correctly for women with angular shapes and apple shapes, as the two can wear nearly any type of wide leg jeans. In the others, wide hips may be detrimental, but remember to choose carefully, purchase well, and do not purchase low-slung jeans styles because there are not many jean that fit these body types correctly.
Styling Wide Leg Jeans
Jeans, by tradition, are casual pieces of clothing, however, it is not unheard of to wear jeans for more formal events than a night out hitting the clubs. A woman can benefit from wearing styled wide leg jeans to a casual dinner or a romantic date.
Fitted Tops
It makes sense, as the jeans are loose, to balance out the ensemble with a fitted top. Tops in this style can range from a collared shirt to a corset. A ruffled, or lace, top adds a bit of femininity to the jeans while a button-down ensures a more business-like and serious look. Remember that tops which are too long detract from the look of the jeans, not to mention, many could minimise the presence of a waist; this is especially true when paired with jeans that are flared throughout, rather than at the thighs or knees, like some wide leg jean styles.
If the temptation to wear loose tops is too much to bear, then pairing the top with a cropped, or structured, jacket is also effective.
Accessories
Do not go overboard with accessories, as wide leg jeans are a statement in themselves, but jewellery and many handbags or shoulder bags are definitely not ruled out. Wide leg jeans are compatible with a great variety of accessories, so it is no problem wearing them.
Try wearing a belt; it tucks in the waist a bit more and enhances the look of the jeans, as well as accenting their shape.
Footwear
Wide leg jeans were worn extensively in the 1960s and the 1970s, so some shoe choices from that era are a good choice, though modern shoes go well with the jeans as well. Clogs and loafers are also very good choices in the spirit of the era, and for a more modern flair, there are always peep-toe pumps. Wedges are another good idea; they are not necessarily overwhelmed by the flaring hems of the jeans. Heels are better than flats when going out, or for most occasions when women wear wide leg jeans. With flats, the hemlines of the trousers are more easily stepped on, though that can easily be remedied by choosing jeans with higher hems. Flats of all types are a good choice for casual days.
How to Buy Wide Leg Jeans on eBay
There are many sources of good quality wide leg jeans, especially if you are looking for practical purchases and decide to style the jeans later with additional garments or accessories, though eBay has one of the larger selections and greater variety of options on the Internet. Not to mention, it is easy to navigate the site itself. To buy wide leg jeans on eBay, simply type keywords into the search bar. The resulting search results that are populated for your perusal can be pared down using a number of site tools, or simply by modifying the keywords used in the search. A more specific keyword, for instance, including colour, size, or brand name, results in items that are more precise for which you are searching. There are many quality jeans options that can be acquired on eBay for cheaper than general retail prices. Just remember to evaluate the seller and the product itself, as best you can, before you decide to buy. Also, it is prudent to check return options in case the jeans you purchase do not fit exactly right, or are not what you expected. Checking shipping options also increases your chances of receiving the item quickly and efficiently.
Conclusion
Wide leg jeans are looking to replace skinny jeans in the ever-changing world of fashion and style, and that is enough to pique the interest of quite a few women. Styling a wardrobe with jeans can be a bit difficult, as denim clothing options are, more often than not, seen as primarily casual garments. If a woman is looking to wear jeans to more serious events than a stroll around the park, she should choose dark colours and quality craftsmanship, as these have a greater chance of looking better and fitting better with any style or body type.
There are many options to styling wide leg jeans, not the least, fitted or ruffled tops. Structured jackets and block shoes punch up the look of the loose jeans as well. Wide leg jeans can be acquired on eBay, as well as the many clothing options that complement the jeans. Considering elements like fit, hemlines, and footwear that go well with wide leg jeans ensures that the wearer looks the best she can with any type of jean trouser style she fancies.