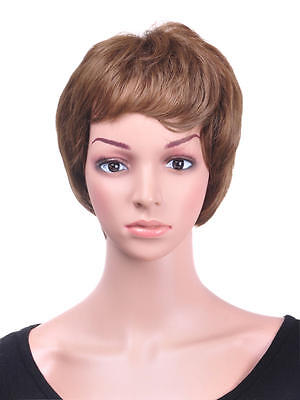 There are many reasons that women wear wigs, including for cosplay, fashion, and after hair loss, surgery, or chemotherapy treatments. No matter why a woman is wearing a wig, she should be able to style it as she pleases to keep it looking good and realistic, and she should basically be able to do most things that she would be able to do with her real hair. This is especially important if the wig is being worn for cosmetic purposes, or if the wig is part of an expensive and realistic costume.
Wigs come in a variety of materials and qualities, and require different styling techniques for each material. Some cheap wigs, such as those made of polyester, cannot be exposed to heat without melting, meaning that traditional curling irons and hair straighteners cannot be used. Women should consider washing, dyeing, and using other hair products as part of styling, but should keep in mind that some changes are permanent, especially when dyeing a cheaper wig. Women can purchase wigs and wig styling agents at beauty supply shops, hair salons, and through the online auction website, eBay. Before styling a wig, women should understand the different types of wigs, wig care products, wig styling methods, and other special considerations.
Different Types of Wigs
There are many types of wigs, but most are divided by price and quality. Usually the most expensive wigs are those made of pure human hair, but other materials include horse hair, wool, feathers, yak hair, buffalo hair, and synthetic fibres. Wigs can include those worn for religious purposes; cosmetic purposes; military or government purposes, such as barristers, judges, and parliament; for party or costume reasons; for theatre; cosplay, and other fancy dress purposes. Wigs are usually classified as full hair pieces, as opposed to fringes, buns, toupees, and other partial hair pieces.
Lace Wigs
Lace wigs are available as both synthetic fibre and human hair wigs, and usually feature lace mesh caps with tie-back features that include smaller hairs woven through a net to make it appear as though hair is growing from the scalp. The lace wig is usually one of the cheaper types of wigs, but can be quite expensive as well, depending on the quality of the hair. The name generally derives from the fact that French lace is normally used to create the front part of the wig, while a more durable material is used in the back. Basic styling options for the lace wig include ponytails, buns, and other updo options that may not be available with another wig, since the lace on this wig can be trimmed to where the hairline starts, making it blend smoothly with your own hair.
Synthetic Wigs
Synthetic wigs are generally the cheapest type of wig, but do not necessarily have to be of poor quality. A well-made imitation hair strand closely resembles a real one, meaning that women can even match imitation or synthetic wigs to their own hair. Synthetic wigs are cheaper and usually lighter than human hair, but should be handled with care around hairdryers, soaps and conditioners, curling irons, and hair straighteners.
Human Hair Wigs
Human hair wigs are the most expensive type of wig, but also the most realistic in terms of options, and authenticity. Depending upon the quality of the human hair wig, it may even be impossible to tell from the wearer's actual hair unless a mistake is made during the application of the wig. Style options include nearly anything that can be used with human hair, although care should be taken because wig hair does not heal like hair growing from the scalp.
Monofilament Wigs
Monofilament wigs are woven through a scalp-coloured cap and can be parted in any direction to allow for more styling options, without showing that the wig is not, in fact, real hair. Monofilament wigs are usually quite expensive, but due to the complex wefts between the wig netting, can often appear to be quite real. Usually these wigs are quite expensive, but are worth the price for women wearing the wig every day. Monofilaments are usually either made of genuine human hair, or high-quality synthetic fibres.
Hand-Tied Wigs
Hand-tied wigs are generally made of a monofilament fibre, but not wefted. Because of this, they have the most natural appearance of any wig, and even appear realistic should the hair be tousled every which way. This is because the hair fibres push up through the cap of the wig in a natural pattern, meaning that it looks very real. This is usually a very expensive type of wig, and the one most often provided as a cranial prosthesis wig. Women undergoing head surgery or chemotherapy can often receive these wigs from their insurance company should they lose their hair.
Fake Skin Wigs
Imitation skin wigs are any type of wig that incorporates a fake skin type of material known as dermafix. While they can also be labelled under a variety of different names, these wigs are usually very realistic because they allow skin to show through at the roots of the hair, thus appearing to be more real. When combined with high-quality styles, such as hand-tied or monofilament wigs, they are very hard to tell apart from real hair. In fact, actors often wear hand-tied or monofilament wigs combined with dermafix when they are required to wear a cosmetic wig.
Care Products
Part of styling a wig is using hair products to keep it clean. As with human hair, a wig collects grease and even dandruff from the human scalp. Women should take care to purchase specialised wig shampoos to keep their wigs clean, without damaging either the netting or the hair. In the case of human hair, a sensitive shampoo usually does the job. Most wig cleaners recommend that wigs be washed in warm water, with a mild soap. It is also possible to condition a wig after use.
Straightening
Straightening a wig should not be done using a straightener, iron, or even hair curlers. While it has been done before, the possibility of damaging the wig is very likely. Women with real human hair wigs may also want to avoid using straighteners, as the heat can damage hair that has no way of repairing itself. Instead, select a wig stand of appropriate size and pin the wig to it. The hair should be able to hang straight without falling on anything. Next, set the wig up in the bathtub, or a large sink, and begin pouring or spraying hot water over the wig evenly and comb the wig down with a wide-toothed comb. Next, simply allow the wig to cool and dry naturally, and then comb the hair straight. Any curls or waves present in the wig should lie straight.
Curling
Curling a wig may be very difficult, but it is important to remember that brushes, curling irons, and steam curlers can all mean death to a wig, even one of very high-quality. Most wig experts recommend using a hairdryer set on low heat with a sponge curler that easily absorbs water. First, any plastic or very synthetic wigs can be easily curled by rolling the hair in curlers and applying a hairdryer on low to medium heat. Afterwards, a quick heavy application of hair spray keeps the curls in place. Human hair wigs, however, require a bit more work. Soak sponge curlers in hot water and roll the hair, then apply the heat. The hot water, combined with the hairdryer, curls the hair as naturally as if a steam curler were used, except without damaging the wig. After the hair has been curled, women can choose to apply hair spray, or tease the hair to loosen the curls and add volume. It is always important to add hairspray or gel to keep hair in place after a desired look is achieved.
Haircut
Many women choose to cut their wig, especially after living with one style for a while. Different ideas include adding a fringe, adding layers, or simply cutting the hair shorter. A fringe is easily created by fixing and pinning the wig to a wig form, and then pulling part of the hair down over the eyes. After ensuring that the hair is in a natural position, women can cut the hair using a sharp pair of scissors. To cut the hair, hold a small section of the wig between the fingers and draw the fingers down to the desired length. Next, simply snip the hair just below the fingers and repeat across the front of the fringe until an even look is achieved. Layering is a bit more difficult but is achieved by dividing hair into layers, clipping it into ponytails or hairpins, and then starting at the bottom. Work evenly across, from the bottom up, and take care to make sure that each layer is even. Many hairdressers cut a wig for the same price as a real haircut.
Hair Dye
Some women prefer to dye their wig, rather than purchase a new one. In this case, women should purchase wig dye rather than human hair dye, even if they have a human hair wig. This is because the wig dye is gentler and does not damage the hair as much as real dye. Many women also use markers to create temporary highlights and colours. Other options for women who simply want a single line of colour in their wig include adding a hair extension. Hair dye for wigs is usually purchased quite cheaply and the instructions on the box should be followed for best results.
Special Considerations
Some wigs require special consideration when styling. For example, many cosplay wigs require complicated layers and styles. In this case, most professionals recommend that you start with a wig that is the basic layer of the hair, and then add extensions until you achieve the desired look. For example, to achieve the look of the popular Japanese anime pop star Miku Hatsune, women could start out with a short blue wig, and then find two waist- or knee-length blue hair extensions to add for the ponytails. This adds more styling and personalisation options for the most realistic effect.
Buying a Wig on eBay
Buying a wig on eBay gives you access to thousands of wigs from around the world, including cheap cosplay and costume wigs to very expensive genuine hair wigs. Women can also purchase wig care items such as dye, brushes, shampoos, and hair nets on eBay as well. The most important consideration is that many wigs come in different sizes, but many also come in a single size and must be pinned properly. You should measure your size before purchasing a wig on eBay. Most wigs are measured by the diametre of the head in inches or centimetres, depending on their origin.
To purchase a wig on eBay, decide on the type of wig for which you are looking, such as a cosmetic wig or a cosplay wig, and then start your search from any page on eBay. You can type in any search terms that you like, including "Miku Hatsune wig", or "blonde human hair wig", you can also add the desired length, specific style or colour, as well as any specific qualities for which you are searching.
Conclusion
There are many types of wigs, and many reasons to wear a wig. While some are more serious and conservative than others, how the wig is styled, how it fits, and how it complements the wearer all affect the overall appearance. Usually the more expensive the wig, the more realistic it appears, however, women can check the style and the type to determine how it looks.
It is also important to consider that different materials should be styled in different ways. Very cheap costume wigs are often greatly affected by heat and can be damaged by curling irons and straighteners. Most women should consider using alternative methods of styling that do not damage their wig. However, women can use the information provided to straighten, cut, curl, and even dye their wig as they wish. There are plenty of options for styling different types of wigs, and everything you need to know to do it safely is explained here.