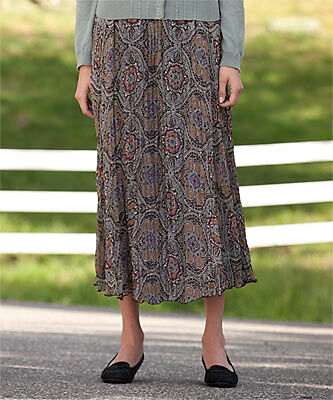 A long skirt is a simple and versatile garment that easily captures a woman's femininity without being too revealing. Many women prefer long skirts because they cover the legs and are more forgiving than tight-fitting mini skirts. These types of skirts work well with all body types and can be dressed up for formal occasions or down for a casual look. Before a woman can begin styling a long skirt she has to choose the type of skirt that she wants to wear. There are many types of long skirts available, ranging from form-fitting to flowing. Additionally, the length of the skirts can range from floor length to mid-calf. When it comes to styling a long skirt, it is not as simple as just throwing an outfit together. Putting together the perfect look involves finding the right skirt, the right top, the right shoes, and then tying it all together with the right accessories. Whether shopping for a conservative pencil skirt or a free and flowing maxi skirt, women will find long skirts to match their individual tastes on eBay.
Choosing the Right Skirt
All long skirts are versatile enough to be dressed up or down, but the different shapes of skirts provide for different looks. Some of the most popular types of long skirts include the maxi, wrap, flared, and pencil skirts.
Maxi Skirt
A maxi skirt is a long and flowing skirt that goes all the way to the ground. Typically maxi skirts cover all of the legs and feet, but some might have a hemline slightly above the feet. Maxi skirts have a loose fit, so they are flattering on all body types. They are usually made from thin and lightweight fabrics so they are a ideal for wearing in the spring and summer. Because maxi skirts are loose and offer maximum coverage, they help a woman who is insecure about her shape feel more confident.
Wrap Skirt
A wrap skirt does not have a set waist. Instead it consists of a large piece of fabric that wraps around the waist and is secured by tying the fabric together. Some may have buttons or clasps for added security. The fabric of a wrap skirt overlaps so that gaping does not occur when the wearer is walking or seated. Wrap skirts have an elegant look that works for all body types. Because it can be adjusted and tied at a custom size, it can easily conform to the curves of any woman.
Flared Skirt
A flared skirt is one that has a fitted waist that hugs closely to the woman's figure but then flares out at the bottom. These skirts also work well for most figures and they work particularly well for women who have curvaceous hips and thighs. The flare at the bottom balances out the wider hips for a more proportional figure. Tall and slim women also benefit from this style because the skirt helps to create curves for a more feminine figure.
Pencil Skirt
A pencil skirt is also known as a straight skirt. These skirts have a straight line that goes from the hips to the hem. These skirts are ideal for formal occasions, but can be dressed down for casual occasions as well. Styling a pencil skirt can be difficult, but these skirts can be styled in ways that flatter all body types. The straight lines of this type of skirt help to create a balanced look.
Choosing the Right Top
Creating balance is important when styling a long skirt. A fitted top works best with a long skirt because it balances out the fullness of the long skirt by clinging closer to the body and emphasising curves. This is especially important with a maxi skirt since a larger top will add too much volume to the figure. When choosing a top to wear with a long skirt, women can wear long sleeves or short sleeves, depending on the time of year. Women who are shorter should go for longer tops since these elongate the torso to create the illusion of height. The style of the shirt can vary depending on the occasion and the wearer's personal preferences. Bright shirts can be worn for parties and evening occasions, while graphic t-shirts can be worn to dress down a long skirt for a more casual look.
Bright and Bold Colours
Women who generally wear dark coloured skirts or plain skirts should go for a top that is bright and bold. This makes the outfit more interesting and makes a statement. The contrast between the top and the bottom create a perfect balance. If the skirt already has a pattern or design, then a woman should avoid tops that have designs or bright colours. This creates a look that is too busy and distracting.
Graphic Tees
Graphic tees, and even plain T-shirts, are the definition of casual wear. For this reason they are the perfect top to complement a long skirt. A fitted T-shirt with an interesting design contrasts with the plainness of the skirt. For further contrast, a blazer or denim jacket can be worn over the shirt. The masculine and feminine elements of this outfit balance each other out to create an outfit that really makes a statement.
Choosing the Right Shoes
Even though many long skirts cover the feet, women still need to choose the right footwear. Shoes with a heel are the best choice when it comes to putting together an outfit with a long skirt. Sometimes long skirts can make a woman appear shorter because her legs are hidden. The heel provides enough lift to create the illusion of height. Women can wear boots for maximum foot and leg coverage or opt for a simple pair of high heels.
Boots
One of the benefits of long skirts is that they hide the legs and leave the shape of the legs up to the imagination. A long skirt that has a hemline at the calf leaves part of the legs exposed and the woman has to consider her footwear and hosiery carefully. A comfortable pair of knee-high boots work well to cover this gap with minimal effort. Boots with heels are ideal because they work with the length of the skirt to create height.
Heels
Heels work well with all skirts no matter how tall or how short the wearer is. Heels create height by elongating the legs and producing an all-around attractive look. Heels also work well with maxi skirts that reach all the way to the ground. The lift from the heels is enough to keep the skirt from dragging on the ground and gives the illusion that the wearer is floating as she walks. Women who are looking for something easier to walk in should consider wedges or platforms. The wider heel is easier to balance on and they have the same heightening effects.
Choosing the Right Accessories
A woman won't have a complete outfit until she has added the right accessories. Belts, scarves, jewellery, and purses can all change the overall tone and appearance of an outfit by either creating a focal point or tying all of the elements of the outfit together. Women should keep this in mind when they are looking for accessories to go along with their long skirts. A brightly coloured scarf can spice up a simple outfit with neutral and solid colours. A belt can be worn over a long top to bring in and define the waist for a slimmer looking figure. Jewellery is a girl's best friend, and adds sparkle to any outfit. No matter what style a woman is going for, accessories put the final touches on the look for a complete and well-rounded appearance.
How to Buy Long Skirts on eBay
eBay is a site that allows buyers and sellers to connect with each other from all over the country and the world. If you're looking for a long skirt, then there are thousands of sellers who have new and used skirts for sale for you to choose from. The fastest way to find a long skirt on eBay is to perform a keyword search. Simply enter a description of the long skirt you are looking for into the search bar on the eBay home page or any search bar on any page on the site. The more specific your search query, the fewer the results. If you would much rather browse the listings for long skirts, enter a generic search phrase into the search bar. On the results page, you can specify the type of skirt, size, colour, and several other options to narrow the list to show only those that you're interested in.
Getting to Know the Seller
Once you've found skirts that you're interested in, you'll need to select a seller. Get to know the seller by checking out their feedback score and reading comments left by previous buyers. Top-Rated Sellers are recognised for providing high quality service to buyers on a consistent basis. Additionally, you can search for buyers that are located close to you. You might be able to save money on postage and packaging by picking up the skirt rather than having it shipped to your home.
Conclusion
Long skirts can be form fitting or flowing, floor length or ankle length. There are many types of long skirts to choose from, and this versatile look works well on women of any body types and for all occasions. Long skirts cover the legs and many women consider them to be more forgiving than other shorter and tighter skirts, for that reason. They are also a favourite garment because they can be dressed up when formal wear is needed or dressed down for a casual everyday look. Putting together the perfect style involves finding the right skirt, learning how to balance the right top with the skirt, then matching the right shoes and accessories to complete the look. Once women discover the versatility of a long skirt, they'll find a need for at least one long skirt their wardrobes. No matter which style they're going for, shoppers can find a huge selection of long skirts, tops, shoes, and accessories on eBay.