'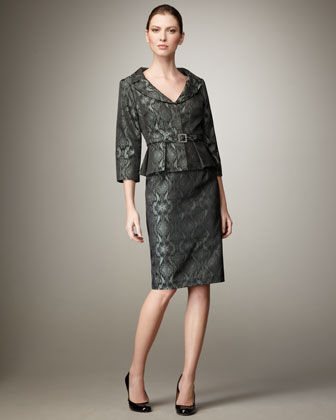 Styling a women's suit so that it flatters the woman and is appropriate for the occasion involves considering every detail starting with the underwear that the woman chooses. Underwear or shape wear should offer coverage, support, and shaping, without causing visible panty lines or resulting in unsightly bulges that show through the suit. Jackets and shirts should be chosen according to body shape. Trousers can also be chosen according to body shape, but length is an equally important consideration. If the suit is going to be worn with a skirt, then the length should be chosen carefully.
When wearing a suit, many women prefer shoes or boots with heels to give them a few extra inches of height, but footwear needs to be comfortable too, particularly if the woman spends a lot of time on her feet. Women can buy suits and accessories from women's clothing and shoe shops, and department stores. These items are also available online at eBay.
Factors to Consider When Styling a Women's Suit
A women's suit is a smart, formal, or semi-formal ensemble. It consists of a jacket, a shirt, and either trousers or a skirt. Women's suits are often worn to work, but can also be worn for events and parties that have a more formal dress code. When styling a women's suit, there are a number of factors which must be taken into account. As well as the actual suit components, footwear and accessories are also important. In addition, underwear should be chosen carefully. It is often overlooked: proper underwear can greatly enhance the appearance and styling of a woman's suit.
Women's Suit Jacket
The jacket is a very important part of the suit. It is often the first item that observers see and can define the level of formality of the suit. A correctly chosen jacket should flatter the body shape. A tailored suit jacket that provides definition at the waist looks fabulous on women with wide hips such as hourglass shapes. Women with narrow shoulders and wide hips, such as pear shapes, should avoid a tightly tailored jacket, as it draws attention to the large hips, and makes the body look unbalanced. Instead, these women should opt for a jacket with minimal tailoring at the waist, and one which enlarges the appearance of the upper body, such as a jacket with discreet shoulder pads or large lapels.
Shirts for a Women's Suit
Shirts for women to wear as part of a suit ensemble should be chosen in a similar way to jackets, that is, according to body shape. Women with a large bust and narrow hips, such as hourglass shapes, should avoid very loose, flowing shirts, as they create a tenting effect. Instead, they should opt for a slim fit or tailored shirt, which accentuates their bust and waist. Women with a full stomach, such as apple shapes, should avoid shirts with horizontal stripes, as these create the illusion of an even wider body. Instead, shirts with vertical stripes can be used to slim the appearance of the wearer.
Some shirts are short, finishing at the waist, and are designed to sit just on the waistband of the skirt or trousers. These work well with or without a jacket. Other shirts have longer tails, and should be tucked in. Many women choose tucked in shirts to wear under a jacket that is unlikely to be removed.
Women's Suit Trousers
Getting the right fit for suit trousers is important. If they are too loose and longer than the legs, then they create a shabby, unkempt look. If they are too tight, they leave unsightly bulges and diminish the elegance of the suit. Trousers that fits well are stylish and flatter the body shape.
Width of Women's Suit Trousers
Wide leg trousers work well for women who have disproportionately narrow legs and hips compared with their upper body. The wide leg creates volume to balance the widths of the lower and upper body. Boot cut trousers and standard straight cut trousers flatter any body shape, by providing greater definition to the legs. They should drape the legs and not cling. It is better to buy a larger size to get a comfortable fit to the thighs and alter the waist, rather than wearing ill-fitting trousers. Slim women can wear skinny fit trousers, which make them look taller, with or without high heels.
Length of Women's Suit Trousers
Getting the trouser length right is essential. Half mast trousers that hover an inch or two up the ankles can visually shorten the legs. They should only be worn by women with long legs wearing sheer tights and nice shoes. Shorter women should buy short leg or petite leg trousers, or be prepared to alter regular length trousers so that they do not drag on the floor.
Women's Suit Skirt
When styling a women's suit, women should consider the length of the skirt, as it has a dramatic effect on the finished look. For a work environment, short skirts are acceptable if they end no higher than just above the knee. They can be worn with tights or stockings. Opaque tights in neutral tones, such as black, can be worn during the winter. A-line or pencil skirts that fall to the mid calf create a smart appearance and work well with all body shapes. Full length skirts that reach the ankle are an excellent choice for taller women and for women who wish to draw the eye downward to minimise the breadth of the shoulders or chest.
Footwear for a Women's Suit
In colder weather, many women choose boots that can be hidden under loose leg trousers. Kitten heel ankle boots work particularly well. To get a little bit of extra height, women can choose to wear court shoes, wedge heels, or platform heels. The colour of the shoes or boots should complement the suit, and are generally in subdued colours. Additionally, the footwear has to be comfortable. If women are not comfortable wearing heels for long periods of time, then smart, sensible flats can be worn.
Underwear for a Women's Suit
Underwear can affect the shape and lines of the suit. Close fitting suits need extra thought given to underwear to prevent visible panty lines and bulges from ill-fitting underwear. Thong and high leg knickers provide adequate coverage without visible panty lines. Bras should offer good support and be comfortable. Suitable bras should be in a pale neutral colour so that they do not show through a white shirt. Underwired bras offer support, but can be uncomfortable if worn for long periods of time.
For women who need some temporary smoothing, shapewear is available. Shapewear includes full body shapers, to slim the entire body from chest to thighs, as well as thigh, bottom, and stomach shapers. Shapewear is available in different control strengths, and novices are strongly advised to purchase light control shapewear at first, and gradually work their way up to medium control, followed by firm control, if needed.
Buying Women's Suits on eBay
Women's suits and all the other garments and accessories required to create a well-styled look can be found on eBay, from jackets to knickers. Buyers can search for the items that they want from the eBay home page. The more specific the search terms, the fewer the results. Shoppers who do not have a clear idea of what they are looking for should use a more general search term, to get a large number of results to browse through.
To find a high quality suit on a budget, buyers can consider purchasing used jackets, shirts, trousers, and skirts. Some suits receive little wear and so may be found in an excellent used condition. When buying used items, buyers should read the item listing thoroughly and check the photos for signs of wear and tear. If buyers have any queries, or would like to see more photos, they are encouraged to contact the seller, who should be more than happy to help. Before confirming their purchase, buyers should look at the feedback score of the seller. Sellers with a high percentage of positive feedback have a reputation for consistently providing good service and quality products.
Conclusion
Styling a women's suit creates a well groomed appearance and allows her to be confident in formal settings. A well-styled suit consists of a flattering jacket worn over a suitable shirt. Both items should complement the woman's body shape. The lower half of the suit can be either a pair of trousers or a skirt. The length and width of the bottom garment influences the silhouette of the suit and should be chosen to match the height and shape of the woman. Suitable shoes or boots can offer height and comfort, and can be accompanied by tights or stockings.
As an important base layer, women should select underwear that is supportive, but does not leave visible panty lines. Shapewear can also be worn if smoothing is required for the thighs, buttocks, or stomach. On eBay, buyers can find everything that they need to style a women's suit to make her look elegant and professional.