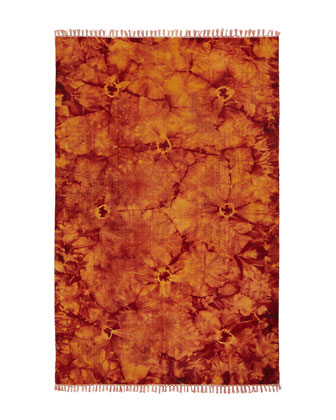 A rug is typically used to change the feel and outlook of a room. Buying a rug for the home or office can be an expensive proposition, depending on the size of the rug and what it is made from. Therefore, it is important that buyers understand how to take care of their new rug once they have purchased it. Care of a rug involves a maintenance programme as well as in-depth treatment on a regular basis in order to keep the rug in top condition and looking like new. Sometimes a rug requires restoration or repair, sometimes carried out by a rug expert. With the knowledge of some basic tips, however, the owner of a rug can take an active role in maintaining the look of a rug.
Rug are sold at carpet stores, specialty rug stores, and interior decorating stores. They are also available online at eBay. The website offers a wide range of choices in rugs from sellers in diverse locations.
Regular Maintenance of a Rug
The care required by a rug is the same as that required for carpets. Maintenance of a rug involves regular vacuuming and spot cleaning. Regular care, at least once each week, helps to keep rugs in good condition, reducing the risk of damage as well as the need for more costly, in-depth cleaning.
Vacuuming a Rug
Rugs and carpets should be vacuumed at least once per week. Rugs in high traffic areas, such as living rooms and hallways, may need to be vacuumed two or three times per week. Simple household dust and food crumbs can get trampled deep into the fibres and may not be easily visible. Over time, these particles continue to gather, affecting the look of the rug. Vacuuming the rug regularly helps to keep fibres clean and reduces the likelihood of dirt being trapped deep in the fibres.
Spot Cleaning a Rug
When stains occur on a rug, spot cleaning them as soon as possible helps to keep a rug in good condition, reducing the need for more costly in-depth treatments. As soon as a stain occurs, clean it with an appropriate carpet cleaning product, or simply use warm water and mild detergent. Rugs benefit from a wide range of effective carpet spot cleaning products that are designed to lift away small common household stains.
In-Depth Treatment of a Rug
In-depth cleaning of a rug is important for effective long-term rug care. In-depth care involves shampooing and dry cleaning. This type of rug maintenance can be expensive. The frequency of in-depth treatment is dependent on how effective the regular maintenance is and how much foot traffic the rug receives.
Shampooing a Rug
Most people are familiar with the benefits of shampooing a rug. Some individuals choose to have their rugs shampooed every 12 months. Shampooing rugs and carpets lifts away dirt and debris that has worked its way deep into the fibres, where vacuuming is unable to remove it. A rug owner can save money by renting or investing in a carpet shampoo machine and shampoo the rug himself. Alternatively, one may save time and use carpet cleaning specialists who can do this job for a fee.
Dry Cleaning a Rug
Dry cleaning is a great way to give a rug in-depth cleaning. Rugs that have been dry cleaned should suffer no colour loss, and the fibres should look and feel like new again. Dry cleaning a rug gets deep into the carpet fibres to remove dust and debris that collects from the underside of the rug. Dry cleaning a rug should only be done one to two times per year. It is recommended that expensive rugs, such as antique Persian rugs, be dry cleaned by an expert instead of being shampooed.
Restoration and Repair of a Rug
Rugs that have suffered significant damage, such as tears, fraying, or flooding, are likely to require restoration care. Professional rug and carpet experts are able to restore and repair rugs that have suffered significant damage. This type of restoration and repair should be done immediately and never postponed. If one finds loose strands in the rug, they should always be cut and not pulled. Pulling at stray strands can cause the fibres to unravel, requiring more extensive repair.
Tips to Keeping a Rug in Top Condition
Following some inexpensive rug care tips can help a rug owner keep a rug in good condition. Using these tips can help the owner maintain the rug over a longer period of time.
Tip 1: Be Conscious of Direct Sunlight
Direct sunlight can cause rugs to fade and should be avoided. The use of appropriate curtains and window treatments can be a good way to protect a rug that sits in direct sunlight.
Tip 2: Rotate Rugs Annually
Changing the orientation of rugs annually can help reduce fading from sunlight as well as wear and tear, and this keep rugs in top condition for a longer time. Rug owners may rotate rugs 180 degrees every six to 12 months, especially if part of the rug sits in direct sunlight. This ensures that the rug's colours fade evenly over the carpet. Rugs may also be rotated between different rooms in the home. Particular areas of the home experience different levels of foot traffic. Swapping carpets between different rooms for 12 months at a time can reduce the amount of wear and tear on a rug.
Tip 3: Store Rugs Properly
When storing rugs, it is a good idea to have them professionally cleaned prior to storage. Ensure that they are completely dry before wrapping in protective wrap. Rugs should be rolled up, with the underside facing outwards. They should be stored in a cool, dark, dry area, away from dampness or a direct heat source.
Tip 4: Use Top Quality Underlay
Top quality underlay helps to protect a rug from the underside. Carpets and rugs can easily wear through if not properly protected from underneath. Good quality underlay also keeps dirt from gathering under the rug and prevents the rug from slipping on smooth surfaces.
Popular Rug Stain Removal Methods
Rugs and carpets tend to see a lot of foot traffic, and there are some common stains that people often find themselves having to deal with. The following table provides a list of common stains and helpful ideas to remove these stains.
| Common Stain | How to Remove the Stain |
| --- | --- |
| Wine | Sprinkle talcum powder over the stain, then add warm water and mild detergent |
| Alcohol | Pour a small amount of warm water and mild detergent over the stain |
| Blood | Use warm water and mild detergent over the stain |
| Vomit | Use warm water and mild detergent to clean up the stain, then treat the area with a dry cleaning solvent |
| Urine | Clean the stain with warm water and mild detergent, then treat with a solution of 1 part white vinegar to 3 parts water |
| Chewing Gum | Freeze the gum using an ice cube. Once frozen, break the gum apart, and vacuum up. Then clean the area with warm water and mild detergent |
| Butter | Start by using a dry cleaning solvent on the stain. Then rinse with warm water and mild detergent |
| Shoe Polish | Use dry cleaning solvent, then warm water and mild detergent |
| Wax | Freeze with an ice cube, then shatter. Vacuum and follow by rinsing the stain with dry cleaning solvent, and then warm water and mild detergent |
The above table provides a list of some of the more common household stains that most rugs tend to experience. Attending to the stain immediately greatly increases the likelihood of it being removed completely. When testing new carpet cleaning solutions, rug owners should always do a test patch to ensure the solution does not damage or discolour the carpet fibres.
Buying a Rug on eBay
A prospective buyer looking to purchase a new or used rug on eBay may find it easy to search using eBay's search bar located on each page. To get an overall idea of what eBay has to offer, simply type "rugs" into the search bar. This brings up a long list of rugs for sale on the website. To further refine their search options, buyers can either type a specific phrase into the search bar, such as "patterned wool rug" or "carpet shampoo", or they can use the available search category options. Buyers can search by rug size, shape, condition, price range, colour, or material on the website.
eBay offers several ways in which one can purchase a rug with confidence. Once a prospective buyer has found an item he or she would like to purchase, it is recommended that the individual takes the time to read the feedback the item's seller has received from prior customers. eBay awards reputable sellers with top-rated seller status. A seller who features this badge has consistently provided top quality service, received excellent feedback, offers accurate listing descriptions, and ships items quickly.
Conclusion
Rugs add colour, warmth, and comfort to a home and are a great way to showcase one's personal taste and style. Caring for a rug requires regular maintenance as well as in-depth treatment regularly. When a rug suffers damage, it pays to get the rug resorted or repaired immediately. Some tips that help rug owners take care of their rugs include keeping the rug protected from fading, regularly rotating rugs to reduce wear and tear, and storing rugs appropriately. It is common for rugs to suffer from stains, and a few tried and trusted methods to remove common household stains can help keep rugs looking great.
A buyer who is looking for a new or used rug or wants to purchase rug cleaning products is likely to find them online at eBay. With its numerous user-friendly features, this online auction site allows prospective buyers to search through its vast listings of rugs and rug care products for sale. The extensive selection of products on eBay enables a buyer to find the rug or cleaning products that he or she is looking for at competitive prices.