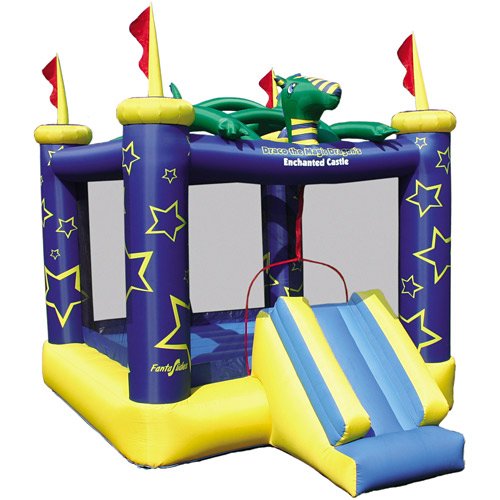 Bouncy castles have long been a popular entertainment option for children and adults alike. Since their invention in the 1950s by Briton John Scurlock, they have been a popular feature at parties and gatherings.
Originally designed to protect tennis courts, the inventor noticed that the objects could be bounced on – providing much enjoyment for his colleagues.
From there, the concept was improved; inflatable walls were added for safety and different styles and designs were created. These inflatable castles are now a global phenomenon and provide children with the opportunity to exercise whilst having fun.
The air-filled structures feature a strong nylon and vinyl surface; the materials allow air to exit the bouncy castle freely, whilst an electric or petrol fan provides the castle with more air in order to maintain inflation.
Type of Bouncy Castles
Bouncy castles come in a range of different shapes, sizes and colours which vary depending on various different factors. These can include:
Children's age
Children's needs
Budget
Amount of space available
Occasion
Features of a Bouncy Castle
Typically, bouncy castles can include the following features:
Three fully inflatable walls.
An open front for easy access and adult supervision.
Crash mats or other soft, protective surfaces to protect against any potential fall.
An electric blower/fan to maintain inflation.
Bouncy Castle Extras
In addition to the essentials, some inflatables also provide children with extra features to enhance the amount of enjoyment they can have. Such features can include:
Alternative Inflatable Products
A range of other inflatable structures are also available and provide different activities and features. Some are also aimed at older children and adults.
Inflatable Slides Inflatable slides can often be seen at public events and typically feature a large diagonal surface rather than the flat ones present on traditional bouncy castles. This acts as a slide and children can use steps or other method provided to reach the top.
Obstacle Courses Obstacle courses are also popular at group gatherings as many can also be used by adults. Often larger in size, they can include tunnels, steps, pillars, nets and a range of other various challenges.
Bungee Runs Bungee runs are popular with adults as many provide an opportunity for two people to compete with each other. They typically feature two inflatable lanes and a rope in which the person attaches themselves to. They then attempt to use their strength to reach the other side before their opponent.
How to Take Care of a Bouncy Castle
After purchasing a bouncy castle, it is important to maintain its quality in order to get the maximum amount of use from it.
Guidelines for Use
A simple set of rules should be implemented in order to prevent any potential damage.
Ensure the bouncy castle is on a flat area of land, void of any sharp objects such as rocks.
Do not wear shoes on the inflatable.
Do not take hard or sharp objects on to the inflatable – this can include glasses, cutlery, cups, belts and jewellery.
Ensure those using the equipment are of the recommended age.
Do not take food and drink on the bouncy castle.
Children should be supervised by an adult at all times.
Ensure material is dry before long-term storage.
Additional equipment can also be used in order to maintain a bouncy castle.
Fan Canopy
Fan canopies are used to protect the fan/blower from external objects and are typically made from PVC. They are positioned over the fan and help prevent moisture and other objects from entering the fan mechanism, ensuring the device maintains its efficiency.
Repair Kits
Repair kits are essential in the event of a puncture or damage to inflatable equipment. They can consist of:
Replacement material patches – Patches can be transparent or in varying colours and can be cut to the appropriate shape using scissors.
Adhesive – This can typically be spread or brushed enabling replacement material to be attached to the existing structure.
Needles and Thread – An alternative to adhesive, this type of repair equipment is used to stitch material over an area that is damaged. The thread is very strong.
Sand Bags
Sand bags can be used to keep bouncy castle equipment rooted to the ground and to aid stability. The weight of the sand counteracts the relatively light inflatable castle, preventing the unwanted movement when in use. They can also be used to ensure fan canopies are secure and protect the fan efficiently.
These are purchased as empty bags and made from similar material as the bouncy castle itself. Sand is simply added and they are ready for use.
Ground Stakes/Pegs
Ground stakes have a similar function to Sand bags and are used to ensure objects are securely fastened to the ground. Usually made of heavy duty steel, these are attached to the bouncy castle via the designated rope or anchor loops. They are then inserted into the ground to provide stability to the inflatable.
Always ensure the stakes are firmly in the ground to avoid any potential trips and do not move the castle around by the anchor loops.
Cleaning solutions
Cleaning solutions can be purchased in order to maintain cleanliness. These are usually applied to the material before or after use and are best used with a jet wash on a low setting. A sponge and water is also an effective way of cleaning the inflatable.
Ground Sheets
Sheets of protective material are advisable and are placed between the bouncy castle and hard ground as an additional layer of protection.
Storing a Bouncy Castle
When not in use, it is important to store the bouncy castle in the correct manner. Inflatables often come with storage bags include but many are also available to purchase separately or as part of an accessories kit.
Storing inflatables correctly ensures that they do not suffer from damage and are in perfect working order when they are next used.
What to Consider When Buying a Bouncy Castle
Different bouncy castles can often be aimed at different age groups and interests. It is therefore important to consider various factors when deciding what to buy.
Age Different ages have different requirements when it comes to bouncy castles and inflatable equipment. Younger users, for example, are perhaps more suited to smaller variations. Be sure to check the products age recommendation.
Interests Bouncy castles can be purchased in a variety of different colours and themes and purchasing one that appeals to the user is important to maximise the fun that can be had.
Space Before purchasing a large inflatable, ensure there is enough space in which to use and store it.
Price Be sure to shop around to find the best possible price when looking to purchase a bouncy castle. If purchasing with eBay, do compare products from different sellers and take into account how much time is left on an auction – a great deal could be just a moment away.
Where to Buy a Bouncy Castle
It is difficult to purchase bouncy castles on the high street and the option to buy may be limited unless it is a particularly specific store. A wider range can be found online, however, giving the buyer access to the whole market and providing them with options that are within budget.
eBay has a large selection of bouncy castles that cover a broad range styles and needs. By typing in "bouncy castle" or "inflatable castle" into the search tool, a broad range of products will be shown. In order to refine the search, include additional preferences if they are required:
Price Range
Style
Condition (if applicable)
Specify additional extras –such as slides or ball pits
Buying bouncy castle products from eBay can be less expensive than buying through brick and mortar stores – and equal in quality. The advantage of buying on eBay is the wide selection and the flexible payment options which make the whole shopping process easier for the customer.
When deciding to go ahead and buy from eBay there are a few tips that will ensure a smooth and safe transaction:
Always read the item description carefully and any conditions that come with it.
Are the delivery conditions acceptable? If it is a 'collection only' listing, make sure it would be possible to travel to collect the item from its location.
Be sure to ask the seller a question if there's any doubts over the product.
Review the seller and their feedback rating in order to ensure that this is the best possible source to purchase the item.
Visit the Buying Tips page for more information.
Conclusion
Bouncy castles are an excellent way to keep children engaged and entertained for hours and are perfect for a number of occasions.
Many can include additional features and the broad range of inflatables mean there is something for all age groups. With very little maintenance required, bouncy castles are the perfect accompaniment to a garden party or public gathering.
When browsing, take into account this guide and consider the right themed bouncy castle and equipment. Decide which type is the most suitable and shop around online to find one at a price that is within a suitable budget. Make sure to read reviews of the product as discovering other people's first-hand experience is always invaluable.
eBay will generally provide many bouncy castles at an affordable rate and if deciding to go down this route, then take the recommended precautions and use PayPal to ensure a safe transaction.