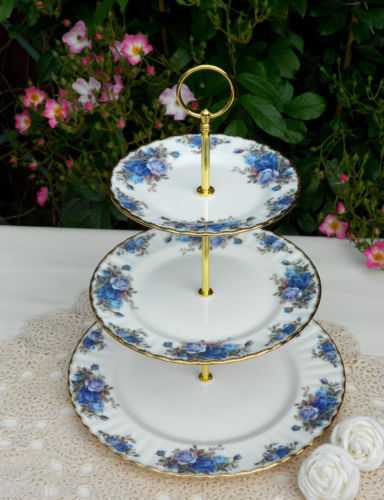 Those without expertise in tableware still see a certain kind of design with old roses spilling over the edges of tea cups and saucers and recognise Royal Albert. Rose patterns have been associated with this traditional Midlands pottery for decades. The company is 'quintessentially English' and 'inspired by everything English', according to its website. So both the country garden and England's national flower, the rose, play major roles in its designs.Moonlight Roses,Old English Roses,Old Country Roses,American Beauty, and Pacific Rose are just a few of these popular patterns. Moonlight Roses echoes the popular Old Country Roses pattern, but shifts the colour to the dreamland of blue roses, the colour growers have sought unsuccessfully to produce for generations.
Moonlight Roses was first produced in 1987 and is produced today in Royal Albert's Indonesian manufacturing facility. The shift to Indonesia, which was completed after 20 December 2002, has made all china made in England of higher value to collectors and consumers alike. Royal Albert produced during the preceding decades is recognised by its mark as having English or Indonesian provenance.
No matter where a given set of Moonlight Roses china was produced, to its owner it is precious. Shipping it securely is of paramount importance. Vintage china is shipped in carefully packed boxes, using packing paper, bubble wrap, and packing peanuts to protect it from shifting and chipping. Certain sizes of box are recommended, and only new double wall boxes are advised to ensure that the box itself maintain its integrity. But when the steps provided below are followed, a set of vintage Royal Albert purchased on eBay or long held in the family may be safely shipped with confidence.
Packing Vintage Royal Albert China for Transport
It may be hard to believe, but china may have been shipped more securely a century ago than it is today. Shippers used wooden barrels instead of cardboard boxes, so the potential for the container itself being crunched was somewhat limited. The dishes were individually wrapped in tissue, then wood wool was packed between and amongst the dishes, providing a very strong and protective environment. What posed the risk at that time was that so many items were literally shipped by sea-going vessel, which meant they were off-loaded by cranes and more likely to be dropped. Any drop could cover a rather long distance.
Today, china is typically shipped in cardboard boxes using foam and paper for protection. Boxes are handled by postal or freight agents who lift them onto and off conveyors, and into and out of the truck or airplane freight hold. The potential for drops is smaller and the distances is also smaller. Still, the US postal service offers a very pragmatic caution about goods packed for shipping: 'If you can shake it, we can break it.' That is to say: if you can hear movement within the packed box, the items inside can be broken during transport.
Choose the Right Box
Always use a new, double wall packing box made of corrugated cardboard. Older boxes may be losing integrity, which means that should they come under pressure, your vintage Royal Albert may also come disastrously under pressure. Assemble the bottom of the box using several layers of parcel tape. Be sure to tape the ends, as well as the middle.
A double walled tea chest, 50 cm on a side, holds eight to 12 dinner plates or 10 to 15 smaller dishes. Most sets of china require three or four boxes of this size. Double wall packing boxes are specified for china both because of the weight of china sets and because of the protection they offer. When shipping only one or two pieces, select a box large enough that the pieces may be contained while allowing for at least 2.5 cm to 5 cm of space on all sides, including top and bottom, after the pieces have been wrapped.
Choosing Among Bubble Wrap, Peanuts, or Packing Paper
Professionals consistently advise the use ofbubble wrap and foam packing peanuts. These are the most expensive but also the most secure packing materials. Non-professionals often wrap with newspaper, which has the distinct disadvantage of dirtying the dishes so the entire set needs to be washed when it arrives. If paper is used as a primary packing material, at a very minimum use white packing paper immediately around the dishes to save the trouble of needing to wash them up at the end of their journey.
The Basic Strategy for Packing Dishes for Transport
When packing vintage Royal Albert for transport, the first step is to wrap each piece securely. Professionals advise using bubble wrap, bubbles facing inward. Tape the bubble wrap in place. There must be no edges unwrapped to knock against each other. Non-professionals often use crumpled paper.
Before beginning to layer the completely wrapped items into the packing box, place a minimum of 2.5 to 5 cm of foam sheet, packing peanuts, or crumpled paper at the bottom of the box. Arrange the dishes on top of the soft material, making sure that there is at least 2.5 cm of space outside all edges. This is where more soft material must go. When dishes are stacked within 5 cm of the top, fill the edges and the top of the box with peanuts or other soft material.
Fold the top of the box closed and make sure it is not possible to push it down at any point. Any place it can be indented is a place where there is not enough packing material to protect your china.
Open the lid and add more peanuts, foam, or crumpled paper there. Check again, then seal the top of the box securely with tape. Even boxes that have a self-sealing mechanism should be taped shut for safety. Mark the box with its contents, using a heavy black marker, and the words, 'Fragile' and 'This End Up'.
If concerned about protecting items further against breakage, insurance may be purchased when they are taken to the shipper. Keep in mind that the value of any items broken or lost must be demonstrated by means of a sales receipt or appraisal document. These documents should be kept on hand in case an insurance claim must be filed.
Specific Approaches for Different Shapes of Dish
The safest way to pack different shapes of dish is slightly different. Each method still remains within the general principles offered above.
Preparing Plates
Wrap each plate in paper, bubble wrap, or foam sheet. When using bubble wrap or foam, tape it closed. The wrap should completely enclose the plate.
Stack the plates on end in the carton. This is entirely against intuition. But when they are stacked on top of each other, the weight of the plates above can break the plates below if the box receives any shock. Set on their end, and properly padded individually and with peanuts above, below, and to the sides, they are least vulnerable to damage.
Preparing Bowls
There are two schools of thought as regards packing bowls. One is adamantly opposed to nesting bowls, for the same reason that plates are not stacked. According to this approach, the packer instead fills the inside of a bowl with crumpled packing paper, then quickly turns it upside down onto a piece of bubble wrap, foam sheet, or paper. Fold the packing material around the bowl and fasten it in place with tape. The crumpled paper inside the bowl helps to support the bowl without adding weight or pressure to it.
Make a single layer of bowls in the bottom of the packing box, leaving space between them, then cover with the cushioning material. If there is room in the box, make a second layer on top.
The second school of thought wraps each bowl with cushioning packing, whether bubble wrap, foam sheet, or crumpled paper, then loosely nests them. They must be surrounded with packing material so they remain stable in the packing box. More than one stack of bowls may be placed in a box as long as there is plenty of packing material between them to prevent them from falling against each other. The usual rules about packing materials at the bottom, sides, and top of the box still remain.
Preparing Cups and Other Items with Handles
Cut a strip of bubble wrap, foam sheet, or packing paper to wrap the handle. Crumple packing paper inside the item. Turn the cup or dish upside down on a piece of bubble wrap, foam sheet, or packing paper large enough to cover the entire item. Wrap the item and tape closed.
When packing a teapot, as one example, both the handle and the spout require separate wrapping. A casserole dish with two porcelain handles must have each wrapped separately.
Buying Vintage Royal Albert on eBay
Royal Albert Moonlight Roses is one of many Royal Albert patterns that is easy to find on eBay. At any given moment, complete dinner services for six may be available, as well as many replacement pieces, such as bowls, plates, and cups and saucers. Additional useful pieces for daily use are also available, such as mugs, Completer pieces are also often offered, such as platters, cake plates, teapots, vases, sugar bowls, cream pitchers, tiered dessert stands, and large serving bowls.
Confirming the Vintage of Royal Albert China
Moonlight Roses has been produced since 1987, with the pieces produced in the Midlands factory more valuable than those produced in Indonesia. All production moved to Indonesia after 20 December 2002 but pieces not marked 'England' before that date would not be of English provenance. The mark on the reverse show the words 'Royal Albert' and 'England' for English made dishes. Sellers with English pieces show the photograph of the backstamp on the eBay product page. One way to be comfortable that a seller is reputable is to check the feedback left by prior buyers. Also found on the product page, this per cent rating is a guide to how well the seller has treated previous shoppers. A seller who has many transactions and a high rating is very likely to provide good service, including safe shipping.
Conclusion
Properly preparing vintage Royal Albert for transport is not complicated. It simply requires obtaining the correct kinds of boxes and shipping materials, then packing the boxes with adequate care. Those who plan to transport an entire set of vintage Royal Albert Moonlight Rose tableware are likely to successfully pack it in four double wall, tea chest size boxes. Some transport companies may also offer dividers to nest cups or bowls securely. When only a piece or two is being transported, then a smaller box may be selected. The box must still be large enough to accommodated the well-wrapped items and at least 2.5 cm to 5 cm of soft packing material on all sides.
Those who sell Royal Albert on eBay are accustomed to preparing fine vintage china for transport. However, a buyer should not hesitate to ask any questions about packing materials, transport methods, transport companies used, or insurance offered. Well-regarded eBay sellers are happy to accommodate buyers' requests to make sure that the transaction is positive for everyone involved.