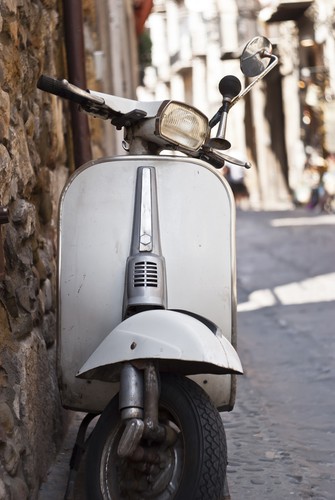 Lambretta motorbikes originated in Milan and were introduced by the Italian company, Innocenti. Since 1972, Lambretta has witnessed several ownership changes, including the purchase of the original Milan factory by the Indian government. Fiat now owns the brand name rights to Lambretta, as the company has expanded market share into nearly 100 countries. The company's greatest presence is in Western Europe, and Lambretta enjoys a strong reputation for selling high-performing motorbikes in the United Kingdom. Yet, as with any motorbike brand, Lambretta motorbikes require part replacements due to normal obsolescence. The question is: do Lambretta motorbike owners purchase Lambretta parts or parts manufactured by a competitor?
The answer may involve buying in the aftermarket marketplace at motorbike part shops and motorbike retail outlets. However, consumers can find great deals by shopping for Lambretta motorbike aftermarket parts online at one of the leading ecommerce portals, eBay. First, Lambretta owners seeking to upgrade their bikes with aftermarket parts should receive an overview of aftermarket parts that includes the advantages of using aftermarket parts, learning which Lambretta aftermarket parts provide the most significant update, and following a few steps towards buying the right parts.
Overview of Lambretta Aftermarket Parts
Many consumers do not know the difference between aftermarket parts and original equipment manufacturer parts (OEM), which is an important distinction when discussing how to update a classic Lambretta. Many companies, especially vintage motorbike and scooter manufacturers, such as Lambretta, design and construct OEM parts that only fit company models. Aftermarket parts are produced by companies other than the original manufacturer. In the case of Lambretta, aftermarket parts may become scarce during peak demand periods, such as during the warmer months of the year. However, consumers can find virtually any kind of Lambretta aftermarket part if they understand where to search. Some Lambretta aftermarket parts can be easily installed, while other Lambretta aftermarket parts require professional service.
Advantages of Buying Aftermarket Classic Lambretta Parts
Because of their vintage nature, classic Lambretta manufactured parts may be difficult to find. Low supply typically equates to higher prices, both in shops and online. Price is just one of several advantages that aftermarket motorbike parts provide to Lambretta owners. The only major obstacle when purchasing Lambretta aftermarket parts is that in order to maintain low prices, some aftermarket Lambretta parts do not include a warranty. Here are three reasons to purchase aftermarket parts for a Lambretta.
Cost
The general rule is that aftermarket parts are less expensive than OEM parts, though the price difference varies among brands. For a classic scooter, like a Lambretta, the price difference between aftermarket and OEM parts can be significant. However, the price variance depends on the type of part and its role in providing high levels of performance. Consumers should research Lambretta aftermarket part prices before they come across a Lambretta part price that seems to be much lower than market value. This may indicate inferior quality.
Quality
Aftermarket motorbike parts have earned an unfair reputation for being poor in quality. In fact, an aftermarket part meant for a Lambretta may be better quality than the originally manufactured part. Aftermarket part quality hinges on where the part is sold, the condition of the part, and the type of part. For instance, there may be a greater disparity in quality between an aftermarket and Lambretta chassis than there is between an aftermarket and Lambretta brake system.
More Variety Equals Better Availability
Dozens of motorbike companies produce aftermarket parts, and many of those companies produce aftermarket parts that are perfect fits with classic Lambretta motorbikes and scooters. Some motorbike companies specialise in certain types of aftermarket parts, which is what consumers should look for when they update their Lambrettas. The availability of Lambretta aftermarket parts reaches its apex during the colder months of the year, when there is less Lambretta motorbike riding.
Most Important Lambretta Motorbike Parts
Lambretta motorbike enthusiasts understand the frequency with which they change parts, such as headlights, seats, and gasoline caps. These parts need frequent replacement because of the rigours of everyday motorbiking. Other Lambretta motorbike parts require infrequent change, and when the changes occur, Lambretta motorbikes receive a substantial upgrade. These are typically high-ticket parts that Lambretta motorbike enthusiasts change to improve performance.
Chassis
Some motorbike sales professionals believe the chassis, which also includes the frame and suspension, represents the most significant update on a Lambretta motorbike. The chassis binds the myriad motorbike parts together, and it requires a high standard of construction to ensure superior performance and energy efficiency. Lambretta motorbikes typically come with a welded steel or anodised aluminium frame, although higher-end models possess super tough carbon fibre frames. Lambretta motorbikes contain a specially constructed suspension that connects the wheels. Classic chopper-style motorbikes have a solid, rigid frame that permits the wheels extra manoeuvrability.
Shock Absorbers
While Lambretta motorbikes receive high praise for superior performance for both road and off-road travel, the underlying reason for the company's success derives from its sterling safety record. Lambretta motorbikes are designed for safety first, as indicated by the mono or dual shock absorber systems. The shock absorbers reduce the impact that braking has on a rider during an emergency stop, which can happen during inclement weather or when another vehicle suddenly appears in a rider's line of travel.
Engine
Lambretta constantly develops innovative engine designs that reduce maintenance issues, while providing riders with more power and smoother transmission control. The company has led the movement to convert some of its motorbike lines to electric-powered bikes that reduce dangerous CO2 emissions and present less stress on other engine parts. Lambretta motorbike owners receive the greatest benefit to their bikes by updating the engine to the latest Lambretta prototype.
How to Find Classic Lambretta Aftermarket Parts
The hunt to update a classic Lambretta can start in a number of places, with the objective to gain as much knowledge about Lambretta motorbike innovations as possible. Remember that the company operates in dozens of countries, and in each country, Lambretta implements a slightly different business model to account for cultural differences. For instance, some cultures value safety more than conveying the chic image that Lambretta motorbikes present. How to find Lambretta aftermarket parts starts in the tight-knit motorbike community, and it ends online at eBay.
Tap Into the Motorbike Community
The motorbike community has garnered a reputation for the type of tight-knit camaraderie that helps riders locate the best sources for high-quality aftermarket parts. Motorbike enthusiasts often form clubs that feature extensively promoted sojourns, and host social events where motorbike enthusiasts interact and exchange motorbike ownership tips. In the UK, Lambretta owners may be able to find Lambretta motorbike clubs that meet regularly in the larger cities, although Lambretta discussion forums provide the same benefit online.
Bike Breakers
Bike breakers may be the most fertile ground for finding Lambretta aftermarket parts, as these open part yards are home to hundreds of different aftermarket parts and models. However, dealing with bike breakers requires a certain level of negotiation skills to find the best deal on a Lambretta aftermarket part. Because of the sometimes tight negotiations, bike breakers should be a research stop where riders obtain as much as possible about Lambretta aftermarket parts before they go online to one of the leading ecommerce marketplaces.
Online
The virtual revolution has transformed the way sellers and buyers consummate business. Once Lambretta motorbike owners compile all of the information that they need to update their motorbikes with aftermarket parts, they can go online and find buyers who sell the parts at a discount to auto parts shops and bike breakers. The reasons for the lower prices include on-time inventory and sellers who possess a mint condition aftermarket part, but do not need it for one of their motorbikes. Lambretta motorbike enthusiasts can find the widest selection of aftermarket parts on eBay.
Conclusion
Lambretta has manufactured high-quality motorbikes for over the past forty years and the company's success has allowed it to expand into myriad international markets. However, even the best performing bikes require replacement parts, which means Lambretta bike owners should have an idea of how to update their motorbikes when either current parts breakdown or Lambretta develops new parts that enhance bike performance. Updating a Lambretta motorbike not only ensures long-term performance, it can also bolster the value of a Lambretta motorbike. Should Lambretta owners update their motorbikes with Lambretta parts or shop for aftermarket parts?
The answer depends on budget, and Lambretta bike owners who have finite funds should consider buying aftermarket parts, which are parts sold by other motorbike manufacturers. There is a wide range of brands to choose from that include some of the leading motorbike manufacturers, such as Honda and Harley-Davidson. Lambretta bike enthusiasts provide the most significant updates for their bikes by focusing on the chassis, shock absorbers, and engine, which are the three areas that receive the most pounding from continuous riding. Research aftermarket parts for a Lambretta by networking within the motorbike community and perusing the parts offered for sale at bike breakers. Then, armed with the information, go online to eBay to find the seller who offers the aftermarket part that updates a Lambretta motorbike.