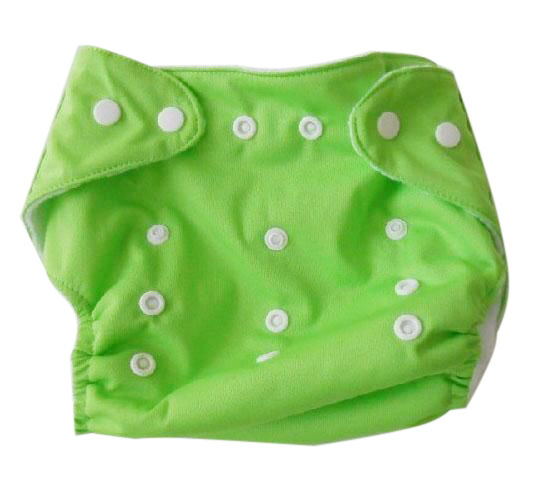 Many parents are concerned about natural health and the environment, so they find themselves going back to the past and usingcloth nappies rather than disposable ones. Many parents argue that cloth nappies are better for baby's sensitive skin and do not go to landfills, harming the environment the way disposables do. However, modern cloth nappies are a bit more complicated than the cloth nappies of yesteryear and do not work with a simple safety pin closure. Once they determine which style works best for them and their babies, as well as learn how to use them, parents can find the various types of cloth nappies locally or on eBay.
Selecting Cloth Nappies
When choosing cloth nappies, knowing the features of each type aids in the decision process. Parents should select a type that they find convenient, but that is also comfortable for their baby, so many parents experiment with different types of nappies to find the one that suits their needs.
Prefold nappies come shaped like a rectangle, while pocket nappies have a waterproof outer layer and a pocket where users place an absorbent layer. Fitted nappies look very similar to disposables, while all-in-one nappies are like pocket ones with the waterproof outer layer. Most of these nappies fasten with either Velcro or snaps rather than tape, which makes opening, closing, and reusing them easy. However, prefold nappies come with a snap, or a stretchable closure that fastens with an elastic across the diaper.
Using Cloth Nappies
Just as with baby clothing, parents should wash cloth nappies before using them. Use a gentle baby detergent to protect baby's skin. Most only need one wash cycle before use, but cloth nappies made of material like hemp need several washings before they become absorbent enough for everyday wear. Nappies again need washing after being soiled. At that point, remember to remove all inserts, rinse them first with just cold water, run them through a hot water cycle with some detergent, and do one more rinse with cold water.
Adding Nappy Covers
Cloth nappies become a fashion statement unto themselves with decorative covers that also serve a functional purpose. Nappy covers come in shades and prints suitable for both boys and girls, as well as in gender-neutral colours and styles. They even eliminate the need to fasten the nappy by holding it in place. Many parents place a cover over the nappy before fitting it onto the baby's bottom. This eliminates the need to have to put two different things on a wiggly baby who just wants changing time to end.
After Removing the Nappy
Many parents place cloth nappies in a designated dry pail after first rinsing them out. Never use a wet pail, as this causes the nappy to wear out faster and often renders it useless. Rinsing helps eliminate odours that may waft through the house. If the baby soils the nappy, parents should shake out all of the faeces into the toilet and flush it away. They can use a spatula to help scoop out soiling that sticks to the nappy. Be sure to remove all of the contents of the nappy into the toilet before rinsing the nappy with warm water and placing it in the pail.
Eliminating Odor
Depending on how new or used the nappies are, they often develop strong odours, especially when used for several months. Even when washed frequently, odours can remain. Before washing, parents can soak them for an hour in fish tank neutraliser to eliminate the scent. If the pail parents store them in before washing develops an odour, a sprinkling of baking soda at the bottom of the pail can eliminate the smell.
Promoting Absorbency
Leaks are the last thing both baby and parents want, as keeping bottoms dry prevents rashes and other skin irritations. Washing out extra soaps and oils from the material helps add to the absorbency of the nappy, as does adding an extra absorbent layer to pocket nappies.
How to Buy Cloth Nappies on eBay
When shopping for the perfect cloth nappy on eBay, type the kind of nappy you need into the Search bar on any eBay page. You can specify a preferred brand to narrow the search results. You can also find nappy covers on eBay and search by gender, brand, colour, or print to find a functional and fashionable cover that holds the nappy in place.
When the nappies and covers arrive, make sure to run them through as many wash cycles as the brand and type specify. Be sure not to buy too many of one size as babies grow quickly. When you need more nappies, remember to turn to eBay for variety and affordability.