Coconut oil has been used on hair since ancient times in India and it has done wonders. Packed with important vitamins and proteins, not only is healthy to ingest, but has also been used in many cosmetic creams and soaps for the skin and hair. If you are suffering from hair loss, receding hair line or thinner hair, coconut oil can effective in preventing it.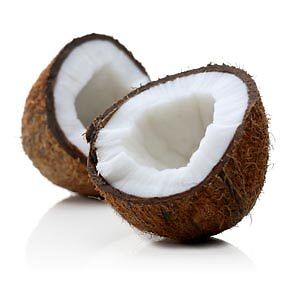 The root of most hair problems arise from inflammation (which could be argued is caused by DHT), so if inflammation on the scalp is reduced, your hair will naturally improve itself. Due to coconut oil's natural anti-fungal and anti-bacterial properties, it does just that. Another way to combat the inflammation in the hair is increase blood circulation, so one method of using coconut oil on your hair is to
massage it daily for 15-20min
with the oil.
Not only is this taking advantage of the oil's natural properties but even massaging your hair without any oil will give significant results in terms of the amount of hair which falls every day. Using this method everyday may also improve the quality of your hair meaning no frizzy hair and fewer split ends.
If you really want to see the effects of any oil, it is best you leave it overnight in your hair after massaging it, even though it might be a little messy! Another method of using coconut oil on your hair is to mix it with lime water. This mixture applied to your hair has cooling properties on the scalp and can give it a natural shine.
A problem with many oils is that at skin temperature they may become rancid and lose many of its healing properties. Therefore shortly after applying the oil on to your scalp, its effectiveness reduces with time.
But there is an oil which doesn't follow this pattern and keep it's renewing properties long after it has been applied to the skin -
Immortal's oil
. This allows it to penetrate to the deepest levels of the skin to fight inflammation and stimulate hair growth.

Immortal's oil is a wonderful blend of rare oils from plants found in the most inaccessible parts of ancient korean mountains. There are no synthetic substances added to it and it detoxifies the skin whilst keeping the skin and hair hydrated to prevent drying out.
If you are using any type of oil for your hair, it is important to remember that external work will only lead to limited improvement. If you want thicker, healthier and faster growing hair you need to change your lifestyle and it doesn't have to be a dramatic change either. For example, stress is a major contributor to unhealthy hair due to the inflammation it causes. Simply practising breathing exercises for 15min a day will make a difference in your overall health.
Also, if your diet mainly consists of fried, processed and sugary foods than this will also add to the inflammation on your scalp. Many processed foods attack your organs in the long run and this will eventually show on the surface so you can start to make small changes in your diet too.