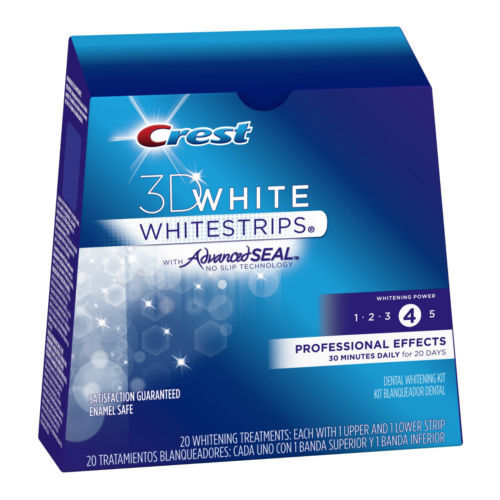 Crest is a manufacturer of dental hygiene products, including teeth whitening strips. These strips use bleaching chemicals, including hydrogen peroxide, to remove stains from the surface and deep beneath the surface of the tooth. Whitening strips can remove years of coffee, tea, and even tobacco stains from the teeth. Crest has a range of products to whiten teeth and all are easy to use. Users apply most of theses products once or twice daily for a few minutes or up to an hour for whiter teeth. Users can purchase Crest White Strips from retail stores, grocery stores, dentists, hygiene websites, and through sellers on eBay.
Crest White Strips Products
Crest White Strips are available in several forms, each with a different level of hydrogen peroxide and other whitening ingredients. These products also have their own sets of instructions regarding the length of time and frequency of application.
Crest White Strips One Hour Express
Crest White Strips One Hour Express are a quick solution to whitening teeth on the go. Users wear this product on the teeth for one hour to remove surface stains and create visibly whiter teeth. One Hour Express White Strips do not remove deep stains.
Crest White Strips Intensive Professional Effects
Those who want to get the brightest, whitest smile may want to look into Crest White Strips Intensive Professional Effects. These dental strips can provide the same results as a professional teeth cleaning. Users apply the strips to their teeth once a day for two hours for up to seven days. Visibly whiter teeth are noticeable after one application.
Crest White Strips Professional Effects
A less intense product is Crest White Strips Professional Effects . These strips contain less of the whitening ingredients that Intensive Professional Effects have, and are gentler on sensitive teeth. Users apply strips once a day for 30 minutes for up to 20 days. A whiter smile is noticeable after three days of application.
Crest White Strips Advanced Vivid
Those who want to decide between a faster or longer teeth whitening regimen may prefer Crest White Strips Advanced Vivid. Users can apply this product twice a day for seven days or once a day for 14 days. Brighter, whiter teeth are visible after three days.
Crest White Strips Vivid
Crest White Strips Vivid provides a whiter smile with one daily application of the strips for up to 12 days. This product is similar to Crest Advanced Vivid White Strips and it attacks stain build up below the tooth surface to provide lasting results.
Crest Gentle Routine
Those with very sensitive teeth can try out Crest Gentle Routine. This product takes the longest to use, but is mild and still gets at deep stains. Users apply Gentle Routine strips to the teeth for five minutes once a day for up to 28 days.
Crest Five Minute Touch Up
When buyers already have whitened teeth, but want to maintain the look or get a touch up in between dental treatments, Crest Five Minute Touch Up is the answer. Five Minute Touch Up strips only remove surface stains, so users may still see deeper stains. Users apply these strips for five minutes daily for up to six weeks.
Crest White Strips Supreme
Crest White Strips Supreme is a professional quality product that dentists provide for home or in-office use. These strips contain up to 14 per cent hydrogen peroxide, and may cause more tooth sensitivity than other products. This professional whitening kit is best for those with deeply stained teeth and who can withstand an intense peroxide treatment. The number of days in a treatment programme varies, and patients should discuss this with their dentist.
How to Use Crest White Strips
Users can apply Crest White Strips one hour after brushing their teeth. Users begin by removing the protective backing and applying the sticky side of the strip to the front of the teeth. Fold excess plastic behind the teeth and smooth down. Users can apply strips to both the top and bottom teeth. After the recommended length of time, users should remove strips and brush teeth to remove remaining gel.
How to Buy Crest White Strips
You can save money on Crest White Strips by purchasing them through an eBay seller. Many sellers on eBay are authenticated and have a positive seller history to back up their product listings. When choosing the whitening product to use on your teeth, consider how long it takes for each product to work and the amount of whitening you desire. Users apply all Crest strips in the same manner, but the length of time varies. If you are interested in using Crest White Strips Supreme, speak with a dentist about purchasing it, as this product requires assistance from dental professionals.