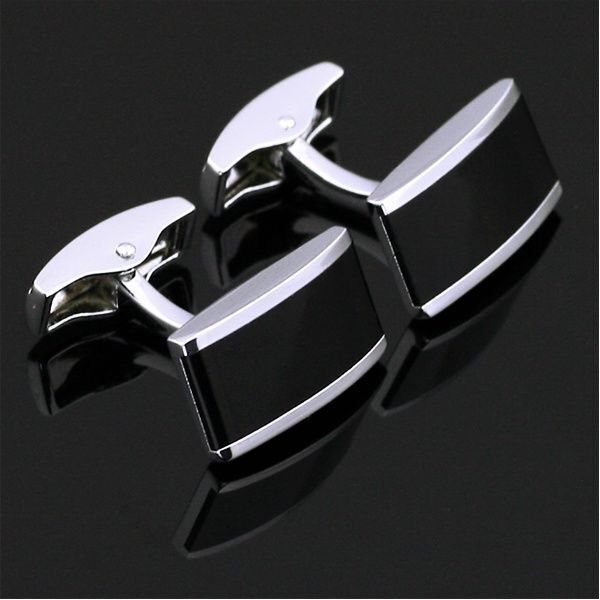 Cufflinks act as jewelled or decorative buttons and attach to formal shirts with French cuffs, which feature special holes that hold the accessories. Although most people associate cufflinks with formal occasions, wearers can also use these accessories to add individuality to business and smart-casual outfits. Wearers should understand the differences between popular types of cufflinks, learn how to attach the accessories to shirts, and consider which styles are appropriate for particular occasions. Buyers can find cufflinks at jewellery, fashion, and department stores, and online at marketplaces such as eBay.
Types of Cufflinks
Cufflinks come in a wide variety of designs and backings. A wearer should choose the backing that is easy to attach and materials that are suitable for the outfit and occasion.
Cufflink Backings
T-bar and toggle closures are the most common type and the easiest to attach. They feature a backing suspended between two posts. The backing turns vertically through 90 degrees to line up with the posts, making it easy to insert the cufflink through the buttonhole. The wearer simply turns the backing back to the horizontal position to secure the cufflink. Whaleback closures work in a similar fashion.
Fixed-bar cufflinks feature backings that are extensions of the links and do not move. They are more durable than other types and often come in reversible designs. Chain-link cufflinks, which feature the original cufflink design, join the two parts of the accessory with a chain link. They are more difficult to attach, but are attractive and allow for looser cuffs. Knot cufflinks feature decorative silk or cotton knots in a variety of colours and designs. These are affordable, less casual than traditional cufflinks, and suitable for business wear.
Cufflink Materials
The materials used to make cufflinks, coupled with their design, determine their suitability for formal, business, or smart-casual wear. Buyers can find cufflinks made of precious metals, including gold, silver, and platinum in varying degrees of purity, as well as versions inlaid with precious gems, such as diamonds. More affordable alternatives include metals, such as pewter, stainless steel, and titanium, and materials like crystal, enamel, and shell. Wearers should choose precious metals and stones for formal occasions and colourful designs for smart-casual wear.
Attaching Cufflinks
Buyers should consider the backings that feature in the design of the cufflinks before making a purchase because some are trickier to attach than others; wearers may appreciate a helping hand. First, the wearer should put on the shirt, then pinch the cuffs together so that the inside edges face each other. They should align the hole in the shirt's cuffs and insert the cufflink through both holes, with the decorative part facing the outside when the arms are hanging at the wearer's sides. To secure the cufflink, simply turn the backing into place or attach the accessory according to its design.
Occasions for Cufflinks
Most people associate cufflinks with jewelled precious metals worn with formalwear for special occasions, such as weddings and black-tie events. Cufflinks add elegance and style, and complement an outfit when chosen wisely. In this setting, wearers should avoid novelty cufflinks that are loud or overpowering, which may detract from the formality of the occasion.
Cufflinks have become an increasingly popular accessory for business and smart-casual wear. In workplaces where the dress code dictates standard business suits, employees can wear cufflinks in unobtrusive styles, such as silk knots chosen to match a tie or designs that feature plain precious metals. Wearers can add matching tie pins to complement the cufflinks.
Wearers can also wear cufflinks with smart-casual outfits. However, the emphasis should be on smart rather than casual. Wearers can experiment with colours and designs in these settings.
Seasonal cufflinks and designs for hobbies, like sport and music, make good presents. These styles are ideal to add a light touch to a Christmas party or other casual event.
How to Buy Cufflinks
eBay sellers offer a selection of cufflinks, from vintage fine jewellery to contemporary novelty pieces. Simply type a phrase, such as " gold cufflinks", into the search field available on every page to see the items tagged with your chosen keywords. If you need inspiration, browse the items on offer. Alternatively, refine your results by adding more detailed keywords or selecting the most appropriate item features. Read the item description and seller feedback carefully to ensure a smooth transaction. Cufflinks add an element of style to formal shirts. They also make excellent presents and family heirlooms.