Add pizzazz to your crafting projects, or make home decor shine when you use gold leaf. Thinly hammered sheets of gold, gold leaf comes in crafting quantities. Use it to make items look gilded in gold, and to work in conjunction with adhesive to stick to many types of surfaces. Find out more about using the delicate material, and purchase the DIY supplies you need to make your own gorgeous gold projects.
Pottery
Take pottery to the next level by gilding it with gold leaf. Decorate cups, bowls, and plates, or add flair to terracotta pots. To gild pottery, all you need is a gold leaf adhesive called 'size', the gold leaf, and a spray sealant. Brush the size onto the pottery, and then gently place the gold leaf over the size. Once the pottery is covered, spray sealant over the project to set the gold leaf in place. For a distressed look, use irregular pieces of leaf and on random spots of the pottery.
Wood
Give a coffee table, dresser, or headboard a shabby chic feel, or update a picture frame with gold leaf. To add gold leaf to wood, sand the surface to make it smooth. Brush varnish onto the wood and allow it to dry. Then, use a brush to apply the sizing glue to the wood, where you wish to add the gold leaf. Wait roughly 45 minutes or until the size feels sticky to the touch. Apply the gold leaf gently and use a small sponge tip or gilding brush to press it into place. Spray a sealant onto the project.
Glass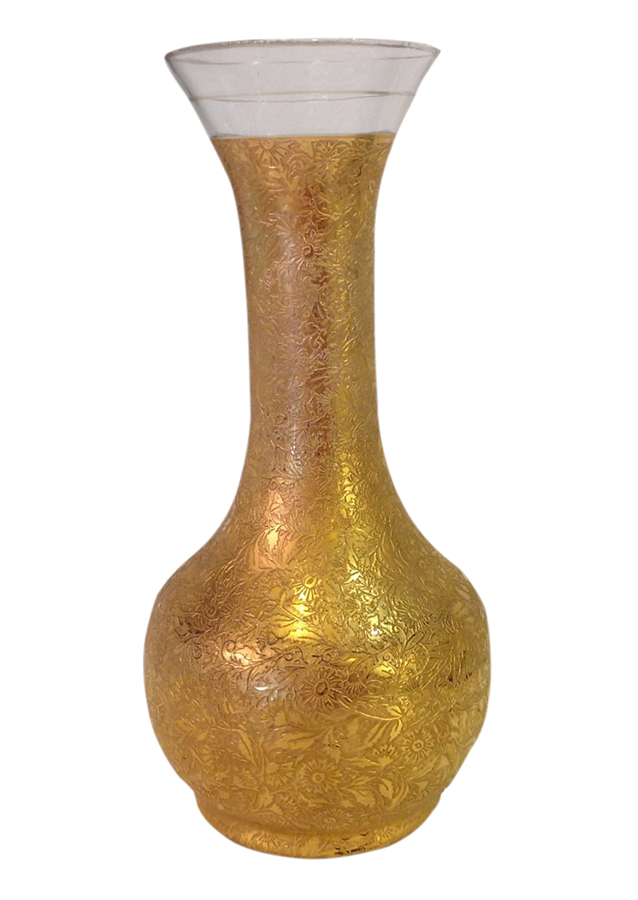 Imagine the beauty of gilded glass vases, glass candle holders, Christmas ornaments, or serving bowls. To add gold leaf to glass, use a spray adhesive instead of size. Cut the gold leaf into the proper shapes in advance before you remove it from the backing. Spray the adhesive directly onto the gold leaf pieces, and then press them to the glass with your fingers. Use a small brush to add a coating of sealer.
Jewellery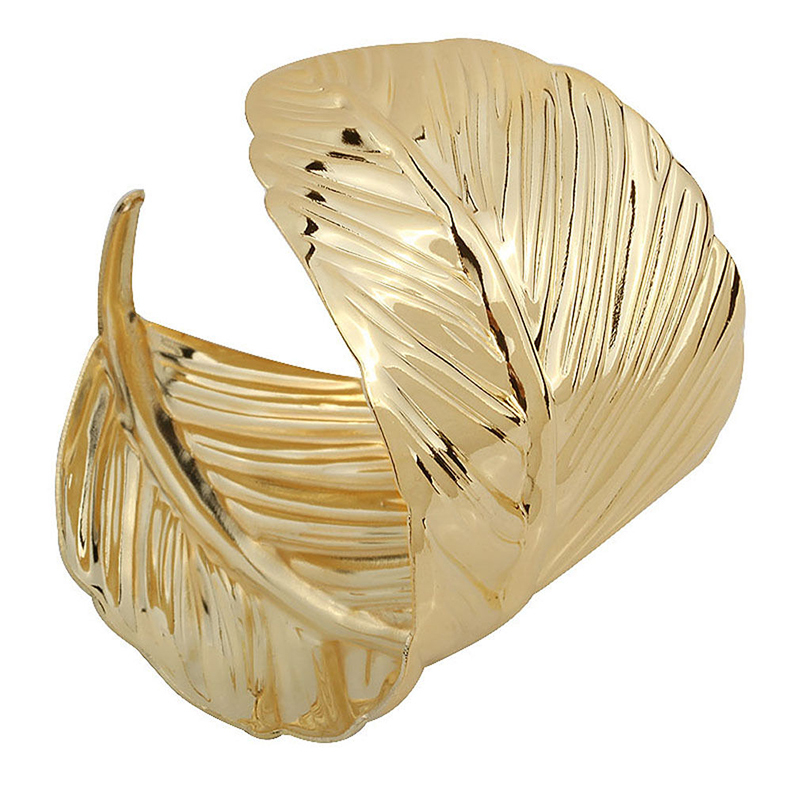 If you want to liven up an old piece of jewellery, gold leaf is the answer. Clean the jewellery to make sure it is free from dust and debris. Use a small brush to apply the adhesive, and then carefully place the gold leaf onto the piece. Finish by brushing a clear sealant over the gold leaf. Gold leaf adds sparkle to a beaded necklace or accents a bangle bracelet.
Paper Projects
Make a journal that looks luxurious with gold leaf. To gild paper products like books and journals, use size adhesive glue and gold leaf. Cut the gold leaf gently to the size of your journal or scrapbook, and use a small brush to polish the size onto the book cover. Press the gold leaf into place and allow it to dry. Gilded notebooks make great gifts.