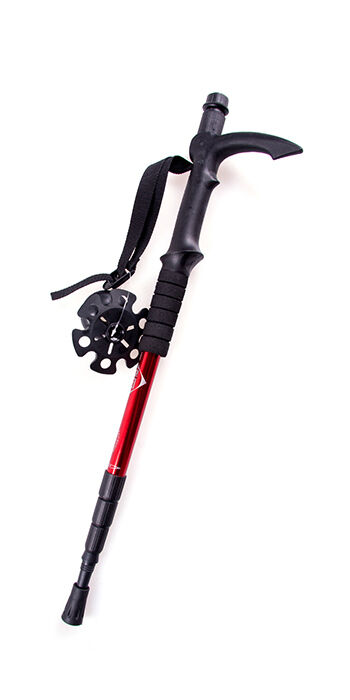 While not all avid and experienced hikers use hiking poles, also known as trekking poles, some find them to be an invaluable asset. They make climbing up hilly terrain easier and take pressure off the legs, helping the body engage in more of an upper body strength training workout. They also help hikers stay balanced on hills and make the trek down hills easier. However, hikers need to use the poles correctly to get the most benefit from them. Hikers can find different brands and styles of hiking poles at local sports stores or on eBay, and researching how to utilise this equipment for maximum efficiency makes choosing the right poles easier.
Types of Hiking Poles
Manufacturers make various types of hiking poles for different terrains, as well as for specific genders and builds.
| | |
| --- | --- |
| Hiking Pole Type | Description |
| | Used for walking downhill |
| Standard poles | Used for balance |
| | Used by women and people of shorter stature |
| | Used on flat terrain |
| | Used for a total body workout |
Each of these pole types has different uses and some people have a collection of many poles, depending on the hiking they plan to do. Avid hikers usually have as many different poles to choose from as possible.
How to Use Hiking Poles
Most hiking poles come with an adjustable feature that allows them to adjust to the user's height. Before setting out on the trail, make sure to adjust the poles so that they are comfortable for use and not too long or too short.
Using the Grips
Some hiking poles come with wrist straps, while others come with rubber, foam, or cork grips designed for comfort and easy hand traction. If wrist straps hang off the top of the poles, place them around the wrists by pushing the hands up through the bottom of the strap. Then, grip the top of the pole firmly with bare or gloved hands.
Using Proper Form
Make sure elbows to hold the elbows at a 90-degree angle to promote full usage of the poles. When hiking, firmly place the tips of the poles onto the ground. Manufacturers make hiking pole tips from carbide or steel with a rubber overlay that helps protect the material from the elements. Some hiking poles even come with a basket on top that holds a few small items the hiker needs.
Adjusting During a Hike
Depending on the terrain, hikers may need to adjust the poles, as well as the way they hold the poles. When walking uphill, adjust the poles down a bit to increase load bearing pressure on the upper body and reduce strain on the legs. When hiking downhill, make the poles a tad longer to increase balance. Hikers should always keep their forearms parallel to the ground when hiking on flat terrain and grip the poles lower when hiking on traverses. Owners should turn off the antishock system in some poles when walking uphill or on level ground.
Maintaining Hiking Poles
Making sure hiking poles stay in top notch condition extends their life and helps them perform better when needed. When finished with a hike, dismantle the poles according to the manufacturer's instructions. Most poles pull or screw apart, making this task simple.
Once dismantled, clean the poles thoroughly using a damp soft cloth, making sure to remove dirt and debris from the seams between each section. A nylon brush also comes in handy for getting rid of any hard-to-remove dirt and debris that hardens and sticks to the poles. Remove any excess moisture with a dry soft cloth. Take caution never to use any kind of alcohol or lubricant on the poles, as they can corrode and destroy the poles. Once poles are thoroughly clean, allow them to air dry for several hours before putting them back together and storing them away.
How to Buy Hiking Poles on eBay
Knowing the kind of hiking poles you want or need is the first step to finding the right poles on eBay. Once you have made this decision, input the brand or type of pole you need into the Search bar found on any eBay page. Turning to eBay stores or browsing Daily Deals are other ways to find the right hiking poles.
When your hiking poles arrive at your door, inspect them for cleanliness, and adjust the height. Store them in a clean, dry area until it is time to set out on a hike. For all your hiking and sporting equipment, turn to eBay where shopping from home is convenient.