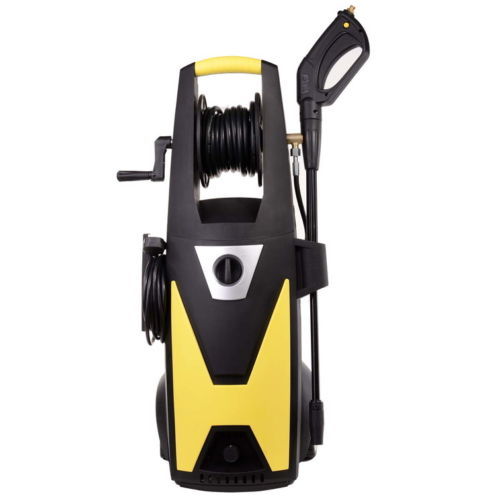 Using an ordinary garden hose to clean the home's facade only gets you so far. For greater cleaning power, buyers should consider investing in a pressure washer. Besides cleaning the home's facade, pressure washers can be used for a multitude of other tasks, including removing loose paint, mould, grime, dust, and dirt from surface areas and objects. Pressure washers have the ability to increase water pressure up to 50 times that of a garden hose. In addition, they are able to reduce the amount of water used greatly. There are two basic types of pressure washer: those that use gas powered engines and those that use electric motors.
When purchasing a pressure washer for the home's facade at retailers such as eBay, buyers should familiarise themselves with the two types of power supplies available and understand the factors that they need to consider in order to make a well informed decision.
Types of Power Supply for Pressure Washers
There are two types of power supplies available for pressure washers that can clean the home's facade: electric and gas. Each type differs in strength, speed, and the way it pressurises water. Choosing the right size and strength of washer depends on what is being cleaned.
Electric Pressure Washers
Electric pressure washers use less water pressure than their gas powered counterparts, pushing water out at a rate of 3.7 litres per minute with a force between one thousand and two thousand pounds per square inch (psi). These washers are well suited to and often preferred for household tasks, including cleaning a home's facade because of their small size and lighter weight. Electric pressure washers are generally less expensive as they have an alternating current (AC) electric motor as opposed to a motor that uses gas, air, and oil. The motors are usually rated in fraction amounts of horsepower.
Electric pressure washers geared for consumer use come in four sizes: handheld, medium, large, and extra large. The table below lists a description of each type.
Type of Electric Pressure Washer

Description

Handheld

Smallest

Most lightweight

Easy to store

Ideal for washing the car, cleaning outdoor furniture, and grills

1350-1600 psi

Medium

Easy to pull around

1600-1700 psi

Ideal for cleaning small patios or balconies

Large

Has wheels for easy portability

Better motors and onboard detergent tanks

Ideal for removing moss and cleaning small patios, decking, or walkways

1750-1850 psi

Extra large

Higher quality pumps, motors, and features such as hose reels and detergent tanks

Ideal for washing decking and patios much quicker than other units

1900-2000 psi
Extra large pressure washers are most efficient when it comes to cleaning a home's facade. In addition, these washers are great for cleaning small surface areas such as cars and boats. However, for greater power and speed, buyers should consider a gas powered pressure washer.
Gas Powered Pressure Washers
Gas powered pressure washers may use cold or hot water. Cold water is generally better suited for cleaning a home's facade, while hot water is more often reserved for commercial and industrial applications. Gas powered pressure washers tend to be more expensive than electric pressure washers. Their motors are rated in whole number amounts of horsepower. These pressure washers do not require an electrical outlet in order to operate. In addition, they are more powerful and have a longer lifespan. However, gas powered pressure washers are noisier and require more routine maintenance. Due to the gas fumes emitted, they should only be used in well ventilated areas.
Like electric pressure washers, gas powered models can be defined by their size: small, medium, or large. The various types and their descriptions are listed in the table below.
Type of Gas Powered Pressure Washer

Description

Small

Ideal for washing areas of decking and patios

Medium

Has a variety of spray tips

Able to tackle larger areas efficiently

Around 3000 psi

Has enough power to strip paint from wood

Large

Has psi of up to 4000

Ideal for large areas
Gas powered pressure washers offer better overall performance than electric pressure washers. This allows users to clean a large area faster and more efficiently.
Factors to Consider When Using Pressure Washers
There are many factors to consider when using a pressure washer to clean your home's facade. The nozzle type, cleaning power, features, safety, and chemicals used can all affect the effectiveness of the unit.
Nozzle Type for Pressure Washers
When using a pressure washer, buyers should consider the type of nozzle. Many pressure washers come with interchangeable nozzles, making it easy to alter the spray pattern delivered by the wand. One such nozzle, the turbo nozzle, allows for greater cleaning power. In addition to interchangeable nozzles, pressure washers often come equipped with other attachments. These are specifically geared towards certain applications. Surface cleaner attachments allow for faster cleaning, while extension wands allow cleaning for high, hard to reach areas. Extension wands are especially useful when cleaning a home's facade.
Cleaning Power of Pressure Washers
Buyers must consider the pressure washer's cleaning power when searching for the right type. Cleaning power is measured by the psi and GPM (gallons per minute) ratings. The psi determines how powerful the water stream is, while the GPM determines how fast the pressure washer cleans and how effectively it rinses away debris. Buyers must take special precautions, as choosing a pressure washer nozzle with too high a cleaning power can cause harm to some surfaces, especially wood. The distance the user stands from the home's facade while washing can also increase or decrease the risk of damage, as well as affect the cleaning results.
Features of Pressure Washers
Some pressure washers have features such as electronic fuel injection (EFI). This enables the washer to start more easily and allows for better fuel economy.
Safety of Pressure Washers
When purchasing a pressure washer, buyers should ensure that the unit comes with an owner's manual. Buyers should also invest in safety gear to decrease the risk of an accident. Safety goggles , work gloves, and ear protection all help to prevent dangers that can arise when working with power tools. It is also a good idea to wear shoes with slip resistant soles as working with water can cause the ground to become slippery. Pressure washers tend to heat up during use. Therefore, it is important to handle the unit with caution and ensure that it has cooled down before returning it to its storage location.
In addition to safety gear, buyers should ensure that the pressure washer is equipped with standard safety features. These features are designed to reduce pressure buildup. Unloaders and thermal relief valves ensure that heat and water pressure do not reach dangerous levels, while an oil-level indicator ensures that the unit stays properly lubricated.
Chemicals for Pressure Washers
Buyers should ensure that all chemicals, detergents, and waxes used are compatible the pressure washer. For complete confidence, users should only use chemicals recommended by the manufacturer. Formulas tend to differ based on application and can lead to a variety of cleaning results.
Buying Pressure Washers on eBay
If you want to buy pressure washers on eBay, it is easiest to start to browse the products available by typing " pressure washer" into the search box that you can see at the top of every eBay page. If you have a more specific idea of what kind of product you desire, then you can include more keywords in your search. For example, you could include the power source; whether it is electric or gas.
In order to narrow the results down, you can sort them by price or condition. This option is useful if you have a budget in mind or if you only want to look at new pressure washers. Too much exerted power can compromise the home's facade, so you should pay close attention to the details in the item listing and ask the seller in case you have any queries about the pressure washer or its power level. By choosing Top-rated sellers with positive feedback and high ratings, you can be sure that you are getting the best service.
Conclusion
Buyers looking for a quick and efficient way to clean their home's facade should invest in a pressure washer. Whether electric or gas powered, pressure washers clean surface areas effectively, as well as strip peeling paint from a house. Although electric pressure washers get the job done, for greater speed and power, buyers should consider purchasing a gas powered unit. When searching for pressure washers, buyers should understand how to interpret psi and GPM ratings. These two ratings help buyers to choose the best model for their cleaning project.
Buyers should also consider the various features and additional components offered by the pressure washer. The nozzle type can help to control the cleaning power, while special attachments can help users to clean hard to reach areas on the home's exterior. Buyers can find a wide array of affordable pressure washers at retailers such as eBay without having to compromise quality for price.