It often happens with a favourite pair of jeans. You feel they are the best pair you ever had and want to continue wearing them. The trouble is the colour has faded and the jeans look very old and used even though they are in a very good condition otherwise. The good news is that you can bring colour back to jeans with the help of Rit fabric dye. Learning more about how to use Rit dye to breathe new life into your beloved pair of jeans can help you get the expected results every time.
Things to Know Before Using Rit Fabric Dye on Jeans

Dyeing a pair of men's or women's jeans is a quick way to make them look just like a new garment. Rit dye is available in a wide selection of colours and you can choose to purchase it in powder and liquid form. To obtain good results, consider the type of material you intend to dye with Rit dye. While the dye is suitable for most washable fabrics, you may need a different approach for 100 per cent cotton jeans than for synthetic or cotton mixture ones.
Gather the Required Supplies
Even though you may think that dyeing your jeans at home can be a messy process, using Rit dye makes it simple. All you need is a glass bowl, hot water, and a pack of Rit dye. You may also need a paint stirrer or a wooden spoon for the mixing process. Make sure the Rit dye you purchase is the same shade as the garment you intend to dye or darker. Using a light colour on a darker garment will not bring the desired results.
The Dyeing Process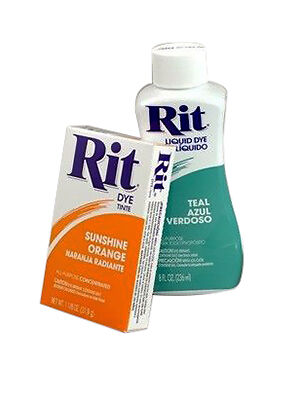 Start by filling the glass bowl with hot water. The fabric dye comes with instructions regarding the quantity of water to use. As a rule of thumb, one pack of Rit powder is enough to dye 500 grams of dry fabric. Follow the instructions of the manufacturer, as strong colours such as navy or black may require a double quantity. Dissolve the powder in the hot water. The right temperature should be about 60 degrees. Wet the pair of jeans with plain water before adding them to the colour mixture. Leave them in the bowl for 30 minutes, stirring regularly, especially for the first 10 minutes. This allows the colour to penetrate the fabric evenly. When the fabric of the jeans looks slightly darker than the colour you wish, pull them out and rinse them multiple times with warm water, until the water runs clear. Allow the jeans to dry completely before wearing them.