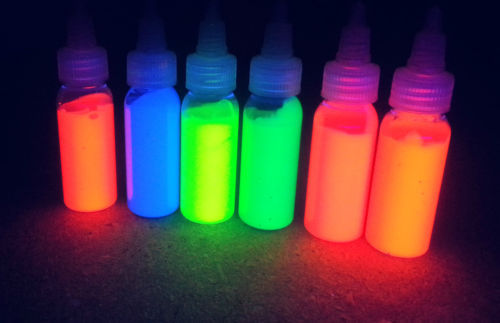 Artists around the world turn to UV paint for a fresh and exciting way to create attractive art. Under the shine of a black light, UV paint is a unique medium that highlights various levels of colour and contrast. In order for artists to get the full effect of the paint, they should first understand the intricacies of the product. Things like the lighting, the surface, and the applicator are important determinants in how a piece turns out. Artists who fully understand how to use UV paint end up with attractive artwork that earns them widespread praise.
UV Paint Basics
UV paint is unique because of how it glows under the shine of a black light. While the chemical makeup of the paint makes it an eye-catching medium, it also poses some challenges for artists who use it. Multiple layers of paint may be necessary to get the look an artist has in mind; however, multiple layers make UV paint more prone to crack. This makes accuracy and efficiency important considerations when painters use the product. Artists also should consider the surface on which they apply UV paint, as each is unique in its own way.
UV Paint on Clothing
Most UV paints soak into cotton clothing . To lock in the paint, individuals can use a hot iron with a cloth in between once the paint is dry. The heat "sets" the paint on the clothing. After ironing the shirt for a couple of minutes, users run it through a wash cycle inside out, with cold water. The full process ensures the UV paint completely sets on the clothing, which helps it last as long as possible. However, the UV paint wears out slightly with each wash.
UV Paint on Hard Surfaces
If the hard surface artists intend to paint is anything but white, they should begin with a layer of white primer. The white background helps the UV paint create bright colours. The primer also creates a surface that allows the paint to soak in completely and stay in place.
UV Paint on Canvas
Canvas surfaces are a bit trickier with UV paint. Artists often make a mistake and use primer on a canvas surface. The stickiest coat of UV paint is the first coat, and each subsequent coat becomes less sticky. If a painter uses a primer, the stickiest, most durable layer of the piece is primer, instead of the colourful UV paint.
Best Brushes for UV Paint
The chemistry of UV paint makes most paint and decoration brushes less than ideal. Brushes with large spaces between the bristles apply paint unevenly, and they cause excessive dripping. For the best results, painters should purchase high-quality brushes that are thick, with more bristles. They should also make sure the brush is completely clean after each use. When users paint a multi-colour piece, they should use a specific brush for each colour. This avoids "dirty" paint, which is an inadvertent mix of dark colours with light colours.
How to Spray UV Paint
UV paint is easy to spray with the proper setup. The first vital piece is a mesh filter. Failure to filter the paint clogs the spray gun and slows work significantly. It is also best to use a gravity-power spray gun. This type of spray gun allows the paint to trickle down from a top-load canister. An inexpensive spray gun works well for a piece that does not require fine details, such as a solid-colour wall. When artists want to paint a mural with lots of detail, they need a more expensive spray gun with an accurate nozzle.
How to Blend UV Paint
Painters often blend paint on the wall or canvas, and the same is true for UV paint. The key to an attractive colour blend is quickness. It is important to fully blend the paint before it begins to dry. Failure to do so leaves an unpleasant half-mix of colour. Furthermore, warm rooms make it more difficult to mix because the paint dries quicker, so painters should consider a lower room temperature when they intend to mix UV paint.
How to Buy UV Paint on eBay
There is a wide variety of UV paint available on the marketplace at eBay. To begin shopping, enter all relevant keywords in the search field on any page. Use the navigation available to narrow your selection and find the colours and quantities that best fit your project. To ensure the best possible shopping experience, be sure to purchase UV paint from a reputable seller with a high feedback rating.
Due to the easy availability of UV paint, it is a popular option for painters. For artists to get the full benefit of UV paint, they should adhere to the best practices for proper use.