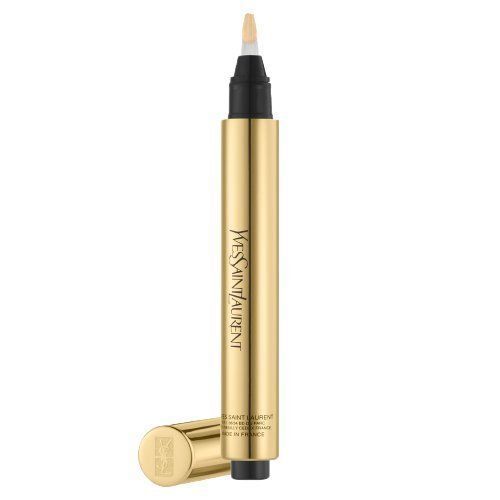 Whether one has unsightly crow's feet, dark shadows under the eyes, prominent folds along the cheekbones, or just the desire to brighten up one's face, consumers can certainly benefit from all of the practical uses the Yves Saint Laurent (YSL) Touche Eclat offers. With this little pen and all its available different shades, the Touche Eclat instantly gives consumers the type of radiant skin that reflects a full eight hours of sleep, a healthy diet, and a refreshed lifestyle. Furthermore, the Touche Eclat utilises the lumincaptide complex radiant, which blends in with the skin to provide a clear, illuminated tone. Since there are endless benefits that come with using the YSL Touche Eclat, it is crucially important for consumers to learn how to apply this highlighter and concealer properly.
Different Shades of YSL Touche Eclat
Before learning how to properly apply the YSL Touche Eclat, consumers need to take some time figuring out exactly which highlighter shade they need. Additionally, since consumers use the Touche Eclat to brighten their skin as opposed to darkening it, they should consider a highlighter that is at least a shade lighter than their natural skin tone.
YSL Touche Eclat Shade

YSL Touche Eclat Name

Definition of Skin Complexion

Luminous Radiance

Warm skin tones with deeper undertones of gold or yellow

Fair Complexion with golden undertones

Radiant Silk

Warm skin tones with either muted or clear contrasts

Golden undertones

Fair Complexion with pink undertones

Luminous Ivory

Lighter, fair complexion skin tones with less contrast between hair, skin, and eyes

Pink undertones

Olive-Bronzed Complexion

Light Peach

Softer contrasts with warm, lightly tanned skin tones

Ash tones that appear softer in colour

Warm Complexion

Luminous Honey

Strong contrasts with hair, skin, and eyes

Warm, darker skin tones

Warm-Dark Complexion

Luminous Amber

Less contrast with darker, bronzed skin tones

Dark Complexion

Luminous Mocha

Muted contrast with softer ash tones
When looking for the right skin tone, consumers should test different shades beforehand. At most shops there are specialists to consult, but when trying out testers alone, always see how the shade blends into the skin colour by examining it in direct sunlight.
Using YSL Touche Eclat as a Highlighter
When using the YSL Touche Eclat, it is important for consumers to remember that the main purpose of this product is a highlighter and therefore consumers should only apply Touche Eclat to areas they want to make more radiant. Unfortunately, most shops present the Touche Eclat as a concealer, which greatly undermines the capabilities of this product.
Using YSL Touche Eclat on the Nose
Often when using this product, consumers often forget that a simple touch of the Touche Eclat down the centre of the nose instantly equalises both sides of the face while slim-lining and making the face look thinner. To acquire this effect, simply take the Touche Eclat, start just below the eyebrow line in the centre, and apply a small amount down the septum to the upper portion of the nasal tip.
After Lipstick Application
After lipstick application, consumers should use a little Touche Eclat just along the outside portion of the lips and along the cupid's bow. With this application, consumers can effectively separate their lipstick from their skin tone and draw all attention straight to the lips.
Around the Eyes
In addition to the nose and mouth, the Touche Eclat works wonders around the eyes. Firstly, consumers can apply this product right above the eyebrow to give the illusion of lifting it upwards, and then under the eyebrow to even out this effect. Furthermore, consumers can use the Touche Eclat on the inner corner of the eye, as this is the corner of the eye that is darkest in many different situations. Lastly, a little of this product under the inner corner and along the darkened groove serves to present a refreshed, awake look.
Blending Touche Eclat Into the Skin
When blending this highlighter into the skin, there are a couple of techniques consumers should consider. After applying the Touche Eclat to lips, it is best for consumers to use a foundation brush or an eyeshadow brush and blend it down into the rest of the foundation. For the nose and eyes, consumers can simply use their finger for blending using small, quick strokes.
How to Buy YSL Touche Eclat on eBay
With the YSL Touche Eclat, you can easily boost and mend the colours of your facial tones while eliminating shadows and lines in no time at all. Furthermore, to get your hands on a whole array of Touche Eclat shades to perfectly match your skin tone, you only need to head on over to eBay.. From eBay,, simply locate the search bar and enter keywords specifically related to the products you want, and in an instant, eBay's powerful search engine elicits a range of listings at highly competitive prices from sellers near you. You can also filter your results based on price, condition of the product, and location of the seller by utilising eBay's Advanced Search Features..