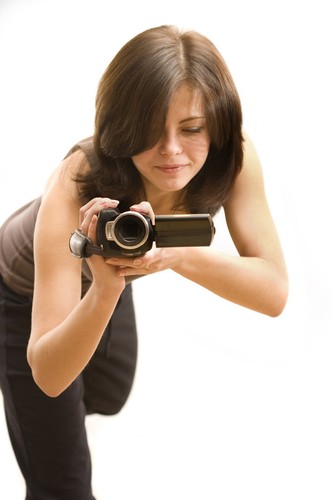 Camcorders have managed to survive the onslaught of portable affordable digital devices such as smartphones, tablets, DSLRs, etc., which also offer hi-tech video recording features that pretty much cover the requirements of a casual user. A camcorder still remains a prized possession of videographers, both amateurs and professional, though the equipment features and specs tend to vary with proficiency and actual use.
Right techniques without the right equipment are of no use. Given the wide choice of camcorders in the market, enthusiasts may do well to first learn to assess their needs and select the right camcorder accordingly, either to learn or apply the tricks of the trade to achieve a great shoot.
Camcorder Types
There are about four types of camcorders to suit the filming needs of both novices and experts.
| | |
| --- | --- |
| Pocket | Small and easy to use, about the same size of an average smartphone, single hand usage. Ideal for novices, learners, personal use |
| Standard | Traditional models, usually held in single or both hands, with additional features when compared to the compacts. Ideal for casual users, indoor and outdoor events, and travel |
| Professional | Hi-tech, heavier model with enhanced manual control options, interchangeable lenses and filters. Ideal for professional videographers |
| Action | Tiny mountable cameras, also known as point of view or helmet cameras, they are usually fitted on the helmets or caps to capture sporting events or personal adventures live. Ideal for hands-free recording |

Each camcorder type offers select benefits to the user, while also having its own share of drawbacks, both influencing the utility value of the unit.



Pocket


Priced less than smartphones and easier to share with others, shockproof, also resistant to water and dust. Video quality similar to those from mobile phones. No significant value-added




Standard


Supports basic automatic features in addition to manual controls, zoom, and other facilities to enhance visuals. May not be true HD quality




Professional


Innumerable additional controls to add a professional touch to the recordings.
Better lenses and sensors, support for external microphones and lights, and enhance the quality of the recording. Tend to be high price items.




Action


Hands-free, high-quality images, viewing angles otherwise impossible from hand-held units. Models are available with hi-tech features, such as recording in slow-motion and in-built Wi-Fi. Popular for both personal and professional use.


Understanding Image Quality
Quality of video recordings often depends on the resolution and frame rate; these determine the clarity of the images. Based on the number of horizontal lines that constitute an image, resolution is either high or standard. Camcorders that support high definition (HD) as well as standard definition (SD) are available in the market. HDs are certainly pricier given the quality of output. HD camcorders usually record an image using 1080 lines or 720 lines, while the SD models limit themselves to just 480 lines, resulting in a vast difference in quality.
Camcorder Features to Watch Out For
Irrespective of their type, camcorders are loaded with a host of features, few of which make a difference to a professional videographer or amateurs who are interested in improving the quality of their records. Casual users may also take note of the features that make the unit more valuable, especially while when paying for a quality product.



High Definition or Standard Definition


Determines the clarity and sharpness of the recording


High definition by default renders a better quality than standard definition. Greater detail, however, results in a larger image size that takes up a lot of storage space. HD images may need to be recorded in a compressed format




Recording Format


Images can be recorded in different formats such as MPEG-2, MPEG 4 and AVCHD


MPEG 2, being an older format, may not offer the best of compression as the other formats. MPEG 4 – suitable for live streaming and online uploads




Image Stabilisation (IS)


Stabilises the image in case of tremors or vibrations caused by hand movements. Optical stabilisation is achieved by shifting the lens, while digital stabilisation is often done post processing. Other hybrid IS features are also available.


Clean recordings even when on the move




Lens


Lens controls the amount of light that flows into the recorder


Quality of lens is important; the larger the lens, the more light and the clearer the image. Ideally, a diameter of 72mm or more




Sensor or Imaging Chip

(3CCD, 3CMOS, or BSI)


Sensor resolution influences the quality of image captured on it. Ideally, each chip resolution should be twice the standard resolution of the device for the best results


Be warned that higher resolutions may not be suitable for live action although they may improve the quality of stills if supported by the camcorder. Larger lenses and chips best support shooting in fading light




Compression Formats


Compression formats allow the audio and video recordings on the storage medium


Recording formats and storage sizes determine the compression format. However, high-compression often results in poor video quality. Low compression formats such as DV/HDV, XDCAM/HDCAM, XF, DVCPro/DVCProHD and other suitable formats help retain original image quality



Other important features that need care include the zoom factor and the storage medium. Zoom factor determines the ability to capture a close-up shot without actually getting close to the subject. There are two basic types of zoom features available, each distinct in their own respect.



Optical Zoom


The lens is physically adjusted to focus on the subject. It moves in and out of the unit to get a closer shot


Clear images with natural close-up image




Digital Zoom


Digital images comprise pixels, and each pixel is enlarged to achieve a zoom effect


Clarity of the image is lost as enlarging the pixels distorts the image, producing a blur.
Capturing quick movement using digital zoom may not be that effective



Storage media not only influences the price, but also the size and bulkiness of the camcorder. Common digital storage options include removable storage units, such as digital tapes, DVDs, flash memory cards, blu-ray discs, and built-in storage options – hard disk or solid state drives. Digital camcorders also allow users to expand storage capacity of the unit by supporting both these options.

Availability of a functional, useful user interface, decent battery life, easily accessible manual controls, and support for accessories, such as external lights, microphones, etc., are worth considering while selecting a camcorder.

Those looking for analogue camcorders need not lose heart as there are several analogue camcorder models that are very much in vogue even in present times. Analogue camcorders simply record the image on film or tape in different formats such as 8mm (230 lines resolution), VHS and VHS-C (280 lines), Super VHS and Super VHS-C (380 lines), and Hi8 (400 lines) and rely on the manual operations to complete the recording.
Conclusion
With a professional camcorder in hand, enthusiasts and amateurs now have to get familiar with their gear, patiently going through the documentation and putting theory to practice. A steady hand is the basic necessity for recording video, and definitely demands a great deal of practice. Loads of creativity is a must to arrive at an interesting video footage, capturing an assortment of related subjects in any given context so that the recording does not get monotonous. Playing with lights and sounds and a touch of digital editing do add a professional touch to the piece. A backup recording of important occasions will not help save face during emergencies but also may add value to the edits. Experimenting with the equipment is the key to mastery.