A floor polisher allows you to finish your hard flooring and bring it to a high shine. While you can hire the services of a professional, this is very costly. With a little know-how and a good quality floor polisher, you can do it yourself without having to pay for a professional each time, helping you save money. Doing it yourself also means you can perform the polishing at your leisure. Learning how to use a floor polisher ensures you get a professional finish.
Prepare the Room and Examine Floor Polisher Pad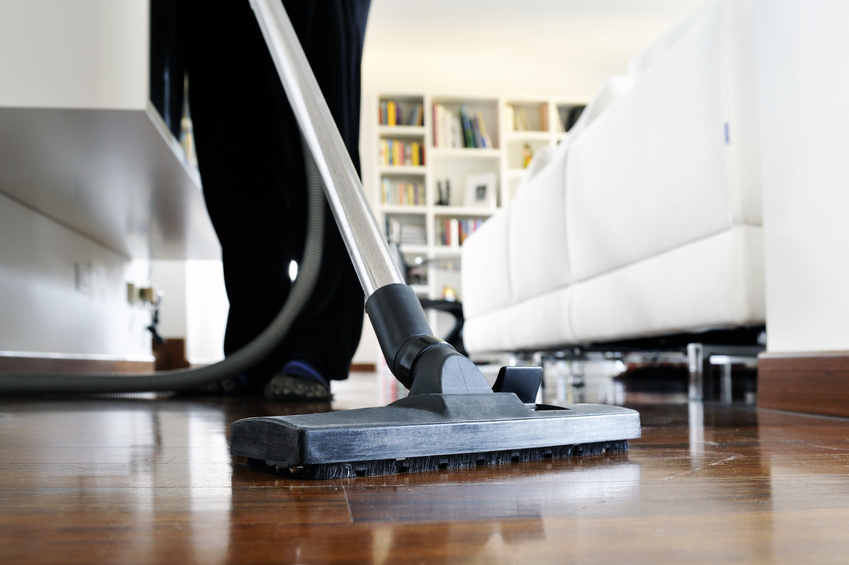 Never wear open toed shoes when polishing to prevent injury to your toes if you run them over with the floor polisher. After putting on closed-toed shoes, remove everything from the room and vacuum it thoroughly as polishers do not remove dust, dirt, or rubbish, and attempting to polish while the floor is dirty can easily damage and scratch flooring. Mop the floor carefully to remove any residual particles and leave the floor to dry. Check that the floor polisher pad is clean. Any debris on the floor pad may scratch the floors you are cleaning, especially when it moves at high speed. Check the floor polisher pad for missing bits of pad or an uneven surface as this prevents the machine from cleaning the floor properly and achieving a high quality finish. Adjust the height of the handle so that it is a comfortable height. This is an important step as polishers are heavy and cumbersome, and using them in an uncomfortable position can cause pain and injury.
Polish Scrub Corners and Edges of Room
Because polisher pads are most commonly round, they cannot successfully polish the corners of a room, as they simply cannot get there. Therefore, before you begin to polish the rest of the room with your machine, you have to polish the corners by hand. It is also advisable to polish the edges, so you do not need to take your polisher too close to the walls and skirting boards.
Using the Floor Polisher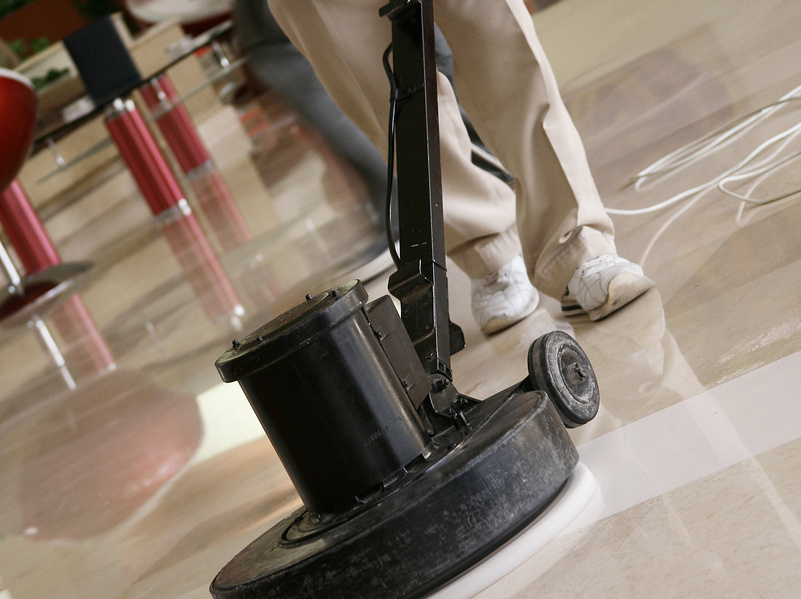 Start in farthest corner from door. This prevents you standing on the parts of the floor you have just finished polishing. Make sure the polisher's power cord reaches all the way around the room from the plug socket and use an extension cord if necessary. Apply cleaning solution to either the floor or the polishing pad, depending on the make of floor polisher and instructions on the polishing fluid. Move laterally through the room, taking your time and working slowly and carefully. Overlap each row by at least one third to ensure you do not miss any portions. For large rooms, check the pad regularly as you work, looking for dirt and damage that may harm your flooring.