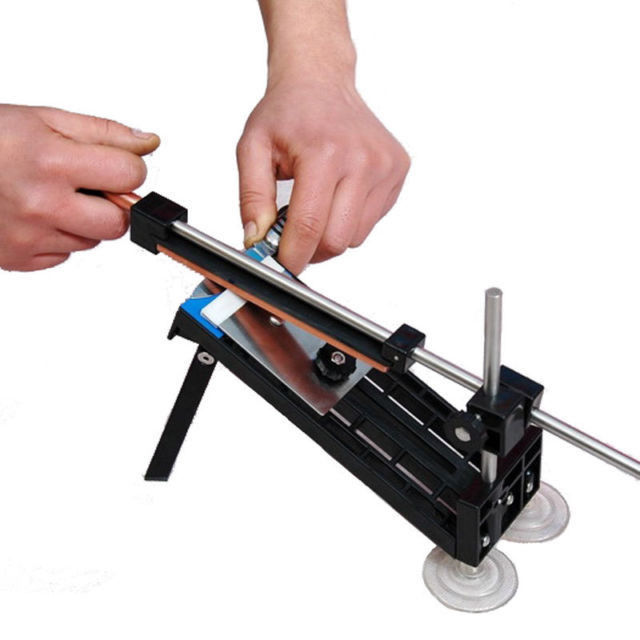 When it comes to learning how to use a new gadget, among the many gadgets that people should learn how to use properly is a knife sharpener. Although being able to slide through a thick and juicy steak like butter may have its own appeal, this takes a back seat to keeping all fingers intact while doing so, which is a priority.
Located at department stores and online at eBay, knife sharpeners are valuable tools to have in the kitchen. Sharpening knives helps make many kitchen tasks easier and is a more affordable solution over replacing knives. Knife sharpeners are not complicated tools to use when people take the time to find out more about some of the different types and how to use them.
Learn About the Two Types of Knife Sharpeners
There are two basic methods in which individuals sharpen knives, one being manually with the aid of items like a handheld sharpening tool, and the other is mechanically by way of using an electric sharpener. Although the outcome is the same, the tools and the process for using them differ. Whether it is a professional knife sharpener or one for everyday household use, there is one to suit almost any need.
Manual Knife Sharpener
A manual knife sharpener is a very convenient tool for sharpening a variety of blades. This type of sharpener requires the user to run the edge of the knife blade along the surface of the sharpening device in an angled motion until the sharpening needs are complete. Since manual sharpeners do not require electricity nor do they have a pre-cut space requirement, they are very portable and versatile sharpening tools. Many manual sharpening tools exist for knife blades. Both the ceramic knife sharpening rod and diamond knife sharpening steel are simple to use and require little maintenance, except for a deep cleansing periodically.
Needing minimal space requirements, many knife sharpeners offer the additional benefit of allowing the freedom to gauge how high up the surface of the blade the sharpness rises, which is something many conventional electric sharpeners do not allow. Knife sharpening stones work in the same fashion as sharpening rods or sharpening steel with the chief difference being a wider sharpening surface available with the sharpening stones. Some manual knife sharpeners require the use of sharpening fluid in order to minimise the friction between the stones and the blades, so it is helpful to review the product details to see if any additional accessories are necessary.
Electric Knife Sharpener
Although still a popular item, a knife grinding wheel often takes a back seat to more modern knife sharpening methods with a product like the electric knife sharpener , due the speed in which it sharpens a blade. Some include additional features which allow the user to also sharpen other blades like those of scissors. Unlike some other types of sharpening devices, many electric knife sharpeners also have the ability to sharpen blades with serrated edges.
Electric knife sharpeners come in styles that include stand-alone models as well as ones that are part of some other small electric appliances like can openers . There may be slight variations in the use of these tools depending on the knife sharpener model; however, for the most part, they are all pull-through devices. Users need only insert the blades into the sharpeners and pull the blades back toward themselves to sharpen the blades. Most electric knife sharpeners come with slots that have pre-set angle configurations which takes the guesswork out of how to properly set the units to sharpen correctly.
Compare Manual and Electric Knife Sharpeners
Even though manual and electric knife sharpeners ultimately perform the same function, there are some key features that differ between the two types. Being able to compare the differences helps people choose the right one for their individual needs and know how to use them.
Type of Knife Sharpener

Differences

Allows user to gauge the depth of the surface to sharpen independently

Does not include inbuilt safety precautions to protect surface of the blade

Blade sharpening more customisable due to variety of and texture of manual sharpening tools

Electric

Includes inbuilt safety feature which protects surface of the knife blade by including pre-set sharpening angles

Some models have ability to sharpen serrated knife blades

Sharpening process is faster due to electric motor and pull-through feature
Since not all knife blades have the same material composition. Always make sure to adhere to any manufacturer's special instructions or precautions for sharpening that come with the knives in order to prevent injury to self or permanent damage to blades.
How to Buy Knife Sharpeners on eBay
One of the great things about eBay is that it is the perfect place to shop if you are looking for a knife sharpener because of the wide selection of items available. There are many new and used knife sharpeners that come in a variety of styles which makes purchasing one from eBay an affordable choice. Simply enter relevant keywords on any eBay web page to find the sharpener that is right for you.
With so many styles of manual and electric knife sharpeners available, it is often hard to know which one to choose. Knowing how to use a knife sharpener and being able to compare features helps make the buying choice easier.