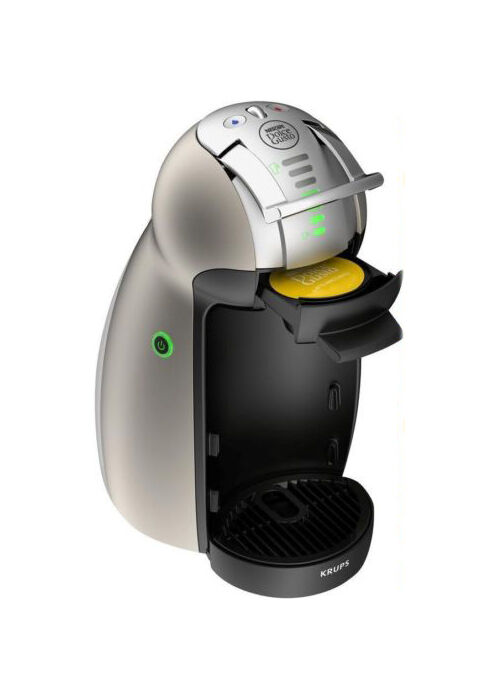 The typical cup of coffee is supposed to speed the day up. But with overcrowded shops, and prices reaching an arm and a leg for a meager medium latte, actually getting the cup of coffee can slow the day down. Luckily, the Krups Dolce Gusto by Nestle has the problem fixed. It has never been easier to make delicious cups of coffee or hot chocolate from the kitchen counter for a fraction of the price and time. This guide provides a detailed look at how to use the Krups Dolce Gusto, some of its features, and the things to watch out for.
Krups Dolce Gusto Features
The Krups Dolce Gusto is a unique coffee blender with many aspects setting itself apart from the competition. While at a fairly heavy price compared to most coffee blenders, it makes up for this in its ability to create numerous drinks other than coffee, and by producing beverages much faster. The water compartment of 1.5 litres not only has a retro feel to it, but also can boil water in less than a minute. It also proudly hosts a 15-bar pressure system, similar to those in coffee shops, to ensure each cup of coffee, or other drink, has a rich and luxurious flavour. Additional features include a magnetic capsule holder and an adjustable drip tray to suit any size of beverage. Some users find it bothersome that the variety of drinks are limited to the flavour capsules Nestle supplies.
Making the typical cup of coffee
After selecting what type of drink is desired, the user removes the tray from the Krups Dolce Gusto and inserts either the milk capsule or Nescafe flavour capsule into the removable tray. Note that some drinks do not require a milk capsule; for those that do, it is not important which part of the drink (the milk or coffee) is created first. After placing the desired mug into the magnetic holder, that prevents the cup from ever touching the machine, pull the lever down to puncture the capsule. This allows the contents of the capsule to mix with warm water once activated. Other types of drinks are made with cool water, such as iced lattes, in which case the water temperature can be adjusted. Following this, move the lever up or down to select how much of the content is desired. This step is not particularly important, because it is possible to stop the flow of milk or coffee at any desired moment. Some users find this troublesome, that the machine does not create the entire drink on its own. Others, however, find it nice to be able to customise a drink. After these steps are completed, it is as simple as pressing start and stop.
Flavour capsules
Critics rave about the Krups Dolce Gusto's numerous flavour capsules which offer no-mess, simple clean up, and absolute simplicity. The capsules come in espresso, cappuccino, latte, lungo, and chococino. Other flavors are available, and not limited to, hot chocolates, iced teas and special holiday blends. Packages and refills of the flavour capsules are found on eBay and other Nestle sites. Certain drinks require the Nescafe milk capsules, which are also available on eBay. Many users find it handy to have a device that boils water quickly; by not placing a capsule in the device, users can have plain boiling water ready to go for cooking or tea.
How to Buy Krups Dolce Gusto
eBay offers numerous Krups Dolce Gustos available at different price ranges, colours, and conditions. To begin searching for a Krups Dolce Gusto, start at any eBay page. Use however many keywords desired to broaden or narrow your search results. Descriptive keywords help the search engine cancel out undesired products. For example, ' Krups Dolce Gusto Red' provides a fairly narrow results range, while 'Nescafe' increases the number of answers dramatically. From there, you can browse by different categories, like 'Home, furniture and DIY', which help you find exactly what you are looking for. If you are set on a Krups Dolce Gusto, the only thing left is to make a purchase and figure out how to use it. Follow the assembly instructions and owner's manual carefully, because this is still a relatively expensive purchase. The Nescafe Krups Dolce Gusto is a time and effort-saving coffee machine that provides the goodness of fresh-brewed coffee from your kitchen counter.