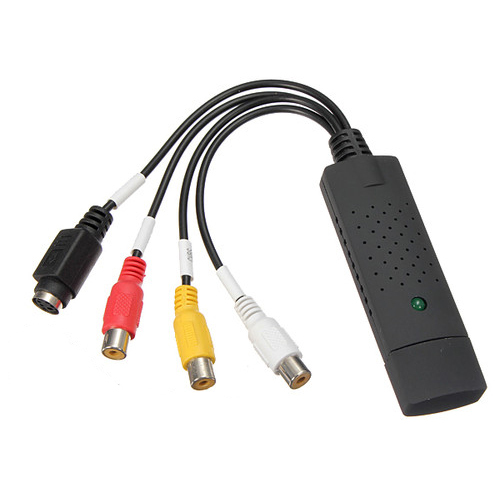 Entertainment technology has evolved. Many people have a plethora of old movies on VHS tapes around the home. One way to prevent the loss of ability of watching these movies and preserving them is to convert the VHS tapes to DVD. Converting VHS to DVD is a simple process. Converters transfer the content on the VHS tape and convert it to a digital format without ruining the quality of the video. Converters consists of a cord that connects the VCR which plays VHS tape via an AV cord to the home computer where you can then transfer videos to DVD format. Electronic stores, as well as online retailer, eBay sell VHS to DVD converters.
Description
A VHS to DVD converter is a unit with cables that sits between a VCR and a home computer. Cords from one end of the converter plug into the audio and video output components of the VCR. The converter then plugs into the home computer via a USB lead from the other end, which plugs into the USB port on the computer. Converters are inexpensive and easy to use. However, converters do not allow for editing. When purchased, converters come with the software needed for the home computer for the conversion to be completed. Converters work with both Mac and many versions of Windows computer programmes.
Computer Requirements
It is important that the home computer used with the converter have certain components in order for the converter to work properly. The first component needed is ample computer memory or space on the hard drive. Computer speed and memory space both help ensure the conversion happens quickly and properly. 2.8 GHZ CPU and at least 512MB of RAM is recommended for a home computer if you are planning to use it for converting VHS to DVD via the computer. Videos are temporarily stored on the computer during the conversion process. Ample disc, or hard drive, space is necessary to allow this to happen. Purchase an external hard drive if the home computer does not have at least 40 GB of storage. The second component needed for the conversion process is a DVD burner.. Purchase an external DVD burner should the computer not come equipped with an internal DVD burner.
Troubleshooting
As simple as converting VHS to DVD can be, there is always the possibility that problems or issues could arise.
| | |
| --- | --- |
| Problem | How to Fix |
| | Ensure before purchase that hardware is compatible with your equipment; read reviews; contact technical support; ensure all plugs are in correct outlets and in securely |
| Software Compatibility | Ensure software is compatible with both hardware and equipment; must be compatible with both VHS and DVD pieces; reinstall drivers |
| Software Settings | Research settings needed and that all necessary options are checked; technical support |
| Media Problems | Do research to ensure that the media inputted is supported with coordinating software/hardware i.e. if you are using a DVD-R burner, use DVD-R discs |
Converting is a simple process. Avoid the above, and other problems, by first ensuring the compatibility of the software, hardware, and equipment. Many software and hardware programs come with technical support should any of the above problems, or other issues, arise.
How to Buy a VHS to DVD Converter on eBay
Converters are a simple, inexpensive method of transferring video from VHS tapes to DVDs. There are many options for types of converters, and eBay has a wide variety of options to choose from. Within any page on the eBay site, simply search for VHS to DVD converters and a range of options appears. Then read product descriptions and reviews to narrow your search until you find the right converter. Be sure to read compatibility requirements and be aware of the capabilities of the home computer used in the conversion process.
After researching which converter works best with the capabilities of the computer, it is simple to find and use a VHS to DVD converter to save old movies and home videos.