My Grandmother always said 'Tea should only be made in something with a spout, the milk goes first, the little finger sticks out'.
Like many others in this nation of tea drinkers she would only make tea in a proper teapot. In those days, tea tended to be sold loose in quarter pound bags. It was only in the early 1950's that the tea bag began to take off, when Tetley introduced the first string-free tea bag in the UK.
Although times have changed, tea is still a popular drink enjoyed by over 55% of the population. It is estimated that in Britain 165 million cups of tea are consumed every day. That isn't surprising to me as tea has a lovely taste, but it also gives the benefits of replacing fluids and containing antioxidants.
There are many ideas about the best way to make a cup of tea. For example, when using a pot of tea, you should always put the milk in your cup first before pouring. If you make your tea builders' style – with a tea bag in your mug or cup – then pour the boiling water in first before adding the milk so that the hot water can properly brew the tea.
Nowadays, the builders' style is the approach adopted in the majority of households. But this comes with downsides.
It can be messy and fiddly getting a tea bag out of your cup, or mug. Do you grab it with your fingers and risk a scald from hot water?
Maybe you press the tea bag against the inside of the cup with a teaspoon – but you know that never gets all the water out.
And then there's the game of timing the drips so when you make that rush to the bin you don't drip tea onto the kitchen floor.
The solution to no mess brewing is an invention by a doctor who couldn't bear the drips from soggy tea-bags when carrying them from his mug to the bin.
He designed, and now manufactures, the Teatool.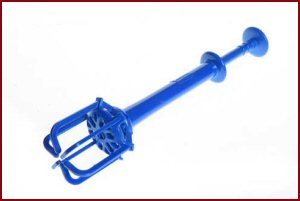 Here's how you use the Teatool:
1. Pull the plunger on the Teatool and insert a tea bag into the grips. Let go of the plunger.
2. Place the tea bag still held by the Teatool grips into the cup and pour in boiling water.
3. When the tea is at the required strength, press the Teatool plunger to squeeze the tea bag.
4. Holding the Teatool plunger down, carry the squeezed bag to the bin, pull the plunger and safely drop the tea bag into the bin.
With the Teatool there are no drips on the kitchen floor and no burnt fingers.
I'm sure my grandmother would have approved.
To watch a video of the Teatool in action
click here
.