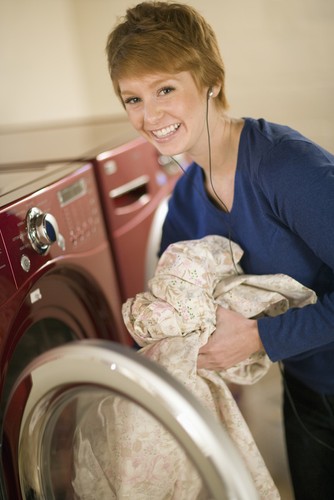 There's nothing more relaxing than a great night of sleep on a cosy set of bed sheets. Bed sheets come in many type of materials, so it's really up to the individual which kind of bed sheets you use, and some types of bed sheets may require different care than others. In the summer and warmer months, lighter cotton, silk, or jersey sheets may be needed, and once the weather gets cold, you may want to switch those out for heavier flannel or thicker cotton sheets.
Ideally, most bed sheets need to be washed once or twice a week to prevent bacteria from forming. Most bed sheets retain moisture, such as sweat, which can become unhygienic to sleep on over time, so make sure and wash and change bed sheets with some frequency. You may have purchased silk sheets and not know how to wash them, or you may need some tips on how to soften your cotton sheets. There are a few things you should know to make washing your bed sheets easier, and keep the sheets soft and fresh for years to come.
Common Types of Bed Sheets and How to Wash Them
There are several common types of bed sheets made from materials that are popular, such as cotton and silk. Sheets come in different types, colours, and sizes to fit most all beds from twin size to king size. Taking good care of your sheets can keep them looking great for many years. Most sheets have care labels sewn into them, so this should be considered before you begin to wash the sheets. When sheets begin to show wear, such as holes, tears, stains that won't come out, or elastic coming out, it's time to throw the sheets away and purchase a new set.
Sheets that are worn out won't be as comfortable. However, by taking great care of your sheets, they should last for years, and become more and more comfortable to sleep on over time.
Cotton Sheets
Most everyone has purchased or uses a set of cotton sheets. Not all cotton sheets are alike, because some cotton sheets have a higher thread count than others. What does this mean, exactly? The higher the thread count, the softer the sheet. Cotton sheets can be washed the same way, no matter what the thread count is. For best results, purchase sheets made from 100% cotton, because artificial materials tend to hold stains in, while natural, real cotton comes cleaner.
Wash cotton sheets in warm water; avoid using hot water. This can actually cause your cotton sheets to shrink, just as it does to clothing. For stains on sheets, use gentle bleach on white sheets, such as Oxi Clean. Cotton sheets can be tossed into the dryer and dried on a medium heat setting. Don't use high heat on cotton sheets, and make sure the sheets are completely dry before replacing them on the bed, or folding them and placing them into a linen cabinet.
Jersey Sheets
Jersey is a type of cotton that's very soft, similar to what a T-shirt is made from. Jersey sheets can be very comfortable. They also tend to become softer with each wash, so that's a definite perk of jersey sheets. Once again, ensure that the sheets are made from 100% cotton for the best experience keeping them clean and making sure they last for a while. To wash jersey sheets, you may want to use cold water. Any shrinking of the sheets could mean they won't fit back on your bed, and this could be an issue. Washing them in cold water will prevent any shrinkage and keep the jersey sheets from getting smaller. If you're worried about killing germs, split the difference and wash them in warm water, but never hot.
Dry the jersey cotton sheets on a low setting. They may have to complete more than one cycle before they are completely dry, but this is the safest setting for jersey sheets. Do not use bleach or harsh detergents on jersey sheets.
Silk Sheets
So you treated yourself with some glamourous silk sheets, but how do you wash them? Silk sheets are very cosy to sleep in, and they look like a million bucks. However, take care when you wash silk sheets. The first two or three times you wash them, they should be hand washed with a mild detergent and hung out to dry. Then, they can be washed in a machine for the duration of their life. Stains should be eased away gently with warm water and a very mild soap. Don't scrub hard; simply rub the stain away softly. You'll need to wash the sheets in the delicate, hand wash, or easy care cycle, on water that's not hot. Use a very gentle detergent, such as Woolite, and avoid bleach at all costs. However, fabric soften can be used.
If you have the time, hang your sheets to dry. Make sure the hanging sheets aren't susceptible to direct sunlight, or this could alter the colour of the sheets. If you must use the dryer to dry them, use the lowest heat setting possible, even the air-dry setting if your dryer has one. Silk is sturdier than most people think, but to keep it looking amazing, special care must be taken. Try to avoid ironing sheets, but if you must, use a cool iron only.
Flannel Sheets
Cosy, warm flannel sheets feel like a big set of pyjamas on a cool winter's night. Flannel is a brushed type of cotton that is very soft to the touch and holds heat in wonderfully, so they are a great option for cold weather. Here's a trick to keep your flannel sheets looking great: the first time you wash the flannel sheets, add about a half cup of white vinegar to the wash to keep the fabric from pilling. It also makes the colour longer lasting.
Skip fabric softener on flannel sheets; it can actually make the fabric stiff and uncomfortable. To keep the flannel sheets soft, dry the sheets with tennis balls instead of fabric softener. Don't use too many chemicals when washing your flannel sheets. Use warm water instead of hot, though cold is a good option, too. Flannel sheets should be air dried, optimally, though a low heat setting is okay, too. For stain removal, as with silk sheets, use a gentle hand, mild soap, and warm water. Make sure and tackle stains before washing the sheets for best results.
How to Buy Bed Sheets on eBay
Comfortable bed sheets are part of what makes a good night's sleep so fabulous. Select a bed sheet type that is easy to care for, feels comfortable, and is right for the season. Bed sheets come in so many colours, patterns, and materials, there is definitely a perfect set for you. While some people only sleep on Egyptian cotton bed sheets, many people prefer the comfort of jersey or silk sheets. To find the perfect sheets for you on eBay, search sheets. You'll see many options available. If you know what type of sheets you want, it's best to do a specific search, such as silk sheets, then you can narrow by size.
Ask the seller what the sheets come with; are there pillowcases, a top sheet, as well as a fitted sheet? Look at photos of the sheets and make sure used sheets don't have holes and are in good condition. Arrange a personalised pickup for your sheets with a seller that's local to you, and bundle sheets and other bedding together from the same seller for a discounted shipping rate. Shop with confidence for a great new set of sheets or other bedding on eBay, when you use Top-Rated sellers.
Conclusion
A good set of sheets can make or break your sleep experience, so you may have to do some experimenting before you can find the perfect sheets for you. Buy a set of cotton and a set of silk, and see which sheets you like best. You can always buy more sets at a low price on eBay. Get flannel sheets for winter, and jersey sheets for summer. Mix and match them with a great new duvet, and give your entire bedroom a much-needed makeover. Make sure you buy sheets that fit into your lifestyle; if you don't have a way to hang dry sheets, you may want to stick to sheets that can easily be washed in the dryer.
Sheets are a matter of personal taste; so finding the right ones for you may take some time. Luckily, on eBay, you can search through thousands of types of sheets without having to leave your house. Purchase sheets in your favourite brands, fabrics, colours, and patterns, and turn your bedroom into a haven for sleep and relaxation. Make sure you wash sheets frequently, at least once or twice a week, to keep your bed healthy and hygienic. Match sheets to your duvet and pillow cases for a pulled together look that will have you loving your bedroom and eager to go to sleep at night.