Long pleated skirts have a reputation for looking frumpy, as they often add bulk exactly where women do not want them. However, achieving a long flowing look with a pleated maxi skirt is within the reach of any woman, as long as she takes into account her body type and the best blouse, shoes, and accessories to complete the outfit.
Pleated Skirts for Hourglass and Rectangle Figures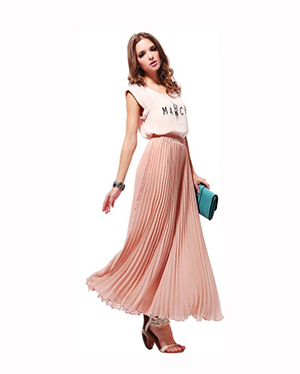 Hourglass figures can afford to follow the conventional advice of matching a maxi skirt to a close-fitting blouse like a tank top. As with other clothing styles, a maxi skirt easily suits hourglass figures, but such women should avoid pairing the skirt with a baggy or loose blouse that may add bulk at the waist and hide curves. Women with rectangle figures can wear loose blouses cinched in at the waist to create the impression of curves. A blouse with frills at the shoulders or other embellishments up top can do the same as well.
Triangle and Inverted Triangle Figures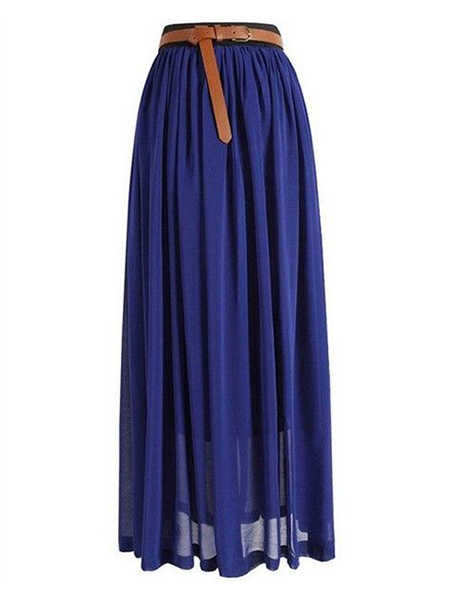 Triangle, or pear-shaped, figures have wide waists and narrow shoulders. Like the rectangle figure, these women need to create more bulk at the shoulders and minimise the hips. To do so, only wear long pleated maxi skirts low on the hip, since wearing them at the waist causes the pleats to flare out at the hip and appear more bulky. Also, accentuate the upper body with necklaces, big earrings, or hairstyles that add volume. Inverted triangle figures have wide shoulders and small hips; thus, they can follow exactly the opposite advice to balance out their figures. High-waisted maxi skirts and tucked-in blouses add volume at the hip if needed, and flared skirts add more curves at the bottom. A wide belt worn low on the hip also draws attention downward and makes the hips appear wider than they are.
Apple Figures and Petite Women
Apple figures and petite women need not shy away from the maxi skirt because it can add height and balance the figure as well. However, the drape or fall of the skirt is very important as well as the colour. Dark colours are slimming, and a flare at the bottom can add shape to balance an apple figure. Slim petite women should be sure to pair the longest possible skirt with tall heels or wedges. Avoid tucking in blouses, as this can make the torso look too short. Instead, opt for fitted blouses that end at the waist, and add volume with hairstyles and accessories, such as earrings and necklaces, that draw attention away from the tummy.