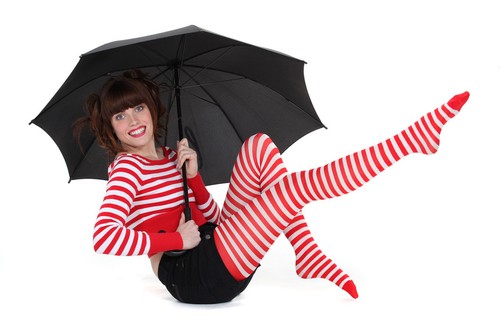 Women often consider the summer months the ideal time for showing off their bare legs, especially if they have a good tan and a toned look. However, when the autumn and winter seasons bring bitter cold, harsh winds, rain, and snow, women cringe at the thought of stepping out in an outfit that showcases their legs. Tights and leggings are an excellent way for women to keep wearing the short skirts and dresses they love, even when the temperature drops.
Tights come in a variety of colours and patterns, from black to cranberry and from houndstooth to camouflage. Striped tights are quite popular. However, some women are unsure about how to wear the trend with the pieces already present in their winter wardrobe. There are different outfits and clothing styles to wear with striped tights, and women also need to learn about the proper care and cleaning of tights and other hosiery. Buyers have several choices for purchasing striped tights which include online retailers such as eBay.
What to Wear with Striped Tights
Striped tights are fairly versatile, and the possibilities for creative style combinations are endless. However, women who are not yet confident in their ability to create new looks with striped tights should consider some popular options.
Choose Vertical Stripes
Patterns and embellishments of any kind tend to add width and bulk to legs. However, vertical stripes, when selected with care and combined with the right pieces of clothing, actually elongate legs and make them appear thinner. Tights with horizontal stripes are attractive if wearers have very skinny legs and the right ensemble, but in general horizontal lines widen the appearance of legs and make them look thicker than they actually are.
Match Stripe Colours to Shoes
The combination of black and purple or black and green stripes lends itself to a quirky, fun outfit. Wearers should choose shoes which precisely match the vivid colour. For instance, purple and black striped tights ideally pair with purple shoes in the exact shade as the stripes. A short, casual black dress goes well with such an outfit. If the tights are striped black and white, a pair of black shoes is a better choice than white shoes.
Wear Short Skirts or Dresses
Striped tights draw attention to the legs, so they work well with shorter skirts and dresses. Women could consider wearing a white tank top, a black cardigan, a pair of horizontally striped black and white tights, and a ruffled, olive green skirt which stops just above the knee. A chunky knit beanie that matches the skirt, along with a couple of thin black necklaces or pendants, complete the look.
For an outfit with a bit more flair, women could wear red and black striped tights with a short, classy black dress and a vivid blue belt in patent leather. A chunky blue necklace, blue close-toed heels, and a blue handbag to match the belt make ideal accessories. A pair of dangly earrings could incorporate beads which match the red in the striped tights.
Try a Monochromatic Outfit
Black and white are a classic colour pair. Tights with vertical black and white stripes are very flattering, especially if the white stripes are very thin and the black ones are wider. One ensemble with black and white striped tights could be a pair of black heels with black minidress. Women should experiment with different stripe widths to see which ones give their legs the desired effect.
Experiment with Diagonal Stripes
Diagonally striped tights are less common than vertically or horizontally striped designs. However, diagonal stripes are the centrepiece for a unique and interesting look. Diagonally striped tights work well with a thick, cable-knit sweater dress. A miniskirt in black or a jewel tone, along with a stylish corduroy jacket in a complementary colour also creates an artistic, comfortable outfit when combined with diagonally striped tights.
Select All Black Stripes
Some tights alternate between opaque black stripes and thinner black stripes which allow some of the skin's colour to show through. These tights are ideal for a look that is a bit more rock or grunge. A casual look combines black-on-black striped tights with ripped denim shorts, a loose graphic T-shirt, and a pair of Converse trainers. For a glamourous rock-and-roll look, wearers could choose a leather or pleather miniskirt, chunky platform heels or studded boots, and a black lace top.
How to Care for Striped Tights
In order to wear striped tights correctly, wearers must learn how to care for them. Tights are prone to runs and worn patches, both of which are unsightly and render the tights unwearable. Proper storage, preventative care, and cleaning are essential for maintaining the pristine condition of striped tights.
Storage
Some women store all their hosiery in a single box or drawer. This works well as long as the box or drawer is lined with tissue paper or soft cloth to prevent snagging. However, women may find that storing all their hosiery together leads to the individual pairs becoming tangled together. A better way to store tights or other hosiery is in separate plastic bags, like those used for sandwiches. The bags facilitate more compact storage and protect tights from runs or stains.
Preventative Care
When tights are worn with boots or shoes, the footwear and the tights usually rub against each other. The friction creates worn spots if preventative measures are not taken. Usually, the spots most prone to wear are the heels, the side of the feet near the big toe, and other areas where shoes or boots are extra tight. Some wearers find that placing a smooth adhesive bandage on the skin at the problem spot alleviates pressure on the tights and prevents wear. Wearers should remember to put the bandage on the skin and then pull the tights gently into place over it.
Women should be extremely careful when putting on their tights and their shoes or boots. A chipped or uneven fingernail, a rough callous on the skin, a ring, a bracelet, a boot zipper, or a shoe buckle snags tights and ruins them. To help avoid a snag, women should apply a light coat of unscented hairspray after putting on the tights. The hairspray makes the fibres of the tights tougher and more durable.
Cleaning
Tights, like other items of clothing, accumulate dirt and body oil through regular wear. They need to be carefully washed by hand in a sink or basin, using cold water and mild detergent. Owners should not wring out the tights, but should instead hang them over a drying rack or a couple of hangers so that they air dry. Since tights are made of very sheer fabric, they should dry fairly quickly.
Buying Striped Tights on eBay
Striped tights, like most fashion accessories and clothing items, are found in a number of shops in your area. However, you may find a wider selection and better prices online. eBay in particular offers a number of buyer-friendly policies which makes your shopping experience easier. eBay awards its special Top-rated seller seals to sellers who have received positive feedback from the majority of their former customers. As you shop, consider purchasing from these reputable sellers, particularly if they are offering return policies, free shipping, package deals, or bundles. If you have questions for eBay sellers, you can contact them via the Ask a Question link on every listing page.
To search on eBay, go to the homepage and type your search term, such as "striped tights", into the search bar. The eBay search bar appears on every page of the website, making it easy for you to change the direction of your search as necessary. When you enter your search term, a long list of results will appear. If you like, you can filter these results by size, colour, seller location, price range, and other options. You can also save any search you conduct if you are interested in knowing when new listings for that item appear on eBay.
If you would like to see additional options for striped tights, you can visit eBay Shops. eBay Shops is a unique section of eBay's website, designed for retail-style shopping.
Conclusion
Fashion styles are ever changing and are often subjective. Because of this, women often look for guidance when choosing the right outfit for a hard-to-wear clothing pieces such as striped tights. Women should remember that simplicity is key when working with patterns, including stripes. They should consider their own body shape and find a pair of tights with the right stripe thickness. The tights need to flatter wearers' legs, elongating and slimming rather than shortening and widening them. The colours of the striped tights should go well with many of the pieces already present in the buyers' winter wardrobe, such as shirts, dresses, skirts, and jewellry. They also pair well with outerwear, such as coats, jackets, hats, and scarves. With these basic principles in mind, women should be able to select pieces that not only complement their striped tights, but also create a cohesive, fashionable look that can be worn anywhere.