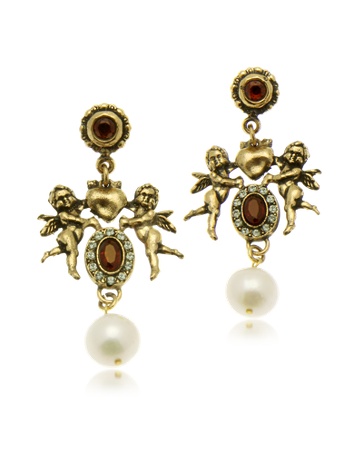 The Victorian era lasted from 1837 to 1901. This period of Queen Victoria's reign is known for its extremely rigid rules of etiquette, formal codes of dress, and florid home design. It was also associated with romanticism and elegance. Queen Victoria's influence during this period set a number of style and fashion trends, especially in the realm of jewellery. Jewellery during the Victorian era experienced a rapid change, part due to the expansion of the British Empire which increased the access to diamond mines and other mineral and metal sources.
Victorian jewellery is defined as jewellery produced in the Victorian era or modelled after jewellery made during this period in British history. Victorian jewellery was both handmade and factory made. Handmade jewellery, including brooches, rings, and necklaces, reflected a very high level of artisan skill and was often exchanged as gifts. Factory made jewellery used rudimentary techniques and was often supervised by an experienced jeweller. Victorian jewellery tends to be ornate and is often heavily set with jewels or coral. These distinct characteristics make the jewellery much sought after.
Victorian jewellery is not often worn for casual wear. Instead, it is reserved to dress up an elegant outfit. When purchasing Victorian jewellery, buyers should familiarise themselves with the various types and learn how to properly care for the pieces. Authentic Victorian jewellery can be brought at auction houses and online at retailers such as eBay.
Wearing Types of Victorian Jewellery
Certain types of jewellery were especially common in the Victorian era, including lockets; hair work, made from human or animal hair; and cameos. Mourning jewellery also came into fashion during this era. When browsing the various types of Victorian jewellery, buyers should consider how each piece is designed to be worn.
Victorian Lockets
Victorian lockets are small ornamental cases into which the wearer can place small photographs, a lock of hair, or another tiny memento. They are usually worn on a chain around the neck, although some wearers may choose to hang them from a brooch. Victorian lockets come in many shapes including circles, ovals, and hearts. They are typically made of precious metals such as silver or gold. There are various types of Victorian lockets, including the mourning locket.
Victorian Mourning Jewellery
Following the death of her husband Prince Albert in 1861, Queen Victoria wore mourning clothing until her own death. In addition to mourning clothes, she also wore various pieces of mourning jewellery, setting a trend. Mourning jewellery was traditionally issued by wealthy families and often featured designs incorporating the themes of death and dark, sombre tones. Most mourning jewellery is made from materials like jet, a form of fossilised coal, which can be left dull or polished to a deep black. It included lockets, brooches, earrings, rings, and bracelets, which were worn as part of the grieving process.
Mourning jewellery commemorated the passing of a loved one by immortalising him or her by using a photograph, cameo, locks of human hair, or pieces of the departed's jewellery to make a new piece of jewellery. During this time, mourning jewellery was the only type of accessory permitted following the death of a loved one as any other adornments were considered to show a lack of respect for the deceased. Mourning jewellery was not typically worn until the second stage, or year, after a person's passing.
Victorian Hair Work
During the Victorian era, hair work became a popular occupation. Ladies would use the hair of their loved ones to create bracelets, chains, rings, necklaces, brooches, and earrings. This jewellery was then worn as a treasured memento, enabling them to carry a little piece of their loved one with them wherever they went. Two basic techniques were used in the creation of hair work jewellery. Table worked hair was plaited and woven into elaborate patterns, while palette worked hair was glued onto a flat surface to produce pictures, or curled and fanned out into feathers. The finished product was then mounted in a jewellery casing.
Victorian Cameo Brooches
Brooches were widely worn during the Victorian era. They were often made with a cameo, a special type of carved jewellery. Many Victorian cameos were made of seashells. However, stones such as onyx, agate, sard, bloodstone, and amethyst could all be used as well. A cameo brooch often featured a picture of a woman and was designed so that it had two colours. In addition, rings, bracelets, and necklaces could all feature cameos. Cameo brooches attached directly to the wearer's clothing with use of a pin. Some brooch styles were suspended from ribbons. These had a metal loop in their setting through which a ribbon could be run.
Caring for Victorian Jewellery
When storing Victorian jewellery, buyers should keep each item in its own breathable, soft jewellery pouch. This helps to protect the jewellery and prevents each piece from becoming damaged. Moisture can negatively affect crystals and metal. So jewellery should be removed before taking a shower, washing the hands, or swimming.Victorian jewellery should also be protected from dust. Therefore, it is important to store all jewellery items in a cool, dry storage area. Buyers should not wear the jewellery during physical activity and they should avoid contact with cosmetics and perfumes as the chemicals can damage metal and stones.
To clean Victorian jewellery, buyers should wipe the piece carefully with a soft cloth or use a damp cotton bud. Buyers should never completely submerge Victorian jewellery in liquid jewellery cleaner or use harsh chemical cleaners. Polishing cloths should only be used for solid precious metals as the coating on the cloth is similar to fine sandpaper and can have a damaging effect to the finish of stones, enamel, or plated metal settings. After wearing Victorian jewellery, it is always recommended that all body oils and perspiration should be wiped from the jewellery before storing it as they can wear away the metal over time.
How to Buy Victorian Jewellery on eBay
Buyers searching for Victorian jewellery should go to eBay for a wide selection of pieces. The rarest pieces of Victorian jewellery are often sold by private collectors who specialise in the Victorian era. To find Victorian jewellery, a phrase, such as "Victorian brooch", can be entered in the search bar that appears on every eBay page.
When browsing for Victorian jewellery, buyers should pay close attention to the description of the item that they are interested in purchasing. By reading the full listing carefully and looking at the pictures, buyers can gain a better idea of the condition an item, and by getting to know the seller, they can feel more confident about purchasing from him or her. Sellers are usually more than happy to answer any questions buyers may have. Buyers can contact sellers directly using the "Ask a question" link and can continue to use this throughout the purchasing process.
Understand Item Condition
Buyers should always read the detailed item information before making a purchase. Although looking at pictures may be what initially attracts a buyer to the Victorian jewellery, it is important to enquire about the item's condition. Sellers must use standard terminology when describing the condition of their item. This helps to prevent miscommunication between buyers and sellers. It also helps to ensure a positive shopping experience.
Research the Seller
By analysing detailed seller ratings and reading reviews from past customers, buyers can decide if they feel comfortable purchasing from a particular seller. For a quick way to find the best sellers on eBay, buyers should use eBay's advanced search feature to look for those who have been awarded Top-Rated Seller status. Top-Rated Sellers are recognised by the eBay community for providing consistent levels of customer service and excellent products. They are also known for dispatching items in a timely manner.
Conclusion
Victorian jewellery is known for its ornate style and is often heavily adorned with jewels, diamonds, and coral. Victorian jewellery is usually worn for more elegant occasions and is not recommended for everyday wear. The formal style of Victorian jewellery makes it much sought after. When purchasing Victorian jewellery, buyers should consider the various types. Brooches, rings, necklaces, and lockets were all popular during the Victorian era: many of the pieces were inspired by Queen Victoria herself. Lockets are highly coveted and may hold a lock of hair, a photograph, or another small memento. Hair work was also popularly worn as jewellery by Victorians and was crafted from human or animal hair.
During the Victorian era, mourning jewellery was commonly worn following the death of a loved one as a token of remembrance. Mourning jewellery could contain a photograph or some other symbol to represent the loved one. Buyers should also learn how to properly care for Victorian jewellery. To maintain the quality of the jewellery, all pieces should be stored separately in a dry, cool area and never exposed to water or harsh chemicals. eBay sellers offer a wide array of some of the most unique items of Victorian jewellery.