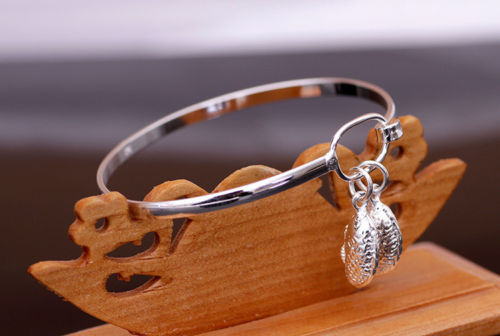 Since ancient times, cuff bracelets have graced people's wrists. Unlike other bracelets, which typically have a clasp, cuffs have a gap through which wearers insert their wrists. If you are not used to wearing cuff bracelets, learn where to position them, how to get them on, and how to combine them with clothing items in your closet to create fetching outfits.
How to Put on the Cuff Bracelet
Designers place the gap in the cuff bracelet so that you can slip your hand or arm through the opening. First, identify the narrow part of your wrist, just above the bony joint, where the softer flesh begins. This part is more malleable and works better for squeezing on a cuff. Push the cuff onto the wrist sideways, with the opening pointing towards the outer edge of your wrist. Keep working the cuff on until the broad side opposite the gap touches your wrist. Next, roll it gently over the arm until the gap is on the inside of the wrist and the broad section of the cuff bracelet is on the top side.
How to Position the Cuff Bracelet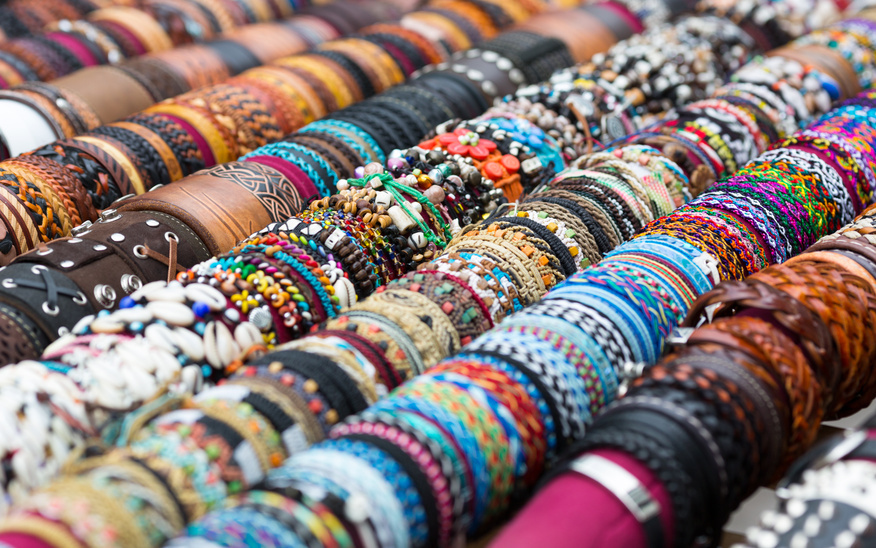 Keep in mind that cuff bracelets are not bangles. Bangles have closed circles, whereas cuffs have the opening along one side. You wear a cuff at the wrist, while a bangle rests further up the forearm. When you wear one of these lovely bracelets, keep the gap at the inside of your wrist, and avoid shoving it higher up the arm.
How to Adjust the Cuff Bracelet
Sometimes you have to bend a cuff bracelet once, the first time you wear it, to adjust the gap correctly. Work from the last stone and bend one end little by little to avoid damage. Usually, a cuff bracelet is adjustable up to about 6 millimetres from its original size. Take care not to bend the bracelet each time you put it on, since you could permanently mar its shape or break the metal. Bending the cuff also loosens any stones set into it and eventually causes the stones to pop out.
Balance Ornate Jewellery with Simple Clothes and Vice Versa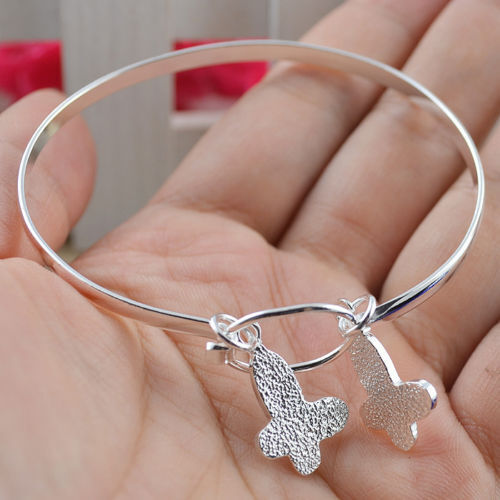 Balance your jewellery and your clothes when you create outfits for each day. For instance, pair a sleek, smooth gold cuff or plain silver cuff with a bold-patterned top or a floral dress. With a basic sheath dress, a solid-coloured top, or other simple, elegant clothes, choose a more elaborate cuff bracelet, perhaps one that features several large, chunky stones or a pattern of inset beads. Keep the outfit simple when you wear a metal cuff bracelet that spirals around your wrist or includes some sort of openwork. Leather cuff bracelets go well with a grunge or rocker look, or perhaps a casual, earthy outfit that combines comfortable jeans with a vintage tank top.