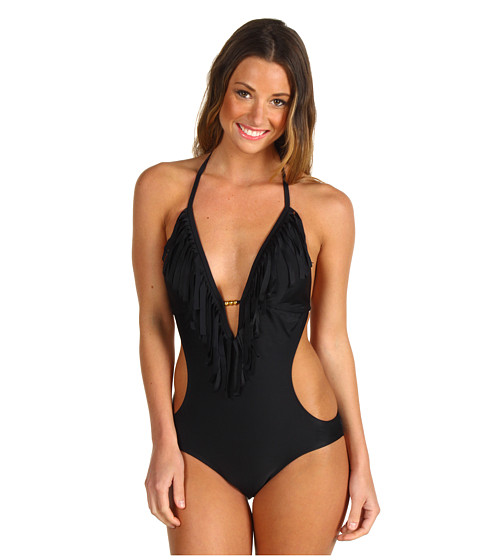 When a woman begins preparing for a mini break or the summer holidays, the process of looking for and selecting a swimsuit can be one of the most exciting parts of her endeavour. Swimsuits give women a way to express their more sensual sides and, with their range of styles, have an answer for almost any type of fashion sense. One style choice in swimwear that has been making a comeback is the monokini. This daring garment is at once revealing and coy, making it the ideal bathing suit choice for women who like to take chances.
Finding the right monokini and pulling it off with aplomb, however, involves a series of careful steps, including proper grooming, selecting the right style of monokini, and accessorising a monokini effectively. It can also help to find the ideal retailers that offer wide selections of monokinis. Women may also benefit from learning about purchasing online through websites such as eBay, where one can find an extensive selection of bathing suits.
An Overview of the Monokini
The monokini was introduced to the fashion world by Austrian modernist designer, Rudi Gernreich, in 1964 during a US fashion show. This garment was actually designed to leave a woman's breasts revealed, causing a stir in conservative circles at the time. The monokini, as envisioned by Gernreich, featured a bottom piece and two straps that crossed between the breasts in an X and then ran over the shoulder. This entirely risque design was a fashion scandal and is cited as one of the first steps in women's liberation.
Since then, the monokini has become a more modest garment. The modern monokini features a bottom element and a top element which are connected by strips or sections of material, typically revealing the sides of the torso and large sections of the back and stomach area.
Style Variations Amongst Monokinis
Monokinis are a diverse type of bathing suit. Not only do the top and bottom elements vary greatly from monokini to monokini, but the straps connecting a monokini may also change dramatically from one suit to the next.
Bottom Sections of Monokinis
Monokini bottom sections typically feature either a g-string back or a full back panel that covers the rear. The sides of monokini bottoms are often cut very high, revealing a good deal of the hips. Some monokinis can be found with string ties at the hip or metallic rings placed at the hip to connect the front and back panel of the bottom piece.
Strap Components in a Monokini
The straps that link the bottoms and tops of various monokinis can vary greatly as well. One prevalent design is a single section of material that runs up the center of the torso at the tummy and on the back. This section of material can feature a swoop design which accentuates the natural curves of a woman's torso. Some more modest options can provide more coverage of the tummy area, leaving just a hint of the torso revealed on each side.
Another popular option is a series of criss-crossed spaghetti straps that connect top and bottom. Zig zag strips of material can also be found in the marketplace on a regular basis. Another classic option features two sections of material that run up in a straight line to cover each breast, stemming directly from the monokini bottom and leaving the entire centre line of the tummy revealed.
Top Components in a Monokini
The tops of monokinis can come in any one of several styles. One popular one is the bandeau top, which covers the breast with a solid piece of material that runs horizontally across the chest. This bandeau is sometimes gathered to create a ruched effect or left solid and straight. Many monokinis also feature traditional, triangular bikini tops that meet in a halter tie behind the neck.
Padded Monokini Tops
For women with larger chests who like to have more support on top or women with smaller chests who want to have a bit filled in, padded monokini options are available. These options typically feature a halter design with a thin pad placed within each cup of the monokini top. In many versions, these pads can be removed or inserted with ease to give a woman a range of options.
Hints on How to Wear a Monokini
Since a monokini can be a daring and revealing garment, many women can benefit from careful preparation, including addressing their grooming and accessorising properly. This ensures that the effect of the monokini on a woman is as enticing and flattering as possible.
Groom Properly
Women who want to wear a monokini should take the time to groom the bikini line carefully before donning one of these high-cut swimsuits. Wax kits and depilatory kits can provide an easy and convenient way for women to address this issue in the privacy of the home.
A woman in a monokini should also make sure that her legs are smooth and hair-free. Quality razors customised for use by women can help, or they may also try leg wax kits as another option.
Get a Tan Going
Nothing makes a woman's figure look better than tanned and glowing skin. A rich tan can create a healthy tone and sheen to the skin, which in turn can camouflage any flaws that a woman may want to keep hidden. As many women do not wish to incur the skin damage that can come from laying out in the sun, they can try sunless tanning creams to achieve a quality base. Bronzers and highlight powder are additional ways in which a woman can prepare her skin to look radiant and glowing in a monokini.
Wear a Sarong
A subtle wrap like a sheer sarong can give a woman a bit of coverage on her hip and rear area without taking away from the effect of a monokini. Sarong wraps can be found in gauze designs, net designs, and more solid materials for modest women. A sarong should be loosely wrapped at the hips and tied off on one hip in a knot.
Accessorise with Jewellery
Since a monokini is a high drama option when it comes to swimwear, it lends itself well to a bit of accessorising. Wearing a bold, chunky bracelet or even a necklace with a deep V halter monokini can add just the right amount of emphasis to an already dramatic look. Women should look for low maintenance materials or organic materials such as acrylics or woods to create a look that can accommodate being near the water.
Shopping for a Monokini
Finding the perfect monokini does not need to be a complicated process. Women can consider looking through local retail shops for some options. Since the monokini is one of the less common types of swimming costumes, women may not find a large variety readily available at a local store. Women who want to access a large catalogue of monokinis in a range of options find that online auction sites, as epitomised by eBay, can be one of the more viable sources.
Buying a Monokini on eBay
To begin a search for a monokini on eBay, you can start by running a general search for 'monokini' using the search bar found at any page on the website. This can give you an idea of the overall range of options available on eBay. The site makes related search suggestions whenever you run a search, and this can help refine the process of finding the ideal monokini. If you have a particular type of monokini in mind, run a search with that specific term. For example, you could run a search for 'black halter monokini'.
Getting to Know the Sellers on eBay
A great technique that can refine the purchasing process on eBay is getting to know the sellers from whom you may be interested in buying a monokini. You can do this by reviewing a seller's past auctions and looking at the feedback the seller has received from other customers. Familiarising yourself with a vendor's practices can ensure that you get the ideal swimming costume you want in a timely manner.
Conclusion
A monokini is one of the more exciting and enticing statements a woman can make by the pool or at the beach. These revealing swimming costumes have been rising in popularity, with many women considering these dynamic one pieces for their next summer adventure or vacation at the beach. When wearing a monokini, however, it can help a woman to take certain items into consideration before revealing her look. Issues like grooming or accessorising a monokini with a wrap or with jewellery can take a look that may be difficult to achieve into confident and truly chic territory. When shopping for a monokini and its associated fashion and beauty accessories, a woman can utilise no greater resource than the catalogue of listings on eBay. On this website, a woman can search countless listings, get to know the sellers, and find any type of monokini that can help her create the ideal monokini look.