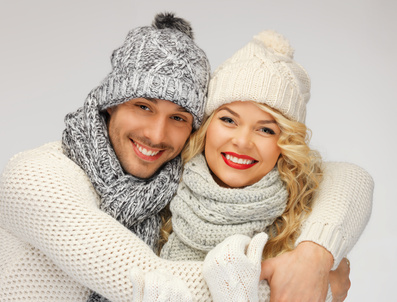 Scarves have been worn by women all over the world for centuries. Extremely versatile, they can be worn year round, no matter what the climate. Even though scarves seem to be small, rather insignificant articles of clothing, they can completely transform an outfit from ordinary to fabulous. Besides their popularity among fashionistas, scarves also serve functional purposes. Whatever the occasion, three of the most popular types of scarves worn by women include long scarves, square scarves, and infinity scarves.
Knowing how to wear a scarf can be tricky, so it is important to choose the appropriate scarf based on the climate and on one's wardrobe. Scarves can be found in almost any store that carries accessories, in addition to department stores, designer boutiques, charity shops, online, and for a huge selection of styles, colours, sizes, and prints, go to eBay. Here one can find an extensive array of scarves to suit any budget, as well as tips and instructions on how to wear them stylishly.
Functions of a Scarf
Scarves come in a wide variety of fabrics, colours, shapes and sizes, and can be tied in many different ways, allowing the wearer to express her own individual style. Although they are very often used to accessorise an outfit, they also serve practical purposes.
Cold Weather
When it is cold outside, wearing a scarf is a great way to stay warm. Styles that provide thickness and warmth are ideal for outerwear. They are usually closely knit and more bulky than dressier ones. Choosing a scarf made from wool or fleece and wrapping it close around the head and neck will prevent wind and snow from getting in. Extra-long scarfs can be wrapped around the neck two or three times, while shorter styles can be tucked into the opening of the coat to keep the neck and upper chest warm.
Warm Weather
Generally, when wearing scarves in warm weather they are going to be used mainly as accessories. However there are some practical uses as well. When extended periods of time are spent outside in the summer months, it is a good idea to wear a scarf to protect the head, neck, and face from the sun's harmful rays. Some very long or wide scarves can be used as summertime wraps to cover up after a swim.
Medical
Scarves are popular with medical patients who have experienced hair loss as a result of chemotherapy and radiation treatments. Burn patients often like to wear scarves to cover their scars and help them feel less self-conscious when out in public. People with allergies frequently wear lightweight, breathable scarves over their mouths and noses to for protection from dust and pollution.
Scarf Styles
Scarves come in a variety of styles, colours, and designs to create a unique look for any occasion. Although scarves are commonly worn around the neck, there are a myriad of other ways to wear them. By simply adding a scarf to an outfit, the wearer can portray a sophisticated, glamorous look, or a fun and whimsical appearance, whatever her preference is at the time.
Long Scarves
Long scarves can be worn in many different ways throughout the year. Used as outerwear during the cold winter months, heavier scarves are often worn to provide protection from frigid temperatures. Some people prefer the practicality of heavy wools and chunky knit scarves, though the bulkiness limits the number of ways they can be worn. One option is to simply place the scarf over the back of the neck and wrap both ends around the front of the neck and let them hang loose. An alternative is to place the scarf over the head, crisscross the ends in front of the neck, place them over the shoulders, and let the ends hang down the back. If the long scarf is wide enough, it can even be used as shawl by simply draping it over the shoulders and securing the ends in front.
Long Scarves for Summertime
When wearing a long scarf in warmer weather, fashion is usually more of a priority than practicality. From enhancing T-shirts and jeans, to embellishing office wear and formal ensembles, scarves add flair to any outfit that may otherwise be quite plain. The style possibilities are too numerous to mention them all, but a few options include pulling a long scarf through belt loops leaving the ends hanging in the front or on the side for a sassy looking belt. Another creative idea is to turn an everyday ponytail into a stunning look by winding a scarf a few times around the hair elastic, then pulling the long ends down through the hair in a zig zag weave. Letting the tail of the scarf peek out at the bottom creates a playful, unique look to the ponytail.
Lariat style necklaces add a chic look to any outfit, casual or dressy. All that is involved to create this look is to hang the scarf around the neck with the ends in front, then tie a knot midway down the torso. In addition, dazzling headbands can be made by simply rolling or folding colourful scarves, and tying the ends at the nape of the neck. For ladies that are heavy chested, a long, skinny scarf is the best choice to accessorise with since it does not add any bulk to an already full area. On the contrary, it adds balance to an unproportioned figure.
Square Scarves
Square scarves are very versatile and are typically used after folding on the bias to create a triangle. Often made of silk or some other lightweight material, square scarves can be worn in many different ways. One way is to wrap it around the neck and tie a small bow towards the side. This style adds a western look to collared shirts and simple T-shirts. A head wrap can also be made with a square scarf by folding it into a triangle, placing it around the head with the ends at the front, tying a knot, then tucking the ends in. For a fun and edgy fashion statement, tie a small scarf to a purse strap or wrap a scarf a few times around the wrist in place of a bracelet.
Large Square Scarves
Larger square scarves can be worn on the hips to mimic a sarong. The scarf is folded into a triangle, placed on the hips with the longest edge facing up, and the ends are tied into a knot. The point of the triangle can be worn facing the back or to one side. Another way to wear a larger square scarf is as a shoulder wrap. After the scarf has been folded into a triangle, and wrapped around the shoulders, the ends are then tied into a knot in the front, and the scarf is pulled down over the shoulders.
Infinity Scarves
Also known as a circle scarf, an infinity scarf is characterised by one continuous loop with no end. Extremely fashionable and versatile, this scarf is easier to wear than a traditional scarf since there is no tying involved. Materials range from heavy knit or wool for winter to lighter materials such as silk or cotton for spring and summer. A multitude of styles can be created to spruce up an outfit for any occasion. One of the most common ways to wear an infinity scarf is to place it around the neck, twist it, and wrap it around the neck again. The two layers can be worn right next to each other, or separated so one layer is close to the neck and the other layer hangs lower. Depending on the material of the scarf, this look can be paired with jeans and a T-shirt, or as an accessory to add glamour and panache to a dress for a more formal look.
Infinity Scarves for Wintertime
One reason that infinity scarves are so popular in cold months is because they can never slip off or come undone, exposing bare skin to wind and frigid temperatures. Also, since they do not need to be tied, the bulkiness is minimised, while still providing ample warmth to the wearer. One of the easiest ways to wear an infinity scarf is to simply keep wrapping it around the neck until the desired look is achieved. This look is best worn with outerwear and is a great way to protect the neck and upper chest from the cold. The circle scarf can also be worn as a hood. This can easily and quickly be achieved by wrapping the scarf around the neck and bringing one layer over the head. This is ideal for keeping the head and ears from becoming chilly.
Lastly, if the scarf is big enough, it can be worn as a shawl. This is achieved by placing the scarf around the waist, taking the portion of the scarf in the front and pulling it back behind the head, then positioning it on the shoulders. This is a great way to cover up when wearing a sleeveless top or short sleeve shirt when the temperature dips during the evening hours.
How to Buy a Scarf on eBay
Now that you are aware of the different types of women's scarves as well as a variety of ways to wear them, it is time for the shopping to begin. From lightweight summer scarves to heavy wool scarves for the cold winter months, eBay offers a myriad of options to choose from.
A great way to search for scarves is by taking advantage of the keyword search method within eBay. Simply locate the search box on any eBay page, and type in your preferred keywords. For a broad search, type 'women's scarves' into the search box and click search. This will produce a number of different style and size options to choose from, which you can browse through until you find what you are looking for. If you already know you would like to purchase a blue infinity scarf, type this phrase into the search box and click search. eBay will produce only the item you are looking for in the search results, making the search process quick, easy, and efficient.
Conclusion
Scarves are available in a huge array of styles, colours, patterns, materials, and sizes. Much of the popularity of scarves can be attributed to the fact that anyone can wear them, regardless of their age, weight, or body shape. Extremely versatile, scarves can be worn for functional purposes, such as protection from both hot and cold weather, and as a cover-up to hide bald heads or severe scars due to sickness or injuries.
When not serving a function, scarves are very often worn as a fashion accessory to add instant glamour, sophistication, edginess, or just plain fun to any outfit. They are appropriate for all occasions, adding personality to a tank top and cut-offs, or glamourising a little black dress. While the neck is the most popular place to wear a scarf, there are several other places they can be worn, and there are many different ways to tie them as well. Once the art of tying, wrapping, and draping has been achieved, the styling options are countless, limited only by the wearer's imagination.