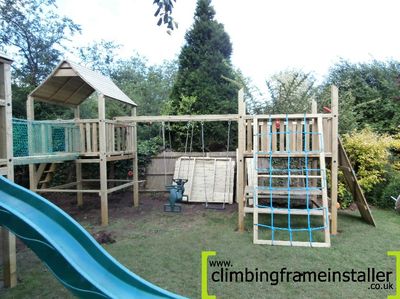 Another year and another summer to look forward to, how to entertain your children this summer, a climbing frame?
The retailers are telling you that the flat pack climbing frames are home installation but your thinking you or your partner struggled to put up a shelf or paint a wall and you don't even own a power drill! How are you supposed to build a climbing frame when it could take a team of professional "climbing frame installers" a couple of days with professional tools ready to hand?
If you're looking at a climbing frame this summer then its best to try and Google installer climbing frame installer. This will bring up a website with how to guides and professional builders covering the whole of England.
Many sets from Selwood, Tp and Plum all state Home Installation, however climbing frame installer built several hundred play sets during 2010 and 2009 meaning would these sets have been sold if services like this are needed.
Make sure you check your set when it arrives, check for damage, forklift holes into the boxs and broken straps on the box or it will not matter who is building your set because the wood could be damaged.
Be careful with builders wanting a day wage, the reason they would quote a day wage is because they are not sure how long it will take or want to drag out the build to fill some space. Recommended builders are often paying the company commission so you will always end up paying more often for builders to rush and not put any thought into your play set and climbing frame install.
I found it best to go straight to the third party professionals and ask them about the play set, play center or climbing frame is best to suit my family. We found it a frequent occurrence to be given poor information from companies who seemingly want to sell anything quickly rather than giving me reliable information to make an informed decision.
Peter Dive, Climbing Frame Installer - 0779 230 9588