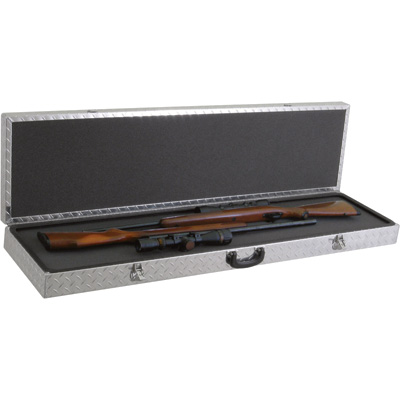 There are really three different types of case for guns.
| Type | Description |
| --- | --- |
| The Hard Case | Designed for transporting guns or rifles, the hard case is a solid and secure box made from plastic, aluminium, leather or wood & canvas. It generally has a lock and clasps to ensure that the contents do not fall out during transit. If guns are being taken abroad or on an internal flight then airport security will insist on the firearms being carried in such a case. |
| The Hybrid Case | This is a canvas or nylon case with hard sides and central core that is good for providing protection in car journeys especially when covering terrain that is rough. It is not secure enough for airport security but it offers good protection in the back of a vehicle, which might have other equipment thrown in to it or even dogs jumping around. |
| The Slip or Sleeve | The slip is designed for carrying a gun or rifle in the field. They are soft and flexible and simply cover the gun to protect it from being scratched when going through thick undergrowth or if putting the gun on the ground to spy or set out decoys. They make carrying a gun or rifle very much easier as they can be slung over the shoulder when walking long distances with other equipment like cartridge bags, decoys or hides. Some shoots and hunting venues insist that guns are sleeved at all times other than when at the firing point. This is a safety precaution and is particularly important when in the field with a number of other people. |
How to buy a hard gun case
The best place to start is therefore with rifles and how to buy a good hard case for them.
The key measurement in case selection is length. Hard cases for rifles normally have enough depth but if the length is wrong the case will not work. The first step is to know the length of the rifle from the tip of the barrel to the end of the stock.
Outer casings are available in plastic, aluminium or leather. There are some hybrid hard cases with soft nylon outers but these may not be secure enough for airport security or some trains.
The interior of the case is generally foam unless the case has been specially made for the rifle. This foam is the most important protective element of the case so take care to ensure that the foam is of good quality and is dense enough to really protect the contents of the case. Imagine a carefree baggage handler, keen to get of his shift, throwing the case onto the carousel at the airport and see if the case could match up to that.
Locks and fitting are important for obvious reasons. The combination lock is popular and saves the owner worrying about padlock keys. If the case is of high quality it will be expensive and it will be very hard to break into without destroying the case. Remembering that combination number is absolutely vital. The other option is a straightforward padlock and key but due to the cases being narrow and the fittings small a small padlock is all that can be fitted and these are not always robust enough and can easily be cut with bolt cutters or even pliers.
There are hundreds of brands out there to choose from and many of the better ones aren't particularly famous. Look out for Ergoline, Peli Storm and Zarges. All produce a good range of waterproof, highly secure and well designed cases in different sizes. Costs run between £200 and £300 but this investment is worthwhile given that it may have about £3,000 worth of contents to protect.

Case Interior

Once the case of the right length is selected, it is important to get the foam interior right for the particular rifle. Some cases come with cut foam that allows sections of foam to be pulled out to fit the rifle.
If the foam is just solid and requires cutting, lay the rifle on the foam and draw around it in chalk. Then take a sharp knife and cut around the outline creating a shaped indentation for the rifle to sit in. Take care that the foam on the upper section of the case comes down to rest on top of the rifle to prevent any movement within the case.
It is important to establish how the rifle needs to be transported. If the scope can be taken off the rifle and placed back on without zeroing it again then it may be advisable to cut a separate section for the scope and pack that as a separate unit. I
If the rifle has a sound moderator and again the user is confident to take this off and reassemble without zeroing the rifle again, this can be packed as a separate unit. The benefit to disassembling the scope and sound moderator is that a more compact case can then be purchased. This may be cheaper but also will be much easier to handle.
Be confident that reassembly will mean that immediate use is possible. If not, ensure that the rifle is fully zeroed at a target upon reassembly.
Buying a Gun Case for a Shotgun
If buying cases for shotguns, similar rules apply as far as measurement is concerned. It may be that a case for two guns is a required option in which case a broader case will be required.
There are very expensive cases, made of leather, especially fitted for the gun. Purdey, Holland & Holland, William Evans, Churchhill and many other English and Scottish gunsmiths make bespoke cases for their guns. They are by far the most attractive option. They also add value to the gun.
Secure, faux leather cases for shotguns can also be obtained at a much more affordable price.
The best option is to go for a canvas on wood case, which is lighter and offers good protection and is quite attractive.
The plastic, aluminium and foam combination, as seen with rifle cases, is probably the cheapest option and provides the best security. Given that the hard case is not used except when travelling, the aesthetics of the case are not that important. Security and protection are. Don't overspend on beautiful leather if it does not protect the guns or more importantly prevent theft.
A final disadvantage in hard, leather cases is that they can be identified as gun cases by even the most ignorant of criminals. The plastic case is less obvious and not such a temptation.
The best approach is to ensure that the guns or rifles really do fit in the case and cannot move. Be certain that the locks and fittings are secure so that there is no chance of the case opening in transit. Mark the case with some clearly identifiable livery such as stickers, initials or a painted stripe so that you pick up the right case from amongst a pile of luggage.
The consequences of opening a case for airport security to find that the firearm doesn't match the paperwork can be both expensive and serious from a legal perspective.
Buying A Slip or Sleeve
The range of slips or gun sleeves on the market is extensive. Less expensive ones offer less protection and can have a shorter shelf life. Slips are out in the field and face tough conditions, so try to purchase good quality products from good brands.
At the other end of the spectrum, they can be expensive and at times over-made. A leather slip with a sheepskin lining, if badly designed can be cumbersome and inflexible. As long as the zips work and the sling and sling buckles are of good quality then the slip should last a good few seasons.
Rifle sleeves and shotgun sleeves are entirely different. A rifle sleeve needs to accommodate a moderator and a scope whereas a shotgun sleeve tends to be a simpler shape and lighter.
If a gun is going to be carried a long way, when deer stalking, make sure that the sling is good and broad. If it is too narrow it will start to dig into the shoulder on a long walk and become uncomfortable.
Sleeves or slips start from about £50 and are, at this level made from Nylon. They have little padding to protect the gun. They are adequate for carrying a cheap gun a short distance.
Moving up a level, the canvas Brady slip is a traditional carrying slip, which simply acts as a cover and carrying device. They are well made and strong but do not provide much protection if the weapon is dropped.
There are some better lined Brady slips with padding to offer more protection, particularly for shotguns. These cost about £100.
The highest end slips are generally leather with sheepskin linings. They offer good protection, carry well and look smart.
The most important factor when buying a slip, other than quality of straps and buckles, is the size. If the slip fits the gun perfectly then it will not move in the slip; they will be better protected. It will be much more comfortable to carry.
If a slip too long then this is not too much of a problem and is quite often chosen when buying a gun. The slip or sleeve that is too short is utterly useless and serves to damage the gun rather than protect it.
If you are buying a smart leather sleeve, buy leather that is supple and soft as opposed to the very hard shiny type. When the gun is taken out of the sleeve it is much easier to fold a soft leather or canvas sleeve.
Buy the best that the budget will allow and shop around on eBay. It is better to buy a high quality nylon or canvas sleeve from a good manufacturer than a smart looking leather version that is badly made. Make sure the gun fits the sleeve.
How to buy a Gun Case on eBay
Now that you've worked out which Gun Case you want, find them quickly on eBay. While you shop, don't forget Pellets, Bags, Rifle Scopes, Hunting Decoys, Belts. To start shopping, go to the Sports and Leisure category. Click the Sporting Goods portal and click Hunting.
Categories
The Categories list on the left side of each page will help you narrow down your listings by item type. You'll find links for Accessories, Cartridge Bags, Catapults, Clay Pigeon, Shooting, Clothing, DVDs, Falconry, Footwear, Gun Cabinets, Night Vision, Shooting Sticks, Sights & Scopes, Sunglasses, Targets, Trophies and Other Hunting. As you refine your search you'll be able to narrow down your choice by subcategory.
Product Finder
Use the Hunting products Finder to quickly narrow down item listings by type of product, brand, model and condition (new or used).
Keyword search
Search eBay listing titles for specific words. For example, if you want to find new gun cases, type the keywords "new gun case" (without quotation marks) into the Search box. Click "Search title and description" to expand your results. Visit eBay's Search Tips page for more tips on searching with keywords.
If you can't find exactly what you want, try browsing eBay Stores or tell the eBay Community what you're looking for by creating a post on Want It Now, or save a search on My eBay and eBay will email you when a matching item becomes available.
Buy Gun Cases with Confidence
Make sure that you know exactly what you're buying and understand how eBay and PayPal protect you.
Know your item
Read the details in the item listing carefully.
Remember to add delivery costs to your final price. If you're buying a high value item, check that the seller will insure it until it is delivered to you.
If you want more information, click the "Ask seller a question" button on the seller's profile or the "Ask a question" link at the bottom of the item listing page.
Always complete your transaction on eBay (with a bid, Buy it Now or Best Offer) otherwise you will not be covered by eBay Buyer Protection.
Never pay for your eBay item using an instant cash wire transfer service like Western Union or MoneyGram. These are not safe ways of paying someone you do not know.
Know your seller
Research your seller so that you feel safe and positive about every transaction.
What is the seller's Feedback rating?
How many transactions have they completed?
How many positive responses do they have?
What do buyers say in their Feedback?
Are they positive about the seller?

Most top eBay sellers operate like retail shops and have a returns policy.

Do they offer a money-back guarantee?
What are their terms and conditions?
Buyer protection
In the very unlikely event that you do not receive your item or it is not as described, eBay Buyer Protection your purchase price plus original delivery cost.
Conclusion
A gun case is a useful addition to the kit list because it offers real protection for a gun or rifle when travelling long distances. Guns can be easily damaged or sights knocked out of zero, or 'true', if they are bouncing around in the back of a car.
The other reason is security. A case that can be locked and stowed away out of sight reduces the possibility of a passer-by stealing it. In the UK, it is the responsibility of the owner of any gun to take the greatest possible care to ensure that it is securely stowed. If negligence is shown in any way on the part of the owner, the repercussions can be daunting.
All airlines insist on a hard, locked case for any gun or rifle that they carry. A travelling sportsman must therefore have his or her guns locked away in such a case before flying.
Choosing the right case is a challenge as there are a great many different sizes, styles and strengths of case out there. Couple that choice with huge variations in cost and picking the right one can get pretty complicated.The place to start is with the trip and what gun, guns or rifle is required.
Many shotguns come with secure, hard cases when they are purchased. If these are high quality, they are good enough to use on flights. They will also be built to fit the gun or guns and so that there will be no movement within the case. This is where damage so often occurs.
Rifles rarely come with their own case as the scope is seldom bought as a part of the rifle; manufacturers cannot really build a bespoke case for each rifle as the shape and size of the set-up (rifle, scope and sound moderator) will vary enormously.
eBay is the ideal place to research and shop for gun cases and using this guide will help buyers and sellers to get the most out of the tools and information offered by eBay.