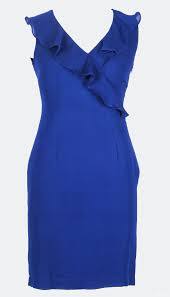 The boyish framework.
Many women struggle with it. The no-boobs, narrow shoulders, small hips, no bum look. This essentially create a figure that appears to have no waist and hence very little curves.
The structure of the clothes you buy is essential and the cinching in at the waist easily creates the illusion of a curvy body.
In order to create the illusion of a fuller bust you need to add more volume up top. To do this use embellishments and ruffles at the bust. This does draw attention to this area but the added material helps you out a long way.
A great dress that automatically makes the chest area appear fuller are dresses that have a frill neckline and a more of a A line feel to the skirt. This adds a little extra to the bust, pulls in at the waist and flares out at the hips to give the idea of curves. As it does not cling to your body you will not be able to see your boyish figure underneath. It is key to show off your arms and legs as they are one of your best features, so try and go for a dress that isn't too long and one that does not have sleeves.

Time to regain your confidence and feel more feminine!