Advice on how to check the hallmark
A hallmark is an official stamp marked on gold to indicate its quality, origin and maker. The term refers to the Goldsmiths Hall in London and which has overseen the marking of gold in England since 1300.
A hallmark can only be applied by an independent Assay Office and must contain three parts:
The sponsor's mark (the person responsible for making or importing the piece)
The fineness mark (denoting the precious metal content in parts per thousand e.g. 750 - equivalent to 18 carat)
The Assay Office Mark (this is the mark of the Assay Office which tested the item)
A hallmark can also include:
A symbol to confirm the metal (a crown for gold)
The date the piece of jewellery was made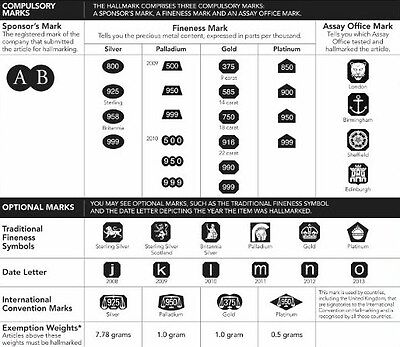 The carat of gold can be determined from the fineness marking e.g. 9ct Gold = 375 parts pure gold out of a 1000, 14ct Gold = 585 parts pure gold out of a 1000, 18ct Gold = 750 parts pure gold out of a 1000 and 22ct Gold = 916 parts pure gold out of a 1000.
The hallmark is generally situated in a place where it will not be seen when the item is worn. For example, on a gold ring it will be on the inside of the ring or on a gold chain, it is generally located close to the clasp.