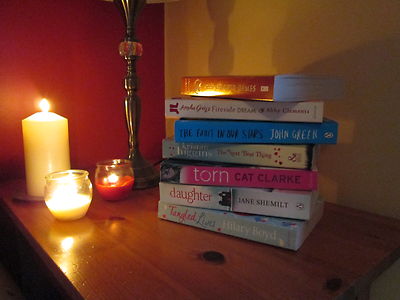 The cover
"Don't judge a book by it's cover." We all know this is what everyone does. People are attracted by the colors of the books or the design of the books. A front cover generally determines the genre. If you see a book you like pick it up. It's simple.
To find a book I will go to a library or a book store so I have the books in front of me.
Read the blurb.
The blurb is generally the thing people look at after reading a book. Trust your instinct as that will determine weather or not you will enjoy it. If you don't like the sound of the book by the blurb or don't know simply pick out a book that appeals to you.
Read a book by the same author again.
If you have previously enjoyed a book, read a book by the same author. Usually you will like the book just as much and if not more. If there is a next book in a series of a book you have enjoyed read the next one in the series.
Use an app.
I use and app called Good-reads, this is a very good app which allows you to rate books make comments on them and see other peoples opinions. If you read a book and really like or dislike it, rate it on this app then they will predict what other books you may like.
Listen to advise.
If someone has read a book and has enjoyed it and said that you would enjoy it, listen to them. I have read many amazing book by recommendations from my friends, mum (and other family members) as well as work friends.

In hope that this will come in use to someone as I got kindly asked by bzzagent to do this