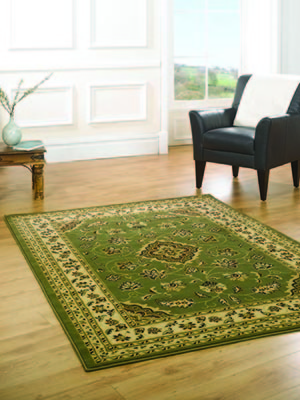 How to choose your rug !
Photographed here is the Sincerity/sherborne in a green. This is a traditional design in contemporary colours to suit all styles. Its got a lovely beige border with a traditional Aztec design and emblem right in the center. The rug is a available in a wide range of sizes which includes hallway runners round/circles, small to medium to pretty large sizes. It comes in four colour intotal ie. navy, green, dark red and beige.
Some questions you may want to ask yourself to choose the right rug.
Do you like it ? Design and colour combination.
Does it fit your interiors ? Suits your room setting.
Do you want a thin pile or thick pile ? Thin pile - with kids is easy to avoid any trips and mishaps.
Which material wool, polypropylene, heat polypropylene, viscose or even silk.
Easy to clean ? Yes you can easily hoover over it and its easy to wipe any spills.
Dirt repellent ? Does not get dirty so easily as this is a heat set rug, its fibres repelles the dirt off.
Budget ? Not too expensive but looks good.
You can visit our website for more rugs.