Vintage Playmobil are sometime very hard to find and to recognize on Ebay auctions. This Guide will try to help you to discover and buy the right Playmobil missing in your collection.
Playmobil was invented by Hans Beck in 1971 and manufactured for the first time in 1974 by the German company Geobra Brandstatter, Playmobil. BASF ( German chemical company) from the very beginning supplied the material for this marvels with high quality plastic like Ultraform and Terluran.
You can read more history on Playmobil.de ( germany site ) and collectobil.com, this is the best websites you can look at for informations, tips and pictures of almost all the Playmobil produced and diffused in the world.
For more than 30 years over 1.7 billion Playmobil sold, that's why first vintage figures are hard to find and hard to recognize.
Here is my list of simple tips I'm using all the time to figure out who is what?
- Playmobil with the hands not revolved, mean manufactured before 1982 ( only kids figures were produce in 1981 for the first time and always with revolving hands).
- Eyes and mouth painted, shape of the neck and hair back insertion are sign of the very first productions ( Changes were made after 1978 ).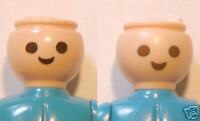 - The upper parts of the legs ( inside part ) was the same color and same plastic at the beginning. During 1982 they started to build the legs with a different clear/white plastic more flexible and different shape to.

1974 1982 1986
- The datestamp on the foot of Playmobil figures does not indicate the year of production, but the year of copyright registration of the mold. I noticed that the stamp was a little different the first years of manufacturing ( see the pictures ).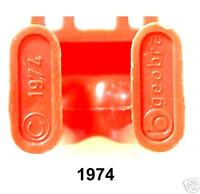 This are the first things you can check to find vintage Playmobil, you can also buy the New 3. Edition of the Playmobil 1974 - 2009 collector book at Playmobil.com for $30, it will be a great help to find the time line of production and the composition of each sets.
Thanks for reading my guide, I hope it will be helpful to find and buy on Ebay the rare Playmobil you're looking for.
Best regards, jeanphilippe1405 ( Don't forget to VOTE at the end of this Guide )
I'm also selling a lot of vintage and unique Toys set on Ebay. You can check my auctions with my Ebay ID member jeanphilippe1405.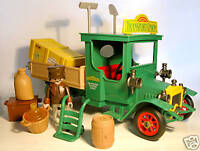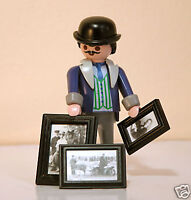 EBAY.COM SELLER ID : JEANPHILIPPE1405
Thanks you Mr Hans Beck ! you made the World a better place.
Hans Beck ( 6 May 1929 - 30 January 2009 ).
NEWS:
PLAYMOBIL ARCHIVE PICTURES AND INVENTORY LINK.
Playmobil.de Look for the ARCHIV ( in German )
OTHER LINKS:
Playmobil.com
Collectobil.com
Playmoboard.com
Ebay.com Seller : jeanphilippe1405
BASF.com ( look for news release regarding Playmobil )
DISCLAIMER:
This guide is not owned, write, sponsored or authorize by Geobra Brandstatter Gmbh & Co. KG. Geobra Brandstatter Gmbh & Co. KG does not endorse, and is not responsible for this guide or any information or links contained herein; makes no expressed or implied warranties with regard to any information or links on this guide or any linked web sites; and is not bound by any statements made on this guide, or by those who write this guide. The trademarks PLAYMOBIL, PLAYMOBIL SYSTEM X, PLAYMOBIL RC TRAIN and PLAYMOBIL FUNPARK and the copyrighted images of PLAYMOBIL products are the sole and exclusive property of Geobra Brandstatter Gmbh & Co. KG, which reserves all rights herein.