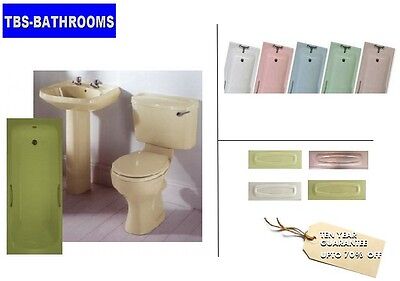 We are able to supply the vast majority of bathroom items ie Toilets, basins, shower trays, baths etc in the vast majority of the old obsolete bathroom colours.
If we dont have the item readily available in the colour you require we can have it made.
Please click this link to view our ebay range:
http://stores.ebay.co.uk/tbsbathrooms/Discontinued-Bathroom-Items-/_i.html?_fsub=980772012
Unfortunately many of our buyers are often unsure which colour there old bathroom is as they either cant remember or as is more often the case they have purchased the house long after the bathroom was installed.
This is where we can help, we have been dealing in these items for many years and our experts can always figure out which colour bathroom item is required.
To decide which colour you have either give us a call on 01246 550199 or send a piece of something in the colour you require to the address below, its usually best to send a chipped or broken piece of the old item but if that isnt possible sending us a matching paint colour chart also works.
Unfortunately sending pictures online or in the post does not work as it is virtually impossible to get an accurate colour in a picture.
Once we have the colour sample we will call straight back to confirm the the colour you require.
Please see below our online colour chart but please note it can be misleading trying to judge a colour from a computer screen.
Total bathroom supplies ltd
477a chatsworth rd
Chesterfield
Derbyshire
S40 3AD
01246 550199