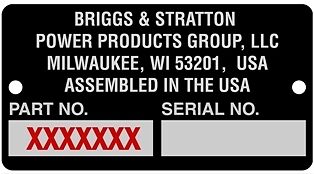 Zero-Turn Mowers
Facing the front, the serial number plate is located on the left hand side. The plate is attached to the frame about mid way and is normally above the discharge chute. Sometimes the plate will be under the gas tank. Some models the plate is located behind the deck lift lever on the right and might be hidden or the plate might be located under the seat.

For Three-Wheel Mowers, the serial number plate is located on the center column behind the engine, on the engine deck. on the right of the mower, in the back, next to the controls when looking at it from the front or on the back corner of the right side of the mower when facing it from the front.

History:

"Ferris has a long history of quality and innovation. "Products are a reflection of the people that build them." We've built products for over 100 years with that philosophy in mind. We recognize that our reputation for reliable and quality products would not exist without a dedicated and talented team of people behind them. Our state-of-the art manufacturing facility is located in Upstate NY. Ferris' continued commitment to reliability and innovation has defined the company as a leader in the commercial market. "