Although it may seem difficult as there are hundreds of different sizes and makes available we aim to show you how simple it is to find your tyres to buy.
The easiest way to find your tyre size is to look at the tyres your car currently has on it.
-check all 4 as some cars have different sized tyres on the front and backs
-look at the side wall of the tyre and write down what you see which should be something like this...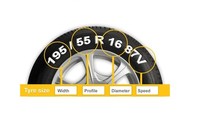 All these numbers and letters may look daunting but I will explain each part below to simplify the situation of buying car tyres online.
EG. 195/55 R 16 87 V
The 195 stands for the 'width' of the tyre
The 55 indicates how deep the 'profile' of the tyre is, meaning the size of the sidewall
The R 16 indicates the 'Rim size' or the size of the tyres diameter in inches
The 87 is the load rating (please see picture below)
The V letter is the speed rating (please see the pic below)
Now you understand what all these numbers mean you should be able to search our online store to find tyres at 40% cheaper than the high street.
Many thanks
Fresh Tyres Ltd