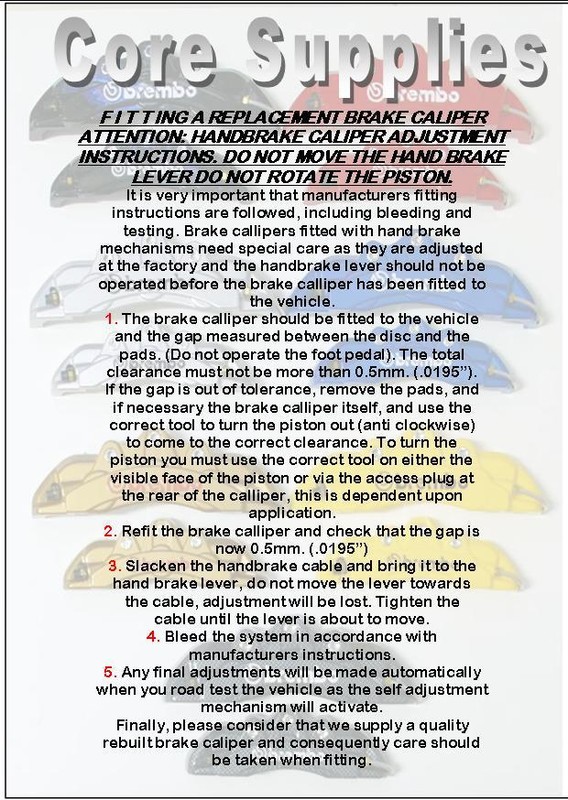 how to fit a rear calipers correctly
It is very important that manufacturers fitting
instructions are followed, including bleeding and
testing. Brake callipers fitted with hand brake
mechanisms need special care as they are adjusted
at the factory and the handbrake lever should not be
operated before the brake calliper has been fitted to
the vehicle.
1. The brake calliper should be fitted to the vehicle
and the gap measured between the disc and the
pads. (Do not operate the foot pedal). The total
clearance must not be more than 0.5mm. (.0195").
If the gap is out of tolerance, remove the pads, and
if necessary the brake calliper itself, and use the
correct tool to turn the piston out (anti clockwise)
to come to the correct clearance. To turn the
piston you must use the correct tool on either the
visible face of the piston or via the access plug at
the rear of the calliper, this is dependent upon
application.
2. Refit the brake calliper and check that the gap is
now 0.5mm. (.0195")
3. Slacken the handbrake cable and bring it to the
hand brake lever, do not move the lever towards
the cable, adjustment will be lost. Tighten the
cable until the lever is about to move.
4. Bleed the system in accordance with
manufacturers instructions.
5. Any final adjustments will be made automatically
when you road test the vehicle as the self adjustment
mechanism will activate.
Finally, please consider that we supply a quality
rebuilt brake caliper and consequently care should
be taken when fitting.