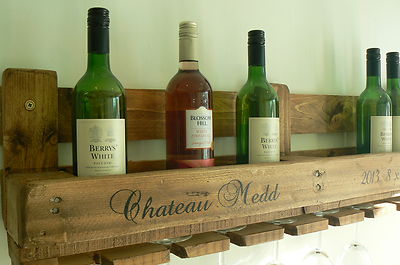 Lets begin.......
As in the case of this 8 Bottle personalised wine rack from the The Woodcutters Hut, the rack weighs approximately 5 kg plus the wine and glasses you need to be sure of that secure fixing.
BRICK WALLS
If on a brick wall you will be ok with a standard rawlplug fixings and 10-12 gauge screws ensuring you have at least 40mm in the wall.Measure the thickness of the timber you are going to fix plus add at least 40mm and the put some electrical tape on the drill bit that distance from the tip, hence you now have a depth gauge.Drill the appropriate number of hole corresponding to those on the object to be fixed.Blow away any dust in the holes or use the hoover to extract,place the rawlplug in the hole and tap in until level with the surface.The next step I always manually screw in the screws to start with until I know the are really starting to bite and if you wish to finish off with an electrical screwdriver you can, this way I find you do not accidentely spin the screw so fast it also spins the plastic plug.
STUD/CAVITY WALLS
In the case of stud walls, ideally match up with the timber studs with your wood screws,if not possible , use cavity toggles, which are sprung loaded to open up behind the plasterboard and upon tightening will grab the board to your heavy object.First mark the drill holes on the wall and according to the instructions that come with the toggles drill the hole to allow the toggle to pass through. Seperate the screw form the toggle part and pass the screw through the timber and re-screw the toggle back on.Now lining up the toggles with the holes in the wall push in the toggles and when fully sprung open on the inside of the plasterboard slowly start to screw home the bolts, best to tighten each on in a sequence and the timber will slowly get tighter and tighter to the wall, level the object and finally tighten.
I hope this helps those who are less experienced then some others, and this is only my open as to go about the task, but after 40 yrs it seems to work ok !