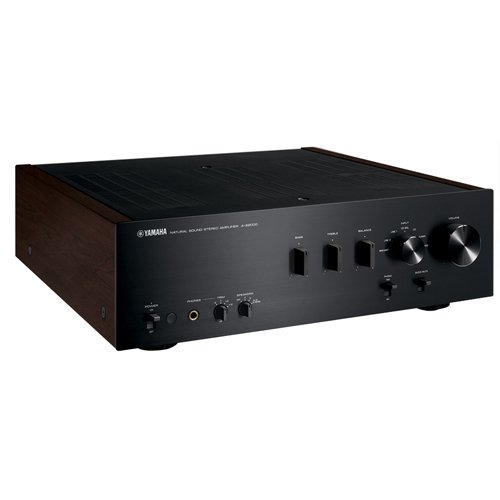 In the past, buyers needed to purchase a separate preamplifier and amplifier. However, now buyers can enjoy dual functionality in one unit. Integrated amplifiers are affordable and contain both the preamplifier and amplifier in the same unit. They are mostly built for use with standalone stereos, but many can also be used to reproduce sound in home stereo systems and home theatre sound systems. In an integrated amplifier, sound is first sent from various audio devices to the preamplifier. The preamplifier raises the signal level before sending it to the amplifier, which then raises the sound to an audible level. The sound is then reproduced by the speakers connected to the integrated amplifier.
The power of an integrated amplifier is measured in both watts and ohms. In general, larger rooms require more powerful amplifiers. Ultimately, power level is a matter of the listener's personal sound preferences. Integrated amplifiers can be found in a wide array of sizes and prices, and with a variety of features. When purchasing an integrated amplifier, buyers should familiarise themselves with the various parts, consider their features, take into account the advantages and disadvantages they offer, and learn to distinguish between the different types. Integrated amplifiers can be bought at audio specialists and at online retailers, such as eBay
Components of an Integrated Amplifier
Integrated amplifiers are composed of two parts: the preamplifier and the amplifier. Buyers should understand how each part functions and contributes to the integrated amplifier's overall design.
Preamplifier
The preamplifier is responsible for receiving and processing the audio signal from an input source such as a DVD player. It must also increase the voltage to the line level in the event that an audio signal is particularly weak. This helps the amplifier to accept the signal properly. The preamplifier component of the integrated amplifier is where the listener inputs the connections and operates the controls.
Amplifier
Once the amplifier has received the processed signal from the preamplifier, it increases the strength of the signal dramatically. This gives it enough power to drive the speakers so that they can effectively send out sound waves.
Features of Integrated Amplifiers
Integrated amplifiers have various connections, making it easy for buyers to customise the configuration and integration. Most models have standard features, such as three built-in remote control command sets, a separate infrared flasher input, and detachable alternating current (AC) cables. In addition, many amplifiers offer user friendly features. Buyers should consider an integrated amplifier's ease of use during the purchasing process.
Inputs of Integrated Amplifiers
Integrated amplifiers typically have several audio inputs for different devices such as a television, CD player, DVD player, and a satellite or cable television receiver box. Some models also have inputs for tape decks and turntables. The number and type of inputs tends to differ between models. Buyers looking for an integrated amplifier to use with their turntable should ensure that the system is compatible for the set-up.
Outputs of Integrated Amplifiers
Integrated amplifiers also have outputs that are configurable for use with four to eight ohm loudspeakers. Line level outputs, which include headphone jacks and tape outputs, are also included in these amplifiers. Tape outputs are used for recording the sound that is reproduced by the amplifier. The exact number of outputs varies according to the model and should be taken into account during the decision making process. Integrated amplifiers used in home theatre systems usually have six to eight speaker outputs.
Remote Control for Integrated Amplifiers
Many integrated amplifiers have a handheld remote control, allowing listeners to control the functions without having to be close to the system. These controls often include volume, balance, muting, tape monitor, and input selector.
Advantages of Integrated Amplifiers
Integrated amplifiers work well for home theatre systems using surround sound. They also reduce costs because the unit incorporates two different devices. In addition, listeners are not required to buy cables to connect the two devices. Integrated amplifiers are low maintenance. They also save listeners a significant amount of time in the set-up process as they require less wiring than a separate preamplifier and amplifier. In addition, they are easier to disconnect and move.
As integrated amplifiers contain both the preamplifier and amplifier in a single unit, they allow buyers to save on space. The system also makes it easier to balance and mix the sound without having to operate the controls on two separate devices. Purchasing an integrated amplifier ensures that both the preamplifier and amplifier are compatible with each other. Compatibility between components is important as it helps to translate the audio signal with a more balanced clarity and limited distortion. Integrated amplifiers also use less power and rely on one remote control as opposed to two.
Disadvantages of Integrated Amplifiers
Integrated amplifiers do not usually reproduce music as well as separate amplifiers. Buying the preamplifier and amplifier as separate components allows for more flexibility. A listener may choose to upgrade one component while keeping the other unchanged. In addition, each unit has its own power supply. If there is a surge in the current demand on the amplifier, it does not affect the voltage on the preamplifier.
Connecting an Integrated Amplifier
Connecting an integrated amplifier is relatively easy. Buyers first need to examine the back of their source components, such as a CD or DVD player, tape deck, or turntable. They should also examine the back of their integrated amplifier in order to determine which type of connections to use. For the best sound quality, buyers should consider using XLR balanced cables. These cables are commonly used in most professional audio equipment, although less frequently in home audio systems.
Buyers then need to connect the left and right cables from the source component to the corresponding input on the back of the integrated amplifier. Once all components have been connected, buyers can power the device on by plugging it in.
How to Buy Integrated Amplifiers on eBay
Buyers looking for a great deal on integrated amplifiers should begin their search on the eBay homepage. From here, buyers have the option to browse the site in numerous way. Buyers are free to input any related key terms into the search bar. More precise key terms are likely to render more specific results. Alternatively, buyers can search for integrated amplifiers using eBay's advanced search feature. This allows buyers to narrow their search to a specific price range. This provides buyers with an easy view of which sellers are offering great deals.
When browsing for integrated amplifiers on eBay, buyers should pay close attention to the description of the item that they are interested in buying. Reading the full listing and looking at the photos carefully, gives buyers a better idea of the condition of the item, and by getting to know the seller, buyers can feel more confident about purchasing from him or her.
Understand Item Condition
Buyers may be drawn to a listing by the photos of the item. However, it is important that buyers read the detailed item information before making a purchase. Sellers must use standard terminology to describe the condition of their items. This provides clarity to buyers, which helps to promote a positive transaction.
Research the Seller
By analysing detailed seller ratings and reading reviews from past customers, buyers can decide if they are comfortable to buy from a particular seller. For a quick way to find the best sellers on eBay, buyers should look for those who have been awarded Top-Rated Seller status.
Conclusion
eBay offer buyers a large selection of integrated amplifiers. Many can be found at less than their retail value, making this online marketplace one that offers great deals. Integrated amplifiers combine a preamplifier and amplifier within a single unit. This helps to reduce the cost of an otherwise expensive piece of equipment. As the amplifier is sold as a single unit, buyers do not need to purchase cables to connect a separate preamplifier and amplifier. In addition to the reduction in price, integrated amplifiers offer many other advantages, including less distortion and more free space in the room.
Separate preamplifiers and amplifiers are often preferred because each component has its own power source. However, there are some integrated amplifiers that can be found with this feature as well. When searching for the right integrated amplifier, buyers need to bear in mind the number of input and outputs that the system has. For good quality sound, the inputs should be compatible with the source components that the integrated amplifier will be connected to. If planning to purchase a pre-owned integrated amplifier in an effort to get an even greater deal, buyers should pay special attention to the type on inputs offered by the system. Older models may not have inputs for newer technology such as DVD players. Buyers should also learn how to connect an integrated amplifier properly. This entails matching the system's inputs to those of the electronic device. Buyers hoping to get a great deal on an integrated amplifier will find an excellent selection on eBay.