There are many men who suffer from thinning hair, baldness and a receding hair line which all have a common root. Scientists have been researching the causes for many years however there are very few effective treatments for it.
Why?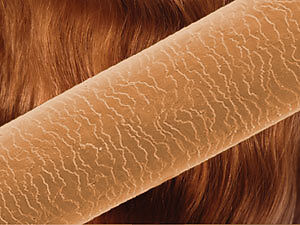 Well the source of the problem is not tackled correctly, which means that the effects of the treatments available are short-lived. The physiological source is
inflammation
which causes the hair to thin and fall out over time so if you are trying to thicken your hair you must first stop inflammation as it will offset any hair thickening methods.
How can I control inflammation?
Controlling inflammation can be done in a number of different ways but they all have the same principle which is to
improve blood circulation
. Even minoxidil, a popular drug for hair loss, aims to increase blood circulation in the scalp and stimulate hair growth. In fact it was initially used as a drug for heart disease as it caused vasodilation (widening of blood vessels) allowing greater blood flow to the heart muscle. Although using drugs comes with plenty of nasty side effects too. More natural and safer methods of improving blood circulation include massaging your hair for 15min daily and applying coconut/castor oil in your hair. Massaging daily has proven to reduce the number of hairs falling and make hair follicles thicker so it is strongly advised!
Once you have fixed the problem of inflammation, you can then go on actively increasing the thickness of your hair. Unfortunately, most hair care products or shampoos only
temporarily
increase the thickness of the hair shaft which wears away soon after use. Most may just add a fat-based layer to the hair giving it the appearance of looking thicker.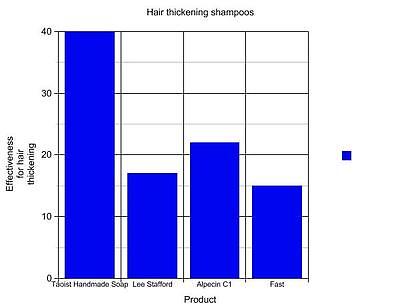 Several studies have compared some of the leading hair thickening products and found Taoist Handmade Soap to be one of the most effective along with Alpecin C1 shampoo.
The bar chart on the left shows the results of one study by Nottingham Trent University which measured the change in thickness of hair follicles over the course of 8 weeks after treating hair with the following hair care products: Fast, Alpecin C1, Lee Stafford and Taoist Handmade Soap. User feedback from Fast and Lee Stafford claimed that hair grew much faster however thickness was unaffected or even worsened in some cases. Alpecin in terms of user feedback was more successful as there were few negative side effects reported despite only 10 from a sample of 900 participants claimed they felt their hair thicken. In this experiment, the taoist soap increased hair thickness by up to 0.05mm in some subjects and no side effects were reported. With both Fast and Lee Stafford, there were cases of increased hair loss once use had stopped.
Our team did some more research on the products individually and found them to fairly consistent with results shown above. Although we hadn't heard of
Taoist Soap
before, we found that almost 100% of user reviews online claimed it helped them whilst the remainder said it had no significant effect. What is it in the soap which gives it the properties to thicken hair and prevent hair loss?
According to the producers, its created from a blend of skin nourishing herbs and clay from the Korean Mountains. It detoxifies the scalp, increases blood circulation and the rare elements in it provides long lasting volume in the hair.
Unlike other hair thickening products it is said to retain the hair's natural oils so the thickening process is not artificial.
Our conclusion points to this underdog in the hair care market as we have heard only good things from it. Alpecin C1 may also be worth trying if you are want faster hair growth but it is not designed specially for thickening hair. Moreover due to the natural properties of the soap, you know you won't be damaging your scalp in the long run with harsh chemicals.
However it is important to focus on improving your lifestyle too whether or not you use any soap or shampoo. One way this can be done is by controlling your stress levels. Stress is in fact very strongly linked with hair thinning mainly due to the fact it can cause inflammation. There is a huge list of the negative effects from stress such as excessive cortisol release which can indirectly affect the health of your hair.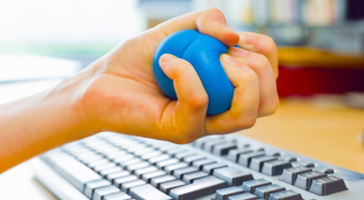 Diet is just as important - fried, oily and highly sugary foods can all contribute to the inflammation present on your scalp. Certain foods can cause a greater inflammatory response for some people so you should be aware how your body reacts. Similarly, there are foods you should be eating which have the opposite effect such as certain fruits and vegetables. By controlling all factors including general health and external products can you truly get long lasting and effective results.