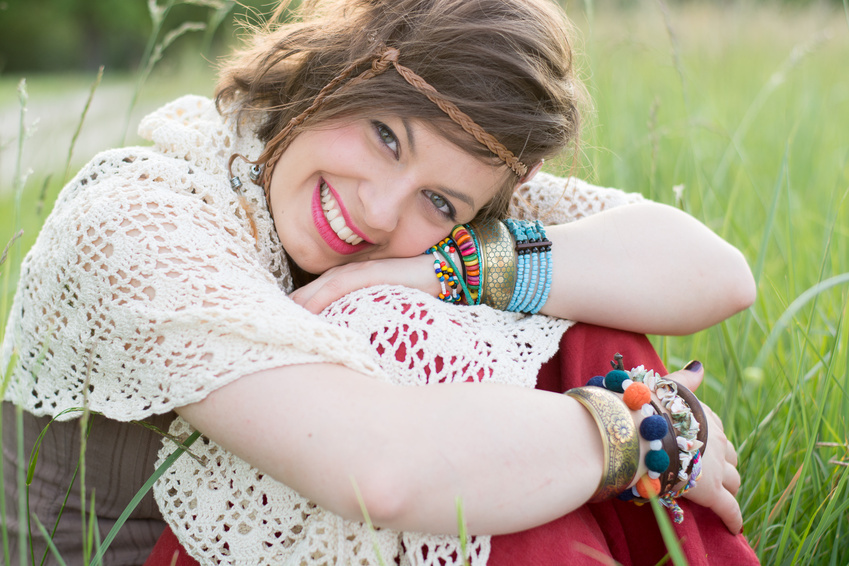 Many consider retro clothing to consist only of pieces 20 to 25 years old. Others peg the style to the 1940s or 1970s. No matter how they classify the clothing, a large amount of shoppers still seek out retro trends today. Fortunately, getting a retro look with vintage clothing requires little more than understanding the types of clothing, accessories, colours, and patterns that mimic the style, in addition to knowing a little about retro makeup and hair.
Types of Clothing and Accessories

The transition of fashion during the retro period involved a moving away from more modest and traditional styles to those that celebrated a woman's figure. When shooting for a retro look, embrace your figure. Use a belt to draw in a baggy button-down dress or tuck a shirt into pair of high-waisted trousers. Popular retro styles include cropped jeans, long a-line skirts, as well as fit and flare or sheath dresses. Peep toe heels and tights also help complete a retro look. Although platforms rose to popularity in the 1970s, flat oxfords also work for those trying to achieve the style. For those keeping a budget, remember that achieving a retro look does not always require buying a new wardrobe. Often, shoppers can pair vintage finds with items already hanging in their closets. Skinny jeans, simple black heels, and a retro looking blouse, for example, often conveys a modern take on older fashion and helps create a style more unique to the wearer. Try finding a highly-retro piece first, and then build the rest of an outfit around it.
Colors and Patterns

When trying to capture the retro style, shop for vintage fabrics that boast bright hues and interesting patterns. Popular designs include polka dots and florals. Although pieces from the 1960s and 1970s include a significant amount of solids or plaid in addition to the more feminine designs of the 1940s and 1950s.
Hair and Makeup
Remember to tie your look together with vintage-styled makeup and hair. Head scarves covering free flowing manes work, as does simply leaving hair to hang down naturally. Some women, however, really go for glam by creating finger waves or teasing their crowns up before pulling the hair back into a ponytail. When deciding on a particular style, try to match the hairdo with the time period hinted at by the clothing. Incorporate the same idea when applying makeup. Consider creating bold, winged eyes with eyeliner or wearing a vibrant red lipstick. Choosing one or the other or both, effectively creates a retro style without bulky eye shadow.