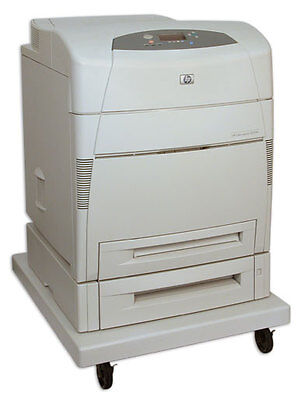 Getting started
HP Color LaserJet printers are some of the best values here on eBay. What cost thousands of pounds new can be had for the cost of a few cartridges of your old inkjet printer. These things can last a lifetime in your home or small office, but be aware of supplies and condition before you buy!
Which Model
Models between 4 and 10 years old are typically the best value overall to be found. The 4700-series, 4600-series, 5500-series and such are fantastic printers that will last you hundreds of thousands of pages generally.

The suffix of the printer is important. There are three letters that matter:
D = Comes with a Duplexer (can print on both sides of the paper)
T = Comes with 2 paper trays (built in tray and an extra tray)
N = Comes with built in (wired) network card

So a 4700DTN has all the fixings installed. More common is the plain 'N' model which just has the network card.

If you find one without, you can also find the duplexer, extra trays or network cards separately here, usually quite cheap as well.
Supplies and Status
Be sure to check the supplies status with the seller! Most sellers can print a supplies status page.

The items to look for are:
1) Toner levels - most printers come with some toner, but they generally cost around 75-100 pounds each to replace (and color models have 4 toner cartridges). So buy one with toner full if you can.
2) Fuser - these last for tens of thousands of pages, but also cost around 75-100 to replace. Look for units with > 50% left.
3) Imaging Drum - same as fuser; easily replaceable when needed but try to find one with a large percentage left. Look for a printer showing > 50% left.
Upgrades
If you want wireless, this will cost a bit more. They're not on the market often but JetDirect cards are easily added to upgrade your printer to work with home Wifi. I found one for 75 pounds recently, but often times you'll have to wait for a deal. The JetDirect 690 is the top of the line with 802.11b/g, although with older networks you can use the Jetdirect 620 which just supports 802.11b (which may slow down newer networks that use a/b/g/n).
Finally
You can get a great printer loaded with supplies for 200-400 pounds if you shop around. This beats any other color laser printer on the market!