Having hopefully helped clear up any confusion on original UK pressings of Nick Drake's debut, I'll now attempt to help out now with 1970's Bryter Layter which is slightly trickier. For the purposes of this guide I am limiting information to the first Pink Rim pressings only.
BRYTER LAYTER
1. 1970 PRESSING
This is the first pressing released in 1970 on the Pink Rim label. There are no Pink versions of this except I believe for some foreign pressings. The first press has the word STEREO on the label and the Joe Boyd credit is on one line. Also the song timings do not appear in brackets. The machine stamped matrix numbers are ILPS 9134 A-1U & LPS 9134 B-1U. The sleeve is TEXTURED printed by 'E.J. Day Group London and Bedford' and the word 'BRASS' is incorrectly printed as 'BASS' for the Robert Kirby credit. Generally most copies come with the custom blue Island inner bag.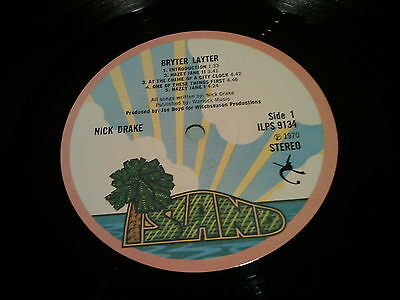 2. 1972 PRESSING
Effectively the same pressing as 1970 except the word STEREO is omitted from the label and the Joe Boyd credit appears on two lines. It seems that the word STEREO started to disappear from Island labels from around 1971/2. Since the album was never released in mono I suspect by 1972 it was redundant to mention that it was a stereo release. As far as I am aware there is little difference in value between the 1970 and 1972 pressings. Matrix numbers are machine stamped and are the same as above. Sleeve should still be textured.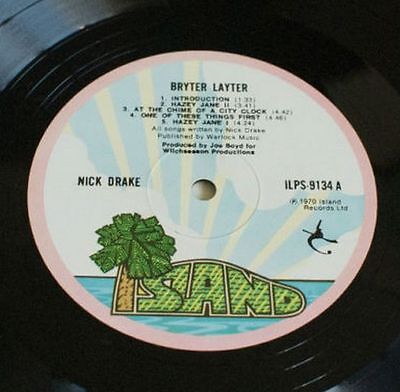 CHECK LIST TO AVOID COUNTERFEITS/REISSUES
- First pressings have Pink Rim labels. Modern counterfeits tend to have quite poorly printed labels. The rim has a brown/muddy appearance rather than a pink, the sea is blue rather than green/blue and the word ISLAND in the logo is generally very dark and looks like the ink has filled in the detail. (For an example of this please see the Pink Moon guide in Pt3)
- Matrix numbers on counterfeits will tend to be just A1/B1 but not A-1U/B-1U and are almost always hand etched unlike the machine stamped matrices on the originals.
- Sleeve should be textured. The counterfeits are invariably smooth.
Below is the 200gm Japanese reissue which has a textured sleeve like the original. However, in the top right hand corner on the rear there is a catalogue number UIJY-9031 which does not appear on the original. This number is also repeated on the label along with text around the edge.