This is the third and final part of a guide to buying Nick Drake UK first pressings. The other parts can be found here:
PINK MOON
Unlike his first two albums there only seems to be one version of Nick Drake's final release on the Pink Rim label. The first really important thing is that the album came with a matte laminate GATEFOLD sleeve. All albums in single sleeves are counterfeits and generally gloss laminate. The matrix numbers should be machine stamped and first pressings are ILPS 9184 A-1U and ILPS 9184 B-1U. Counterfeit copies have hand etched numbers and read ILPS 9184 - A1 & ILPS 9184 -B1 without the 'U'.
The label has the word STEREO on which suggests that the second pressings of BRYTER LAYTER that omit the word from the label were pressed after PINK MOON. (see Part Two Bryter Layter).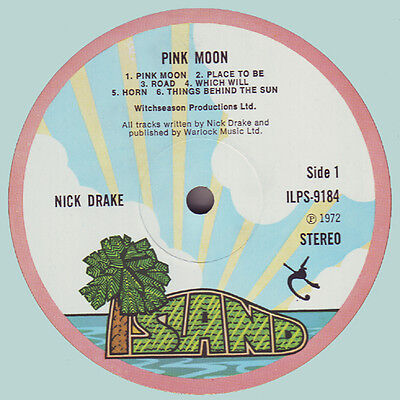 For comparison here is the most recent counterfeit label which shows how dark and murky the printing of the label is; especially the word ISLAND which is dark green in comparison to the original. This is quite an easy way to tell the fakes on eBay.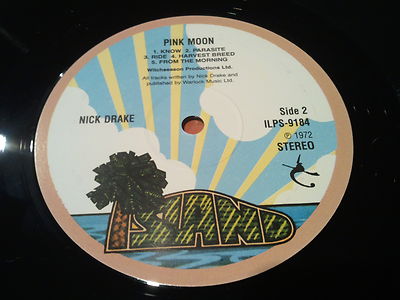 Check List to avoid counterfeits/reissues
- Gatefold sleeve is imperative
- Machine stamped matrix numbers must end in a variation of A-1U and not just A1/B1
- Nice bright Pink Rim labels
Happy hunting!