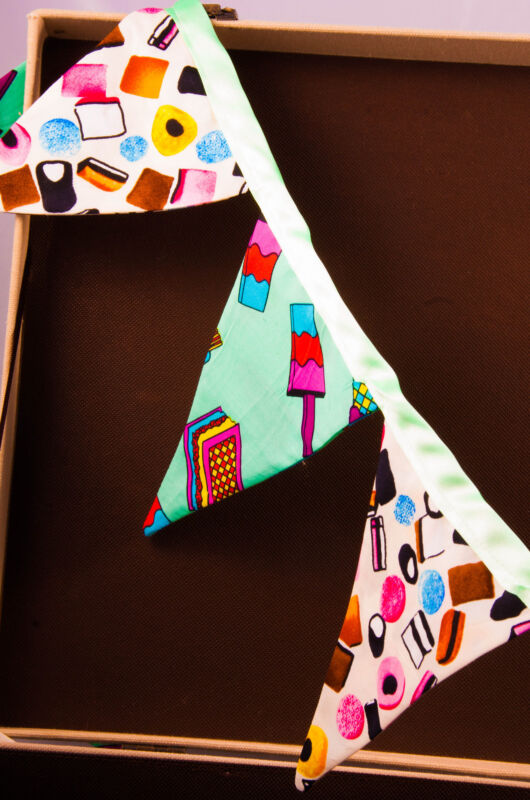 You will need :
A sheet of A5 paper
Pencil
Ruler
Fabric
Scissors
Pinking Shears (optional)
1 inch wide Bias binding in your chosen length
Step by Step
Take the A5 paper and fold in half lengthways. Using the pen and ruler draw a line diagonally from the outside top corner to the bottom corner on the fold. Cut along this line and you should have a triangle template for your flags.
Use this template to cut out as many triangles as you wish. You can cut the edges with pinking shears if you prefer and attach them to the Bias binding like that (go to step 4), or cut twice as many to make the flags double sided.
If you are making the flags double sided, when you have cut out all the triangles you want, decide on the pairs and then lay 2 pieces on top of each other with the "right" sides of the fabric touching. Sew along the 2 long edges, then turn and press with an iron. **TOP TIP** Don't forget to clip the point of your triangles, it will make them easier to turn
To start attaching the flags to the bias binding, fold the end of the binding in on itself by 1cm. Then fold the binding in half lengthways and sew along the edge, leaving approx 10cm so that the bunting can be hung. After this, simply insert the flags into the bunting as you are sewing along. You can chose to space the flags as you wish, I find the best look comes from letting the corners of the flags meet inside the bias binding.
To finish off, again allow the binding to continue for approx 10cm after the flags.
Enjoy your beautiful bunting!

This Guide has been written as part of a promotion